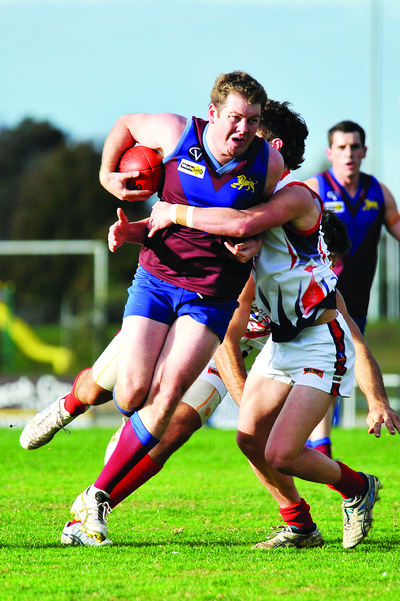 Moe won its third consecutive home game, thrashing Bairnsdale by 83 points in Gippsland League football.
The Lions' former coach Troy Makepeace played his first game for the season, showing all his customary skills and kicking a goal after receiving a 50-metre penalty.
Makepeace's first few kicks went straight to Bairnsdale players, but settled soon after to be one of Moe's better players.
Moe coach Jason Macfarlane said Makepeace made a huge difference to the lineup, giving the team a lot of direction.
"I couldn't of been happier with every players efforts yesterday (Saturday), they have heart, passion and a lot of determination" Macfarlane said.
Macfarlane was pleased with Dave Crook and Peter Ainsworth and spoke highly of the Moe backline.
Morwell v Drouin
The victors of the Queen's Birthday clash, Morwell, started well against Drouin with a five-goal first quarter, but by half time the Hawks had cut the 27-point lead down to two points.
The Tigers tried to fight back but another six-goal quarter by Drouin saw it go on to win by 22 points.
Tigers' coach Damian Kerr said his players worked hard during the week to ensure they were not flat on Saturday, but Drouin simply played better football.
"We are quite happy where we are at five and four, and are well positioned for the second half of the season to finish in the top five," Kerr said.
Kerr did not criticise the short time between Monday and Saturday, but said it may have helped if the round nine game was played on the Sunday.
Sean Proctor was dangerous up forward and kicked five goals, while Daniel Barrand, Damien Carmody and Steve Ballingall played well.
Jack Brown and Michael "Chunky" Duncan played well in defence for the Tigers, while Jeff Ryan and Tom Crosby tried hard all day.
Traralgon v Maffra
Traralgon went down to Maffra by seven points, with the match only being tied up late in the final term.
Maffra coach Hayden Burgiel may take a forward spot after kicking four goals in the reserves.
The Eagles also lost Trood Award and Rodda medallist Gary Jones early in the second quarter with a back injury.
Traralgon gave two of its many talented juniors their first taste of senior football, playing Corey Nickels and Lachie White.
President Andrew Quenault said the pair added "spunk" to the team and kicked two goals each.
Dan McKenna kicked three goals in the first seven minutes to lead by 14 points at quarter time.
Maffra struck back in the second in 10 minutes with four quick goals through Gary Jones and Adrian Burgiel (3) to hit the front, but Sam Dunbar, McKenna, Nickels and White took the lead back and the Maroons led by 16 points at half time.
In the final quarter Maffra led by 13 points after goals to Kallan Killoran, Ben Langshaw and Jacob Weatherley, but White and Nickels kicked a goal each with Nickels levelling the scores before Daniel Bedggood sealed the match with a minute left to play.
Best players for Maffra were Porter, Kallan Killoran and Adrian Burgiel while Tom McQualter, Josh Jennings and Jamie Aitken stood out for Traralgon.
Sale v Leongatha
Sale won the battle of the Gippsland League's top two, beating Leongatha by 36 points.
The Parrots set the stage for a close finish when they trailed by 23 points in the third quarter, but a late revival saw them cut the lead back to a goal at the last break after Chris Verboon kicked two of their three goals.
Sale showed why it has the best defence in the competition, holding gun forwards Jake Best and Dwayne Holt goalless because they played in front.
Leongatha's strategy in the final quarter was defensive, and Sale added 4.6 to 0.0 to win.
Leongatha's plan of chipping the ball also suited Sale, as it intercepted regularly and booted the ball long into the forward line.
The Parrots lost their run and had no players running past to keep their flow-on game going.
Joel Wallace, Kane Martin, Chris Laverty, Adrian Quirk, Luke Collins and Shane Fyfe were great for the Magpies and Matt Ferguson kicked three.
Julian Stone and Chris Verboon were Leongatha's best players along with Tas Clingan, Rhett McLennan and Colin Sanbrook.
Wonthaggi v Warragul
Wonthaggi Power finished too strongly for a gallant Warragul, to win by 26 points and move into the five at the expense of Morwell.
Warragul trailed all day but was only 11 points down at three quarter time.
Both sides had eight scoring shots in the last quarter, but the Power made better use of theirs kicking 5.3 to 2.6.
Talented Jack Blair was Power's best along with Phil Young and Tim Gilliland, while Bryce Marshall and Dominic O'Connor kicked three each.
Ben Hughes played a lone hand for the Gulls up forward kicking five and was their best and Brent Kimm kicked three.
Other good players were Brad Nott and the consistent veteran Mark Bradley.