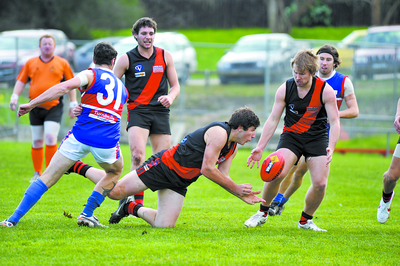 Newborough continues its terrific Mid Gippsland season and part of its winning form can be credited to the healthy respect it has for all other teams.
Coach Allan Chandler said the Bulldogs do not drop off in matches and will play hard all game to put away their opposition.
"We only can get better if we keep pushing ourselves to the limit so that's what we're going to try to do every week," Chandler said.
He said it was great that new players this year are doing well, but also Newborough players who had been with the club for a while continued to improve.
Entering the second half of the season Thorpdale will continue to work on improving as it looks to next year's season.
Coach Brett Sherriff has been pleased with his players' improvements, but says more needs to be done and urged the side to take another step forward.
Trafalgar v Boolarra
Last time Trafalgar and Boolarra faced off, the Bloods won in a close contest that started a losing streak for Boolarra that did not let up until it beat Yallourn/Yallourn North in round five.
Boolarra has a lot riding on this match, as after nine rounds it has won just three games and is seeing its finals chance slipping away.
Demon's co-captain Simon Buglisi said it was mathematically possible for the side to make finals and believed they can do it.
"We're still going to stay positive and still think that we're good enough to get there," Buglisi said.
"It's just a matter of not making those silly mistakes and starting to play some good hard footy like we know we can."
Buglisi said he thought the side was in with a good chance against Trafalgar.
"I think we match up fairly well on Trafalgar…we don't think the scoreboard (last time) was a true reflection of how the game was played," he said.
YYN v Yarragon
Yarragon travels to Yallourn North this weekend.
Like Boolarra, YYN has not been playing consistently and as a result has also won just three games.
Last time these teams played Yarragon was still in it at half time, and hopefully this can inspire the team to play four quarters of great football to match it with a side not far above it on the ladder.
A lot is on the line for YYN, that needs a win if it wants to salvage its season and make finals.
Yinnar v Morwell East
Yinnar and Morwell East will clash and both teams are travelling well at the moment, on equal points in fourth and fifth position, with Yinnar on a slightly better percentage.
Morwell East coach Paul Henry said this game is another must win for the side and is crucial to setting up for a run in the finals.
Magpies coach Sam McCulloch said it has been great to have his side find some form and gain momentum with some consecutive wins. McCulloch said his side has been focusing on improving its skills and fine tuning the game plan.
He said he expects a close game against Morwell East, with both teams "fighting pretty hard to get the victory."
Mirboo North v Hill End
Mirboo North hosts Hill End this weekend.
The Tigers have lost just two games this season, including to Hill End in round one and have been improving all season to sit in third position. Hillmen coach Josh Tymenson said his side is about where he expected them to be at the half way point and that in such an even competition every game is tough.
"You're never a certainty at any game," Tymenson said.
"You've just got to be ready to play and I think that's what we've struggled to do at the moment; is play and get up every week."
Tymenson anticipated a tough battle again this weekend, and said his side had to play to its strengths and put pressure on the Tigers and get a run on.