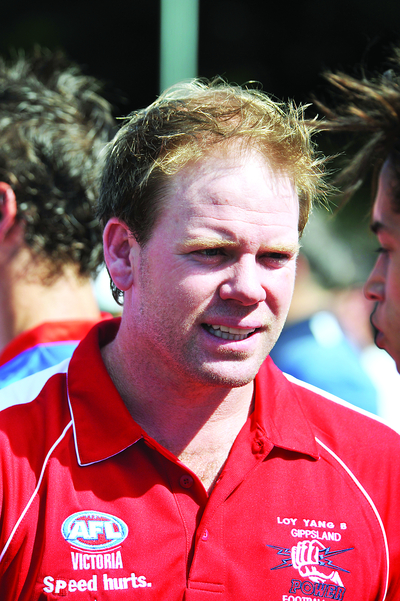 GIPPSLAND Power coach Nick Stevens will strap on the boots once again as he gets ready to play in the EJ Whitten Legends Game on Tuesday.
Stevens, a former Port Adelaide and Carlton Australian Football League player, was "honoured" to be selected for a second consecutive year for the Legends Game, which he said was an opportunity to reflect on his 231-game career.
The EJ Whitten Legends Game began in 1996, following the death of AFL hero Ted Whitten, and money raised on the night is donated to prostate cancer research.
With an emphasis on men's health issues, Stevens said it was important to increase awareness for the "great cause".
Despite putting on some "extra weight" since retiring from AFL, Stevens believed he was in good physical condition for the game.
"The young boys keep you on your toes and keep you fit, so I can still run okay and kick the footy," he said.
The star studded line-up on the night will include Wayne Carey, Anthony Koutoufides, Brad Ottens, Matthew Lloyd, Peter Everitt, Tarkyn Lockyer and Tadhg Kennelly.
"It is not about winning or getting a kick, it is about catching up with mates and having fun," Stevens said.
"In saying that, there are a few that take it seriously because of the competitive nature of the people, so that comes out on the field."
Stevens simply aimed to "get a kick" to avoid embarrassment from his TAC Cup team, Gippsland Power, players.
"The boys are giving me stick about playing, so it will be good to get some kicks and have fun," he said.
"Hopefully there will not be too many embarrassing moments, I try and stay away from them as much as possible."
After retiring in 2009 due to ongoing neck injuries, Stevens said he was excited to be out on the field again.
"I miss it everyday," he said.
"I had to retire early so it is something I miss, of course I would like to be out there playing every week.
"I'd give anything to go back and play but my path has gone in a different direction."
Stevens said he was enjoying his first year as Gippsland Power coach, which was currently equal first in the TAC Cup, having only lost one out of 10 games.
"You like to think a premiership is an option but it is a long year and anything can happen," he said.
"You'd love to win but in the under 18s it is more about developing players and getting them drafted, but if we are lucky to sneak in a premiership along the way, I wouldn't complain."
The dominating season has led to strong interest from AFL clubs, which Stevens said "as long as we keep winning, I'm sure we have a great chance to get some guys onto the AFL lists".