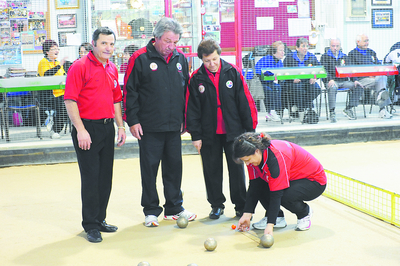 Morwell's Italian-Australian Club came alive on the weekend, with bocce players from around Victoria and New South Wales coming together for the Latrobe City Bocce Triples Classic.
Event organisers Sally Fava and Mary Pagani said the weekend had been "very successful".
"That's the word that's out there; everyone seems to have been enjoying themselves and feel they've been made welcome," Fava said.
Over two days, 24 three-player teams battled it out with the final being played between Tatura and Freccia Azzura, the latter taking home the prize.
Unfortunately, according to Fava, none of the four Morwell teams made it past the preliminary finals.
Morwell youngster and Australian team representative Nick Cooper was bundled out of the tournament in the preliminary by just one point.
Morwell boasted the oldest player in the competition, Anna Smaniotto, who has been playing the sport for around 40 years.
"Anna is 79 years old, and she's getting better with age," Pagani said.
"She's such an incredible competitor and an all-round lovely lady; she's the first to help with anything and is always enthusiastic about playing away at other clubs."
This was the competition's 11th year, and Fava said the club intends to host it well into the future.