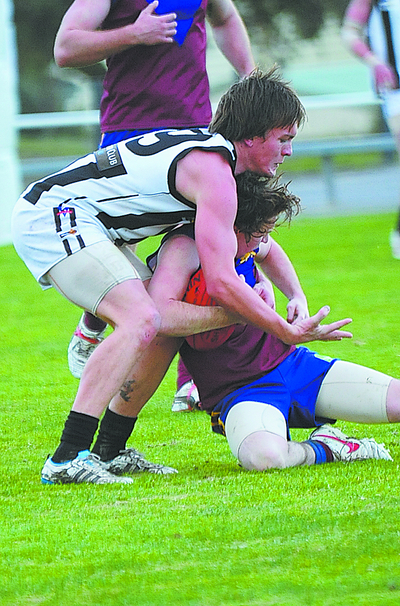 Traralgon has again failed to beat a side above them on the Gippsland League ladder, going down to Leongatha by 12 points in heavy conditions.
Leongatha was missing Zac Vernon, coach Will Thursfield and full-forward Dwayne Holt.
The Maroons got away to a great start kicking 3.3 to 0.6 in the first term, but only managed 1.3 to 5.6 for the rest of the game.
Good players for the Parrots were Tas Clingan, Dylan Westaway and Patrick Kindellan, while Michael Cooper, Michael Geary and Matt Jones were Traralgon's best.
Warragul v Morwell
Morwell moved to fourth on the ladder after a comfortable win over Warragul.
Damien Kerr said his side was happy to get the points after kicking so badly.
"We also missed goals we should have kicked and Warragul only went forward twice in the first term and scored 1.1," Kerr said.
He said Robert Michaelides showed his true class making his five-goal haul look easy, while others struggled in the conditions.
Jack Brown outpointed Warragul star Ben Hughes, but Shane Ryan was reported for allegedly striking Hughes.
Morwell handled the conditions better in the second half, with the home side managing just 1.5.
The Tigers' next big test will come this Saturday when they host the in-form Leongatha.
Moe v Sale
Moe put up a gallant effort against powerhouse Sale.
The Lions' score of 12.8 against Sale this season was beaten only by Morwell's winning score of 12.9 in round six. Moe coach Jason Macfarlane was happy with his side's performance.
"We played four good quarters and it is very hard to play against a side when it is up and running and has good skills," he said.
"Our boys didn't keep back and it was encouraging against such a class side.
"It showed we are going the right way about it for our future…Sale is a very well drilled and disciplined side from the outset when they come onto the ground and split into well-structured groups."
In general play Sale's conversion on set shots was poor, kicking 4.8 to 3.1 in the first term.
Kane Martin, Jack Lipman and Luke Collins were playing well for the Magpies, while David Crook and James Blaser stood out for Moe.
Sale kicked the first three goals in the third term before Moe scored and the Lions kicked the next three points including two set shots.
Sale sealed the game early in the last term with goals to Matt Ferguson, Brendan Rathnow and John Gooch before a spirited Moe comeback.
Other good players for Sale included Luke Collins, Kane Martin and John Dunkley with John Gooch, Matt Ferguson and Brendan Rathnow kicking four goals each. Moe was best served by James Blaser, Rhys Pywell and Jacob Wood.
Bairnsdale v Wonthaggi
Wonthaggi Power got off to a flying start against Bairnsdale, with a seven-goal first quarter setting up a 61-point victory.
The Redlegs improved after their slow start, but the damage had already been done.
The win sees the Power equal fifth with Traralgon on 20 points, and still in the running for a final five spot.
Good players for Power were Byron Dryden, Lucas White and Phillip Young while Kane Ashwood, Luke Dyer and Paul Bills were good for the Redlegs.
Bairnsdale coach Alastair Ford stood aside during the week and was replaced by Mel George.
Maffra v Drouin
Maffra withstood a fast-finishing Drouin to hang on by five points in an entertaining match.
The Eagles led by a goal at half time, but a seven-goal third quarter gave them a 35-point buffer going into the final term.
Drouin lifted with a five-goal reply but could not bridge the gap.
Daniel Bedggood and Adrian Burgiel kicked three each for the Eagles while Sam Tudor, Dan O'Brien and Jackson Scott were their best players. Bob McCallum with three goals, Pat McGrath and Matt Hedley were the best for Drouin.
Daniel Barrand played his 100th senior game for the Hawks.