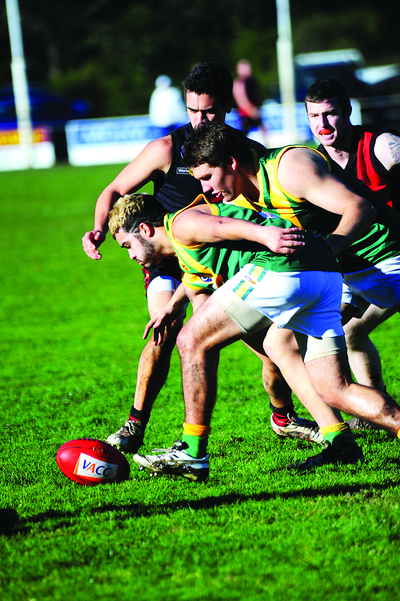 Yarragon smashed Thorpdale by 68 points in Mid Gippsland football.
Leading from the start, the Panthers kicked at least the first goal of each term, with several of their fast-footed players ensuring they were first to the ball all day.
Coach Shaun Kleeven was overjoyed with his team's first win, which has also moved them from the bottom of the ladder, and said the players did everything asked of them.
"At the start of the week we sat down and said the things that we need to do to win the four points today… I basically asked them to take their opportunities when they were there and today they've been able to do that," Kleeven said.
He said the side's under 18 players shone as did their forwards, with Todd Mann having a "sensational" game and Paul Harvey playing "fantastic", but it was also a team effort.
Blues coach Brett Sherriff was embarrassed with his team's performance and said while his side was not used to such boggy conditions, it was no excuse for how poorly the Blues played.
"We weren't working hard enough to make a contest…we seemed to be not switched-on," he said.
Trafalgar v Yinnar
An enigmatic Trafalgar brought Yinnar's winning streak to an end, 17.9 (111) to 5.4 (34)
Trafalgar coach Chris Kyriacou said his side had the best preparation for the game and came into it really switched-on.
"It's been coming for a couple of weeks I think this win," he said.
"We've just been training really well on the track and it was a matter of time before we clicked."
Kyriacou said he could not pick one standout player, as everyone played unselfishly and it was the great ball movement and impressive work at the stoppages that earned them the win.
The win gave Trafalgar's percentage a healthy boost and moved it back into second spot to set the team up for the double chance come finals.
In coming weeks Yinnar has to beat Mirboo North or Newborough, which they have not done yet, to boost the team's confidence going into the finals.
Mirboo North v Boolarra
Boolarra was unable to maintain its quarter-time lead, going down to Mirboo North 15.10 (100) to 8.13 (61).
The second quarter set the Tigers' up for the win, kicking five goals to the Demons' one and they were unable to recover from the set back. However, the Tigers 25-point lead only increased to 39, proving the Demons were capable of keeping up to a degree.
The loss means Boolarra needs a few big wins and a lot of luck in the race for finals, with the odds stacking up against them at each loss.
Newborough v Morwell East
Morwell East fell just short of Newborough, going down 8.8 (56) to the Bulldogs 9.8 (62).
The margin did not go beyond nine points at any of the breaks and the lead changed many times during the day.
In the last quarter Morwell East was in front with just a few minutes to go when the Bulldogs snapped a quick goal to lead by five points. A Hawks player had a kick after the siren to make it a draw, but it just fell short, leaving Newborough with a narrow escape and a lucky win.
Yallourn/Yallourn North v Hill End
Yallourn/Yallourn North remains in finals contention after a crucial win over Hill End 11.11 (77) to 7.6 (48).
The win has bumped the Bombers into fifth spot, taking the place away from the Hillmen.
Bombers coach Tony Price said his side was happy to achieve its goal of beating Hill End, and it was their desperation and fierce tackles that made the difference. "We were rapt, the boys worked really well…and were much more determined than they've been the last few weeks," he said.
Hill End is really missing playing coach Josh Tymenson, who is out with an injured foot, and his inclusion may be needed to get the side back on track.