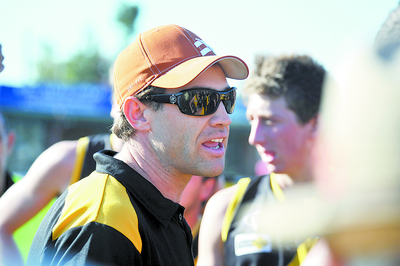 After losing to three of the bottom four sides earlier this year, Morwell has regained the momentum after defeating the top five sides in Gippsland League.
Going into round 13, Morwell sits fourth on the ladder just one game, but a significant percentage, behind Maffra.
Coach Damien Kerr credits the turnaround to a change in attitude.
"We just started training a lot better," he said.
"We lost to the two bottom sides, and since then we've only lost one game.
"We had a look at how we were going, what we were doing wrong, and part of that was our attitude on the track so we changed it."
Kerr added the team was also playing well at home which he said was "key".
This week the Tigers travel to Bairnsdale for a match Kerr said the team would not be taking lightly.
"We're the kind of team that we can't afford to drop off; we can't be at 90 per cent, we have to be at 100 per cent," he said.
"We lost to Bairnsdale earlier in the year, and then we've got Moe who also beat us so we really have to make sure we win those away games and the games we really should win."
Kerr said the return of Jeff Ryan has boosted the side.
"Jeff coming back has been great," he said.
"He's pretty outgoing and great to have around the club; his first game was the one against Sale, and he's only been involved in one loss so far."
Kerr also believed the club had recruited well, picking up the Bailey brothers, Brandon and Boyd, as well as key player Rob Michaelides, which has given the side depth.
He also praised Tom Crosby's efforts in the ruck.
So what is the secret to getting past the competition's two best sides?
"Leongatha are really quick on that outside run, so we had to make sure we didn't let them get out in the open and they've got a strong forward line, too, so you have to really apply the pressure to their midfield," he said.
"Sale are just strong everywhere; you've got to win enough of the contested football because if they get it down forward they'll kick goals."
Kerr's appraisal of his own side was honest, acknowledging other teams were more naturally talented.
"We have to work very hard for our wins, we have to put it to them every week, we can't afford to lapse or we'll get beaten," he said.
Overall he said the team was happy with its form, and everyone was doing their bit so the plan was to "ride with it".