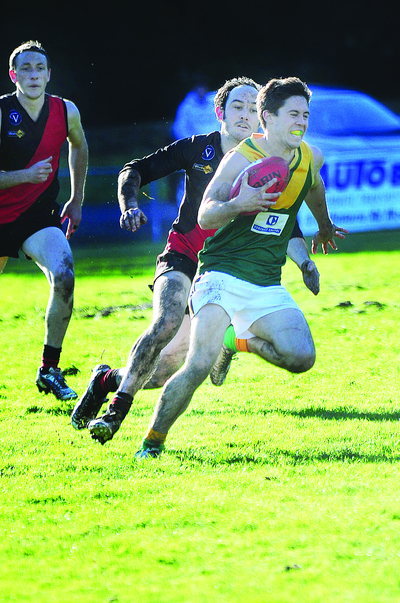 MIRBOO North plays Trafalgar in the battle for second spot in Mid Gippsland football.
The resulting second place get could be temporary however, because both sides are yet to play Newborough again.
Yet more is on the line than second place for the Tigers, because it is likely these teams will face in a final and Mirboo North has not beaten Trafalgar at the Tigers' home since 2009.
Mirboo North needs a win today to gain some confidence.
Trafalgar won by 13 points in a low scoring game last time they played, and spectators can expect another close game this week.
YYN v Boolarra
Boolarra travels to Yallourn/Yallourn North this weekend for a must-win game.
With Hill End and Morwell East likely to win this Saturday, the Bombers need to win to avoid added pressure.
After another loss last week, the Demons are still two wins from the other three teams trying to seal a finals place, but coach Tony Giardina and his side believed they can make it.
"We're pretty confident that we can get there," Giardina said.
"At this stage we're just taking it one game at a time though.
"That'll be the test; if we can get over them (YYN) anything's possible after that."
The Demons had their first win for the year against YYN last time they played, and it is a big game for both sides.
Bombers coach Tony Price said he will be focussing on lifting the confidence of "second tier" players, so that they do not rely so heavily on their better players.
Thorpdale v Hill End
Thorpdale has picked up and played better football last week, but a lot more will be needed to beat Hill End.
Hillmen coach Josh Tymenson said after a great win at home last week, the key now is to play well when they travel, which the side has struggled to do this season.
"We need to make sure we take our home game form to away games and come prepared," Tymenson said
Tymenson is still out injured and said his side could be lacking some on-field leadership because the side also has some more experienced players out due to work commitments or injury.
Tymenson said the more experienced players help the younger ones in the side, especially by providing a "cool head under pressure".
Newborough v Yinnar
After a disappointing loss last week, Yinnar is just one game clear of the teams vying for fifth spot.
Yinnar coach Sam McCulloch said he was aware his side's place in the finals is not guaranteed.
McCulloch said after failing to do so last week, playing consistently will be a focus for this weekend's game
"We're going to have to play a consistent game and play good quarters of football if we're even a chance to beat them," McCulloch said.
Newborough did play well for four quarters last week against Boolarra and were able to fend off the Demons. The Bulldogs have also proven in recent weeks they can come from behind to win, and the Magpies know they will have to be on guard the entire match to win this weekend.
Yarragon v Morwell East
Last time they played, Morwell East beat the Panthers so it will be important for them to get off to a strong start to avoid a repeat.
The battle for fifth spot may come down to percentage, which is just keeping Morwell East ahead at the moment.
A percentage-boosting win would be helpful today.
However, Hawks coach Paul Henry said he does not want his side to get over-confident and the main emphasis on this weekend's game will be not taking it lightly.
"I hope no one's going into it thinking, cause we beat them by 95 points last time, that that's going to happen again," Henry said.