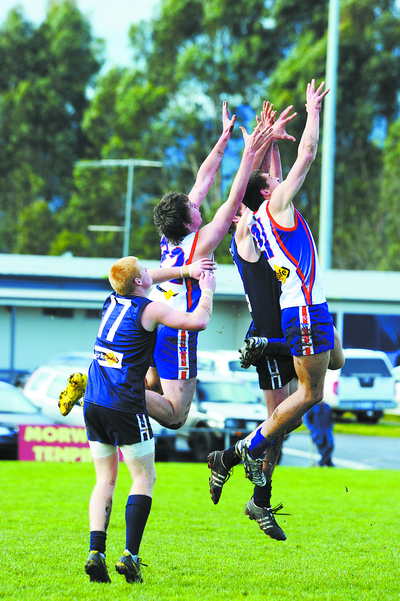 PROMISING young footballers from the Gippsland, Mid Gippsland, Ellinbank and Alberton leagues battled it out for the Latrobe City Cup last Wednesday.
Under 16 and under 18 competitions were held, with Alberton going through undefeated in the under 18s, while the Gippsland League side was undefeated in the under 16s.
Cup organiser Rod Lucas said the standard was noticeably higher this year, especially in the under 16s.
"The skill level was fantastic this year," Lucas said.
"Even Mid Gippsland were much better, last year I don't think we won one game and this year we won two, so there was clear improvement in all the sides.
"There were no blow outs, it was all pretty close."
Alberton's Thomas Wyatt was named the under 18 player of the carnival, while Gippsland League's Brayden Darby-Loch took the honour in the under 16 division.
Lucas said the competition had been running for "seven or eight years" and is still "very popular".
"The under 16s in particular, we had a great response they're all so keen," he said.
However, he flagged the possibility of the under 18 competition not being held next year, due to many players being unavailable or already playing in the senior interleague competitions.
"It started out as just an under 16 competition, and some of the leagues are questioning whether we need to hold the 18s," he said.
"Another factor is with that age group a lot of the kids are actually working during the week so they can't play, but we'll just have to see how it plays out."
Lucas also said the Mid Gippsland and Gippsland leagues were hoping to play a double header next year in the senior interleague competition.
"If we both have home matches it should be fine, but it just depends on who we're playing and the logistics of it all," he said.