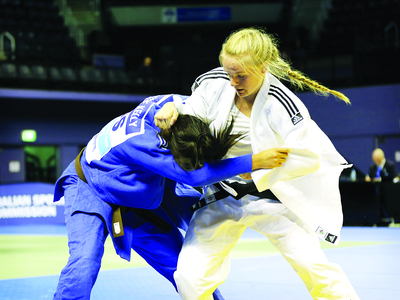 The Traralgon Judo Club returned with three gold medals from the Judo Federation of Australia National Titles, held in June.
With three Traralgon senior competitors working towards Glasgow 2014 Commonwealth Games selection, this championship was an important start to their campaign.
Traralgon's senior men's under 81-kilogram competitor Eoin Coughlan demolished the opposition in his three preliminary bouts on route to the final.
In the final he came up against the highly experienced Brent Iverson who was defending his national title.
After a fierce tussle Eoin eventually got caught on Iverson's favourite left hip throw.
In the junior women's under 63kg, Aoife Coughlan lost narrowly in the final on a 2/1 flags decision after extra time with no score against Karen Da Silva of New South Wales – she was last year's under 71kg national champion.
Aoife also competed in the senior women's division and took bronze.
Based on her performance overall this year, including gold in Oceania under 63kg young women and silver in Oceania under 63kg senior women, Aoife is currently ranked number one nationally on points.
Yinnar coach Sharon Taylor was defending her national title in the under 52kg.
She got to the final with ease but was out-manoeuvred and gave away a minor penalty point which was enough to put her in the silver medal position.
Maeve Coughlan moved up a weight division to 52kg in senior girls under 14 years, winning gold, and followed up with a silver in the cadet 14 to 17 years youth Olympic selection competition.
The top two players in this competition will represent Australia in the Youth Olympic Sports Festival to be held in Sydney early next year.
Aaron Nabulsi in his d?but nationals, fought through tough preliminary rounds to secure a position in the final.
He defeated his NSW opponent for gold with a neat foot sweep for Ippon (full point win).
Matthew Delaland reached the cadet bronze medal bout in his first nationals, but lost to a more experienced opponent.
In the junior and senior boys, Saul and Noah Nightingale, and Jordan Nabulsi fought well through the elimination rounds but went out to determined opponents in the medal bouts.
Traralgon coach Hunter Richardson paired with state junior and Traralgon coach David Nabulsi in the kata (formal demonstration) event.
This was also an assessment event for David's promotion to fourth Dan.
They produced a neat demonstration of the thirty throws of nage no kata and were awarded the gold medal, rounding off another good outing for the Traralgon Judo Club.
Traralgon Judo Club trains at the Traralgon Budokan, one of only a few purpose-built facilities for martial arts in Australia.
Visit tbk.com.au for more information.