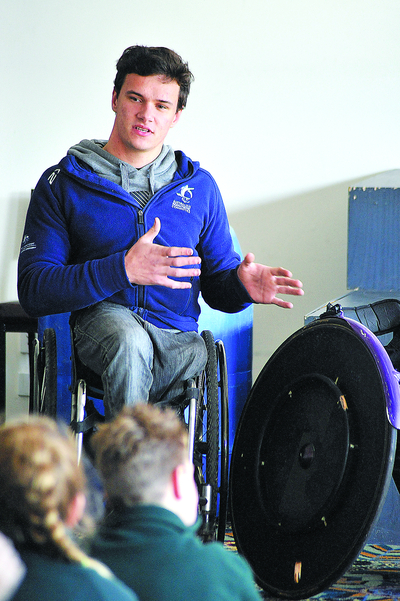 FOR an athlete less than a month away from contesting three events at the London Paralympics, Jake Lappin was relaxed when he addressed Lumen Christi Primary School students in Churchill last week.
The 19 year-old, who hails from Kilmore but has a large Latrobe Valley-based extended family, is one of Australia's most competitive wheelchair athletes – he currently holds the 200-metre Australian track record.
As a 17 year-old he reached the 1500m men's final at the Delhi Commonwealth Paralympic Games and dominated the 2010 National Underage Championships, winning five gold medals.
Last year Lappin won two bronze medals at the National Championships and he holds every under 20 Australian track record.
Those achievements helped secure him a berth at the 400m and 800m track races, and relay, in London this year, but Lappin appeared composed when asked, by curious local students, about his pre-Olympic nerves.
He told his audience he got serious about wheelchair racing at the age of 14 after meeting his hero, legendary Australian wheelchair athlete Kurt Fearnley.
Lappin said he now calls Fearnley a friend, and occasional training partner, but remains awestruck by the gold medallist's string of titles.
Despite a casual demeanour Lappin's ambition is clear – he may be in the infant stages of his career but his long-term goals are to "chase down Kurt's times" and, post-London, begin a gradual transition to the marathon.
When asked what sport he would play if he "had legs", Lappin paused before suggesting "maybe footy".
He may be a fearless competitor, training up to four hours and covering more than 20 kilometres daily, reaching speeds of 35 kilometres per hour on the track and 60kmph on the road, but it was Lappin's modest reprisal of some less than stellar performances, and disappointments, that were impressive.
When asked how he coped with inevitable losses along the way, Lappin said "I don't get too heartbroken… I just look to the next race and the next opportunity".
Even the road to London threw him a recent curve-ball.
Though he knew for months he had qualified for the 400m, just days ago Lappin welcomed news he had also qualified for the 800m, though he conceded the timing was "a bit of a shock".
With a 400m personal best of 48.3 seconds, Lappin said he knew he would be up against the world's best and would need to shave a second off to make the finals in London, but would be giving it his best shot.
"I definitely want go faster and get my adrenaline going," Lappin told The Express.
"I have been told that in Beijing the arena was really loud, so it was different…but I am ready.
"It's my first Olympics so I don't really feel any pressure or expectation, except in the relay… I really don't want to let them down."
He has attended regular training camps at Canberra's Australian Institute of Sport to practice the crucial relay "changes".
"I don't get really stressed about racing," he said.
"(Fellow Australian team member Nathan Arkley) is 17 and I am 19…we just don't get too distracted by it," he said.
Born "how I am", with abdominal and spinal problems and a weakness in his one leg that meant "walking 500 metres felt like 10 kilometres", Lappin has been in a wheelchair since the start of his high school years, a move he said "made things so much easier".
Also making life easier is a supportive family and a sense of humour.
When asked by one student if he would also be playing wheelchair basketball at the Olympics, Lappin smiled and said "no, I think I'll leave that to the basketballers".
Though his resume to date suggests Lappin has the potential for greatness, on his Australian Paralympic Committee webpage he says what separates him from the rest of his strong field is "the ability to expertly style his hair".