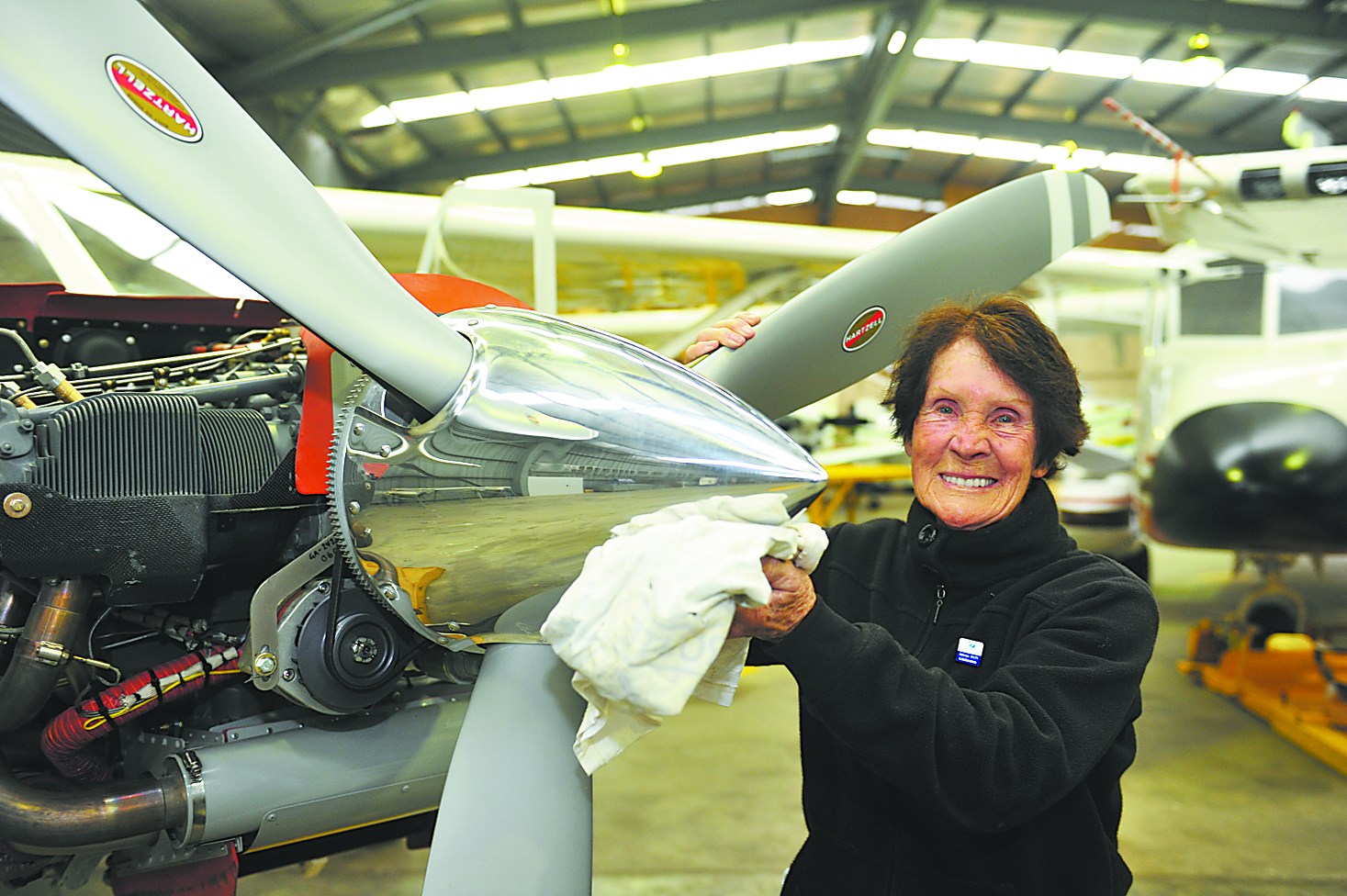 TRARALGON'S Bette Rodgers will be sad to say goodbye to the place she literally called home for nearly two decades, GippsAero, when she retires at the end of October.
Ms Rodgers, who has been with the company for almost 20 years, has done "a bit of everything" with the local aircraft manufacturer, from helping build wings for its first aircraft type, to her current role in cleaning the hangars and managing the cleaning staff.
During that time, she also lived on site for almost 15 years, where she had the place to herself – "and loved it".
"One of the engineers did the calculations, and they reckon I've swept the distance from Sydney to Melbourne seven times (in the main hangar) in my time here," Ms Rodgers said.
"With the other (four) hangars, which I used to clean as well, they reckon I may have swept my way around the country."
Although she is in her 70s, Ms Rodgers has no intention of slowing down.
"I'll slow down when I have to; I still feel fit," she said.
Following her retirement from GippsAero, she already has something else lined up, which will see her working with old warbirds, including Mustangs, Dakotas and Sabres.
Ms Rodgers' eyes light up when she talks about planes; it is a lifetime love affair which began when a Tiger Moth aircraft landed in her family paddock in Gould, near the Moondarra Lakes, when she was eight years old, after the pilot experienced engine failure.
"I remember being so excited; I could hardly wait to get to school to tell everyone about the plane in my paddock," she said.
Following that fateful day, Ms Rodgers kept her passion for planes alive, culminating in her gaining her private pilot's license in 1967.
"Not many women learnt to fly then; it was not a girl's thing to do in a man's world," she said.
"I remember thinking (when I got in the cockpit of the Victa Airtourer 100hp) 'I'm in this plane that's worth so much, all by myself'; it was fabulous," Ms Rodgers said, of her first solo flight, adding she was not nervous at all.
Her last flight was about 10 years ago, due to her advancing years, and it is something she misses, but Ms Rodgers said she was kept happy working around planes.
In her time with GippsAero, she recounted her fondest memories as her two trips to the United States – courtesy of the company – to Oshkosh, a large US air show, in 2002 and 2005.
"I started collecting caps after my first show, and now I have 236 caps; some of the boys bring back caps for me, and we are going to have them in the new brew room," she said.
Among her prized caps are that of Air Force One – the private plane of the president of the US – as well as the cap of skycrane Elvis, which plays an integral role in Australia during bushfire season.
"I swapped the cap off the pilot's head," Ms Rodgers said with a laugh.
A self-described "tomboy", Ms Rodgers' other passion is cars; she used to drive a hot rod, and competed in women's races in the 60s.
She is also among one of 14 women, of GippsAero's 170 total workforce.
Ms Rodgers has firmly established herself as a "second mum" to many of the staff there, and oversees the social club and monthly barbecues.
"It's been an absolute pleasure working here, and I will miss it; I've seen it grow from just 12 people to 170," she said.