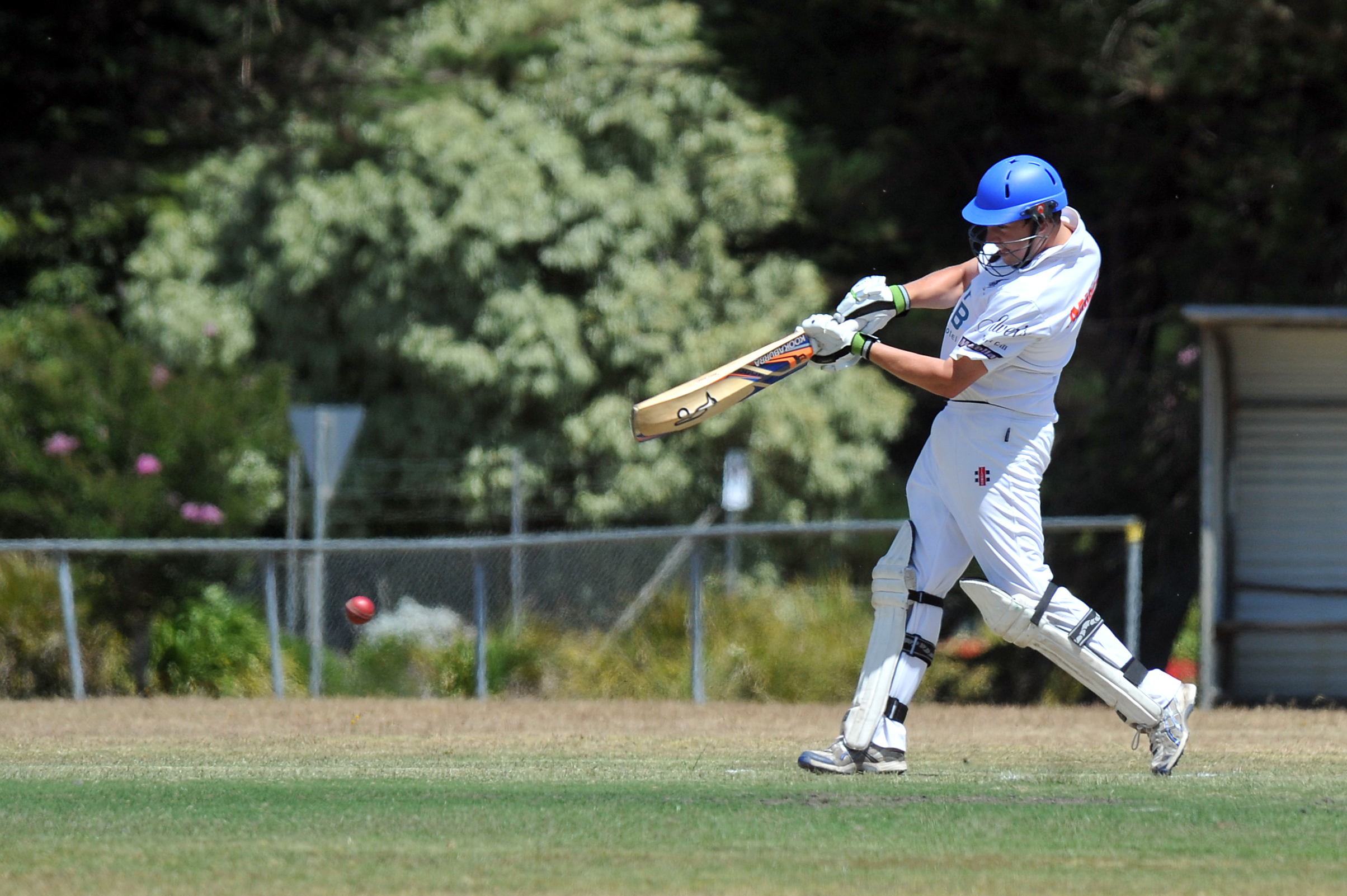 MOE surged to the top of the EnergyAustralia Yallourn Cup ladder with a crushing outright win over Newborough Bulldogs.
The Lions did not take long to wrap up their match against Newborough, declaring before the start of play with a lead of 83 runs.
The Lions were methodical in dismissing the Bulldogs for 85.
Chris Johnson added to his 6/6 last week with 3/25 from 13.1 overs, but Rob Phoenix was the punisher taking 6/28 off 13 overs.
Jayden Mathison took the other wicket.
Needing just three to win outright, Moe openers Dale Walshe and Aiden Kelly did not need to lift a finger; the last ball of the first over from Rohan Kelly went for three byes.
Nathan Simpson was the best Bulldog bat with a credible 33.
This week the Bulldogs have the bye and will play Mirboo North in the final round.
Trafalgar v Latrobe
Two magnificent centuries from Kaushik Aphale and Anthony Bloomfield enabled Latrobe to score a morale boosting outright win over Trafalgar and move to third spot on the ladder.
The Sharks resumed at 2/21 and started poorly when Rob McKinley was caught at the wicket by John Asmussen off the bowling of Jackson Noon for a duck.
The Ships' hopes began to sink after that as Aphale and Bloomfield put on a record breaking unbroken partnership of 232. The previous record for the fifth wicket was held by Morwell's Shane Blewett and Gavin Bailey, who put on 214 in the 2003/04 season.
Bloomfield now holds three of the 10 wicket record partnerships, having posted double centuries in his previous two entries. With a lead of 141 Trafalgar, without Rhys Holdsworth, batted again and was all out for 71 with the wickets shared between Pat Farrant (4/21), Brendan Evans (3/17), McKinley (2/17) and Jamie Brierley (1/12).
Yallourn North v Morwell
Yallourn North held on to deprive Morwell of outright points thanks to a gallant rear guard action from Evan Sheekey (72) and Shane Galea (69).
The pair put on 99 for the sixth wicket, following 57 by Sheekey and Elliot De Carli for the seventh wicket.
The Bombers looked in real trouble before that, slumping to 5/51 before Galea and Sheekey came together.
It was a good day for Sheekey as he claimed five victims behind the wickets including the stumping of Craig Giddens for a duck.
Morwell resumed at 5/125 and finished on 264 with Blake Mills (55), Brendan Brincat (59) and Shane Bromilow (66). It was Bromilow's highest first grade score. The Tigers dropped to second spot while Latrobe moved to third over Mirboo North. This week the top four play each other in a crucial round that could decide final positions on the ladder.
Second grade
MIRBOO North's outright win over Hazelwood North in second grade has put pressure on Rawson as there is 0.38 of a point separating the pair.
First grade bat Jimmy Watson made full use of the bye and helped himself to 124, dominating an opening partnership of 152 with Steve Rogers (40).
Mirboo North declared at 3/193 and the Razorbacks were all out for 119 in 20 overs.
Brendan Mason was in fine form with 67 of the 119 total.
Hazelwood North managed 76 the second time around with Ben Quirk taking 4/13 from six.
The Tigers needed two balls to score the six runs for maximum points.
Yallourn North scored a good win over a strong Trafalgar side that included James Blaser and Graeme Rankin. Batting first the Bombers made 206 with Riley Byrne (42) and Nathan Donnett (36) the main scorers.
Ricky Martin soon had Trafalgar in trouble as they slumped to 4/12 and then 5/42 before Scott Moorhouse (65) and Craig Nielson (34) took the score to 124. Bill Lawrey removed both batsmen and Martin finished with 5/26 off his 10 overs.
Rawson scored a 63 run win over St Vincents with Alex Sword top scoring with 50 and Michael O'Brien taking 4/40 for the Saints.
Batting first the Saints lost Mal Gifford and Justin Blair when Dylan Lee claimed both wickets.
After that the Saints struggled with Duane Oldham making 37 and Rod Fleming taking 3/18.
Morwell gave top side Latrobe a scare when Mark Smith (77) and Glen Bone (36) put on an opening stand of 110, but they collapsed to 160 after 45 overs. An unbeaten century by Kris Wells (103*) guided Latrobe to first innings points after Steve Esler claimed the first two wickets leaving the Sharks at 2/3. Bowling legend Matt Clarke showed his prowess with the bat to rescue Moe from possible defeat against Willow Grove.
Chasing 131, Clarke and John James (37) came together at 8/88 before James was out with the game in Moe's keeping.
Clarke went on to score 55 and figured in a last wicket stand of 67 with Frank Manduci who made 41.