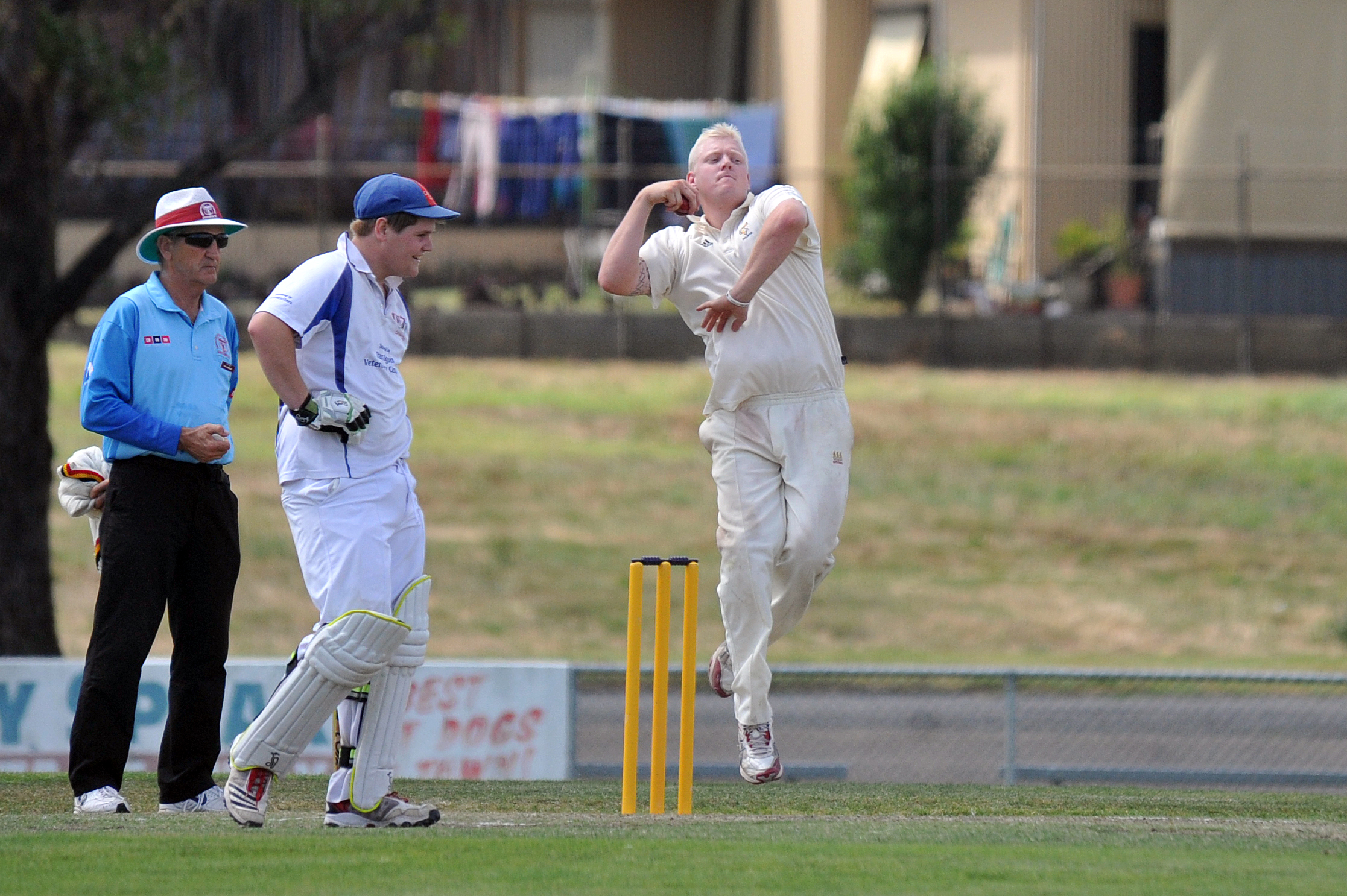 THE final round of home and away matches produced some enthralling contests with positions third and fourth still up for grabs and looking like going down to the wire. The Tigers sent a clear message with a mammoth 7/399, with Kent Hammond and Travis Switzer both posting centuries in a new league record partnership.
CATS will be sweating on other results as they failed dismally against Ex Students, bowled out for 69.
Glengarry could well be on the way to finals action with 227 on the board against Raiders.
Centrals only has 95 runs in the bank as Imperials reached 2/35 chasing 130.
Rovers could produce an upset and require 62 runs with eight wickets in hand to defeat Toongabbie.
Ex Students v CATS
IN this much anticipated clash CATS won the toss and batted at Traralgon Recreation Reserve.
In an utter disaster CATS lasted just 33 overs and was bowled out for 69.
Brett Chapman continued his good season top scoring with 38.
Lee Stockdale was best for the Sharks with 4/16.
In reply Ex Students batted the rest of the day to be 8/134.
Barney Webber top scored with 56 while Ryan Foulkes claimed 3/17 for CATS.
Gormandale v Churchill
FRESH from a two week bye, Gormandale batted first and Grantley Switzer (26) and Kade Joske (20) both made starts.
When Adrian Burgiel was dismissed by Ryan Harvey for 11, the Tigers had 3/91.
With Kent Hammond on 28, Travis Switzer strode to the crease and together the pair rewrote the TDCA record books with a 206 run fourth wicket stand.
The record was previously held by Wayne Henry and Mark McNair, set in 1997.
Hammond was majestic in his brilliant knock of 146, while Switzer made a punishing 118.
Rob Darby (38*) and Shaun Barbour (22) helped the Tigers to a season high 399. Ryan Harvey was best for the Cobras with 2/38 from 10 overs.
Raiders v Glengarry
BATTING first Glengarry would be satisfied with their total of 227.
The three Marks brothers all contributed; Sam made 24, Frank compiled a well made 56, while skipper Ben top scored with 78.
Steve Wright was useful at number 10 with a good knock of 31.
Liam Maynard with 5/90 was best for Raiders.
In reply Raiders faced 23 overs and made 2/29.
Centrals v Imperials
IMPS won the toss and sent Centrals into bat with immediate success to leave the Lions reeling at 2/2.
Centrals could not get a solid partnership going and was bowled out for 130. Jarrod Allan (20) and Dean Rode (18) both got starts, but only Corey Pollard batting at eight made an impact with 52.
Nick Scammell (4/26) and Aaron Johnstone (3/18) bowled well for Imps.
At 2/35 in reply, Imps is well on the way to an upset win.
Toongabbie v Rovers
IN the clash at Toongabbie the home side batted and was dismissed for 130.
Nathan Rosser (33) and Josh Sandy (30*) were the only two batsmen to figure.
Mark Thompson (4/57) and Fazz Hasan (3/29) were best for Rovers.
In reply Rovers is a steady 2/69.
B grade
Centrals 247 vs Imps 3/17 – B.Ould 43, D.Doble 39, B.Doble 37, J.Randall 6/69; Churchill 301 vs Gormandale 2/22 – C.Flanigan 81, C.Williams 54, W.Jenkins 5/90; Ex students 272 vs CATS – J.Gilmour 68, J.Kerry 60, D.Forrest 48; Rovers 123 vs Toongabbie 2/67 – P.Anton 4/34