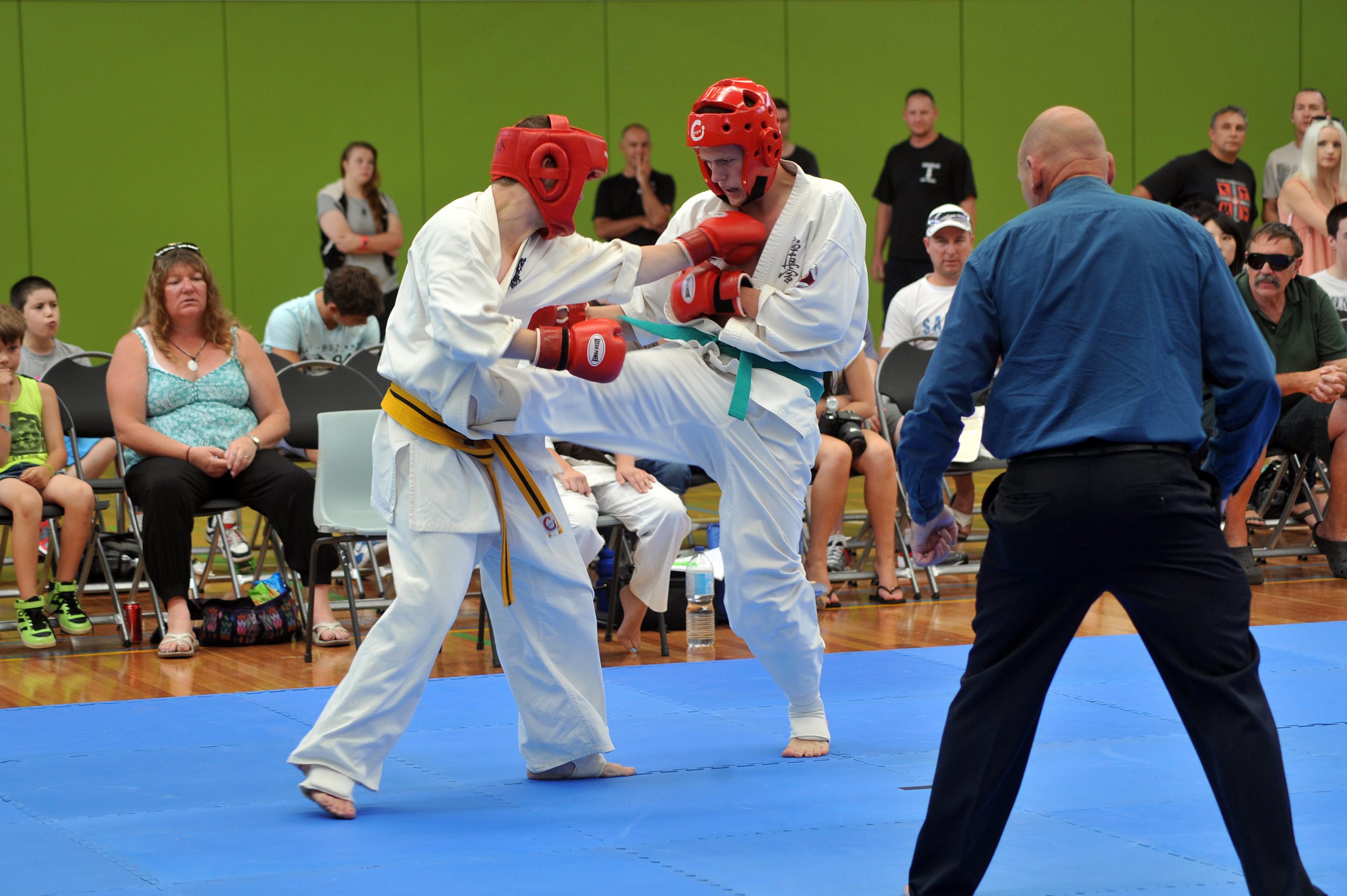 PERSEVERANCE and hard work are the hallmarks of Kyokushin karate, traits Traralgon Dojo's Sean McLoughlin displayed when he gave away 34 kilograms in his full contact bout at Saturday's 'one match' championships.
McLoughlin's tenacity was rewarded with an illegal punch in the face from his 158kg opponent, but Traralgon Dojo head instructor David Nabulsi said the lighter fighter earned plaudits for taking the challenge.
"He was a giant of a man… which Shaun knew coming in but he took it up to the guy," Nabulsi said.
"One of the things is the spirit Shaun showed to have a go at it, he won a lot of respect from that."
The inaugural Traralgon 'one match' Kyokushin karate competition was held at Grey Street Primary School Hall on Saturday, marking the first local exhibition of the discipline in 15 years.
In the full contact, knock down tournament, 36 fighters from as far as Griffith, and Albury Wodonga engaged in 18 bouts on the day, with several Traralgon fighters claiming victories.
Daniel Locke, Phoebe Stockdale, Sherridan Trevena, Peter Pellegrini and Meisha Saunders were all winners, but the highlight on the mat was a heavyweight tussle between Traralgon clubmates Elias Kavadias and Terry English.
Although friends outside of the competition, the two big men pulled no punches in an epic clash that drew fervent fanfare from the crowd of about 200.
English scored the win after a memorable match.
"It's one thing for two clubmen to compete but to compete in a full contact event and have to really go at each other… everyone really respected the effort they put in to fight each other," Nabulsi said.
Fighters from novice level through to world cup competitors took part, but the 'one match' format meant matchups were determined by ability, age, weight and experience.
"That's what the event was there to cater for; to bring people along on that journey and get them into that style of fighting," Nabulsi said.
The club has committed to making the not-for-profit tournament an annual event.
For more information about Traralgon Kyokushin Karate visit www.tbk.com.au