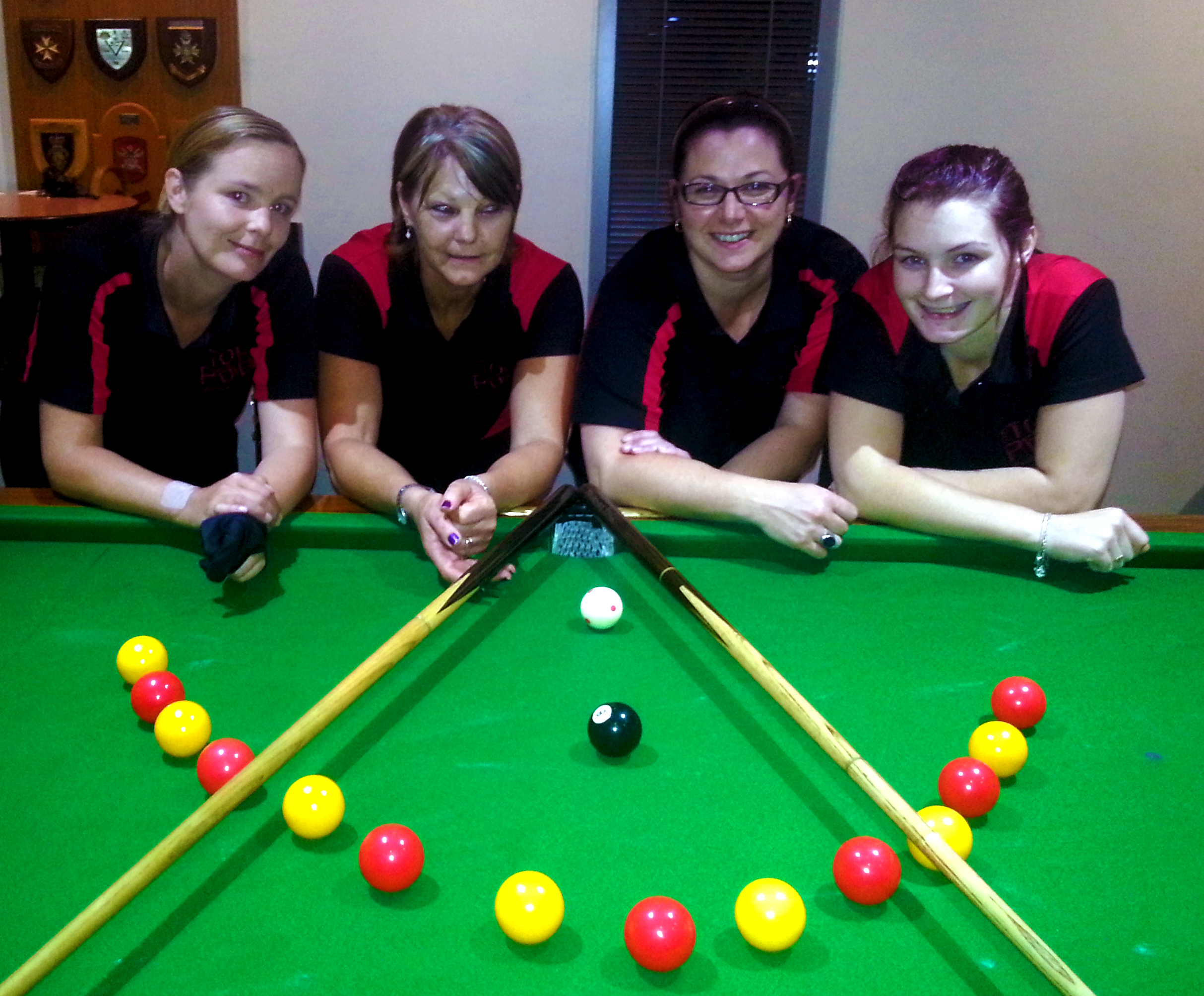 A GROUP of girls from Morwell's Top Pub are proving pool is not just a boys club.
The 'Kissabulls' – Ann Rockall, Rosa Payne, Emma Highdale, Sonia Scolyer and Kristy Thistlethwaite – are the only all female eight ball contingent in the Latrobe Valley, and played their first competitive season this summer.
Despite finishing at the bottom of C grade, team captain Rockall still had a positive outlook on the result of the fast improving side.
"We're the strongest team on the ladder; we were holding everyone else up," she said.
"The confidence (has increased) and the girls are there for each other; it is a team now."
Rockall said the move to create a women's team was motivated by their partners' involvement with the sport, and was based on an attitude of 'if they can do it, we can do it'.
"I thought well if he's going to be out all the time playing pool, there's a lot of girls out there who want to learn and it's a good night out," Rockall said.
While pool is a traditionally the dominion of men, Rockall said the girls' entry into the Latrobe Valley Eight Ball Association fold had been well received by opposing sides.
"It is hard because it is a pub sport and it is a male dominated league, (but) this is good because they don't have mercy on us," she said.
"Some of them don't like being beaten by a girl but some of them are really good; they come up and give you a cuddle, shake your hand and say you deserve it.
"It's a good ego boost when you win a game against the guys and it's brought the girls into a group that a good friendship has grown out of."
Australian representative Steve Gray has helped Rockall develop her game in one-on-one coaching sessions, and the captain has been passing this expert knowledge on to her charges.
The Kissabulls is now capable of taking three to four games in most of its fixtures, and is still improving, according to Rockall.
Rockall and company will enter the Wonthaggi Cup on 6 and 7 April, and has designs on returning for the LVEBA winter series.
"Some of the boys have expressed interest (in playing for us) but it's girls only and I'm keeping it that way," Rockall said.
The association has its annual meeting tomorrow night from 7pm at Morwell Golf Club.
All players and non players are encouraged to attend and expressions of interest to join existing teams or form new sides will be catered for on the night.