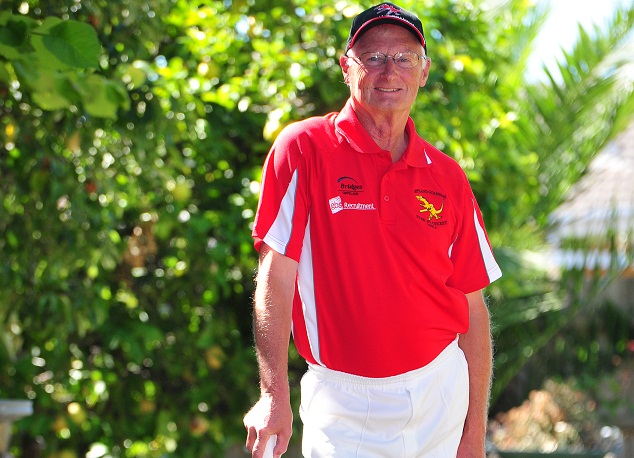 FIVE years ago, Morwell's Graeme Freshwater thought his cricket career was over.
Coming off hip surgery and in his mid 60s, 'Freshy' hung up the pads "retired hurt", until a call from Gippsland Goannas secretary Ian Gibson last year gave him a second lease on the game he loves.
Now a staple at the top of the Goannas batting order, and relishing his return to the whites, the reborn cricketer has been selected to play for the over 70s Australian team to tour England in August.
While it wasn't a boyhood dream to don a baggy green, Freshwater said the opportunity to play for Australia was the perfect way to cap off a career spanning more than 50 years.
"Playing for Australia, that's a significant thing and something I never thought, even as a young player, that I would get that far," Freshwater said.
"I didn't have any great dreams… I just wanted to enjoy cricket with no great ambitions to go as high as I can.
"It's something you don't expect at that age, particularly after the hip operation I thought cricket was finished, and I must admit I missed it."
The veteran player and administrator, who has held top positions within the Central Gippsland Cricket Association and Gippsland Cricket League, described himself as "not a brilliant player", but the statistics would beg to differ.
After 600 games Freshwater's run tally was into five figures, to go with more than 1000 wickets, including a single innings 10-wicket haul (10/49).
With a first foray into international competition looming, the off spinning all rounder said he was looking forward to testing himself at a new frontier.
"I've never played in England so obviously the weather is different and the wickets and grounds are different," he said.
"There's some fairly good players over there (because) they've got a lot to pick from, so it will be a good competition.
"You've got to remember they are 70 but it's played fairly seriously, and in good spirit."
The former Yallourn and Latrobe player is the eldest statesman for the Goannas at 69, but will likely be the youngest on tour with a December birth date qualifying him to play this year.
And while the intensity will be high on the field, Freshwater said, the partying aspect of the trip may be subdued compared to younger international touring parties.
"When you're playing so many games the old fellas might want to get a bit of sleep," Freshwater said.
The 17-man squad will play three 60 over tests against the old enemy, England, in August.
They will contest matches in seven counties and may play a three-match series on the Greek island of Corfu.