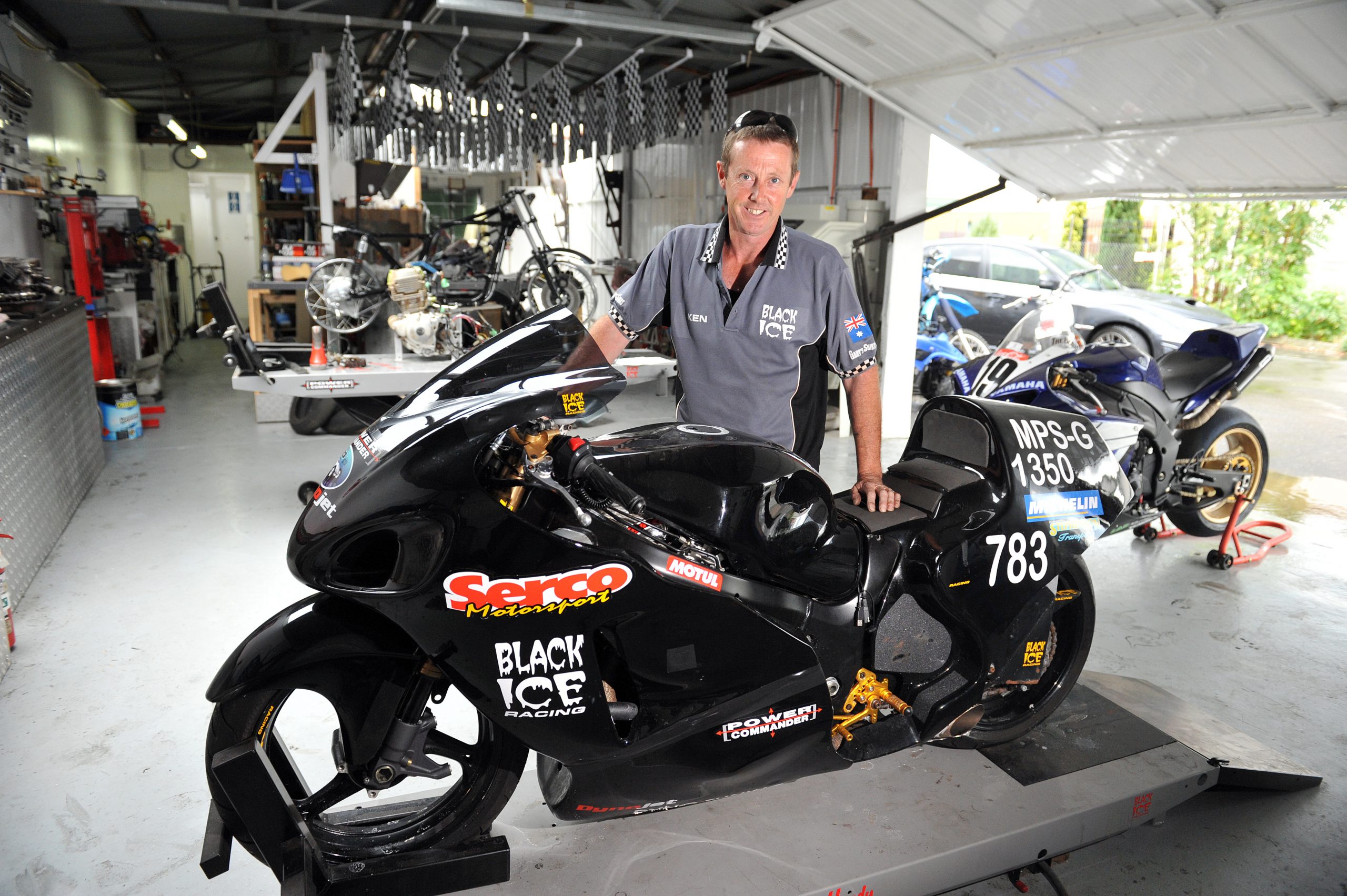 WHEN Moe's Ken Robinson isn't building or fixing motorbikes, he's thrashing one at 350 kilometres per hour in a straight line.
For the uninitiated, that's fast.
The fearless phenom broke an Australian land speed record in South Australia last month when he clocked 218.433 miles per hour (351.52 kph) on his Suzuki Hayabusa during Dry Lake Racers Australia's 23rd annual speed week at Lake Gairdner.
Despite the death defying nature of the discipline, Robinson said he thought nothing of traveling faster than a bullet train on just two wheels.
"It's no big deal, next time you just want to go faster," he said.
The 41 year-old has been racing bikes since the age of 13 in motocross enduro, but gave that up because it was "a bit too dangerous".
Now flourishing in the relatively risk free domain of land speed racing, Robinson's third trip to speed week yielded his first Australian record, shattering the old mark by almost 14mph.
Robinson was aiming for the 210mph mark in his first speed trial in three years, but unable to practice locally, there was no telling how fast he could go.
"I didn't realise at the time (how fast I went); the pit crew came up and said how much we'd broken it by and at first I didn't believe them, apparently they were all screaming," he said.
Robinson's Hayabusa runs a stock motor, with the speed generated by constant tuning; the chassis and fairing received the most work.
With the MPS-G 1350 class world mark in sight, Robinson now has designs on taking his bike to the famous Bonneville salt flats in the United States to break the record.
"That's my dream; my first dream was to be able to do this in the first place, but getting over to the States is a big dream," he said.
"I'd get that world record no problems at all."
With an estimated $15,000 in transport costs alone, Robinson said the trip was a long term project, but his drive to go faster would continue in the interim.
"I know now that I can't stop," Robinson said.
"I need to build people's bikes for them and I want to get out there as much as I can and get more records."
Now the fastest Australian of all time in his class, Robinson said he didn't possess the "speed demon" gene.
He's merely a bike enthusiast.