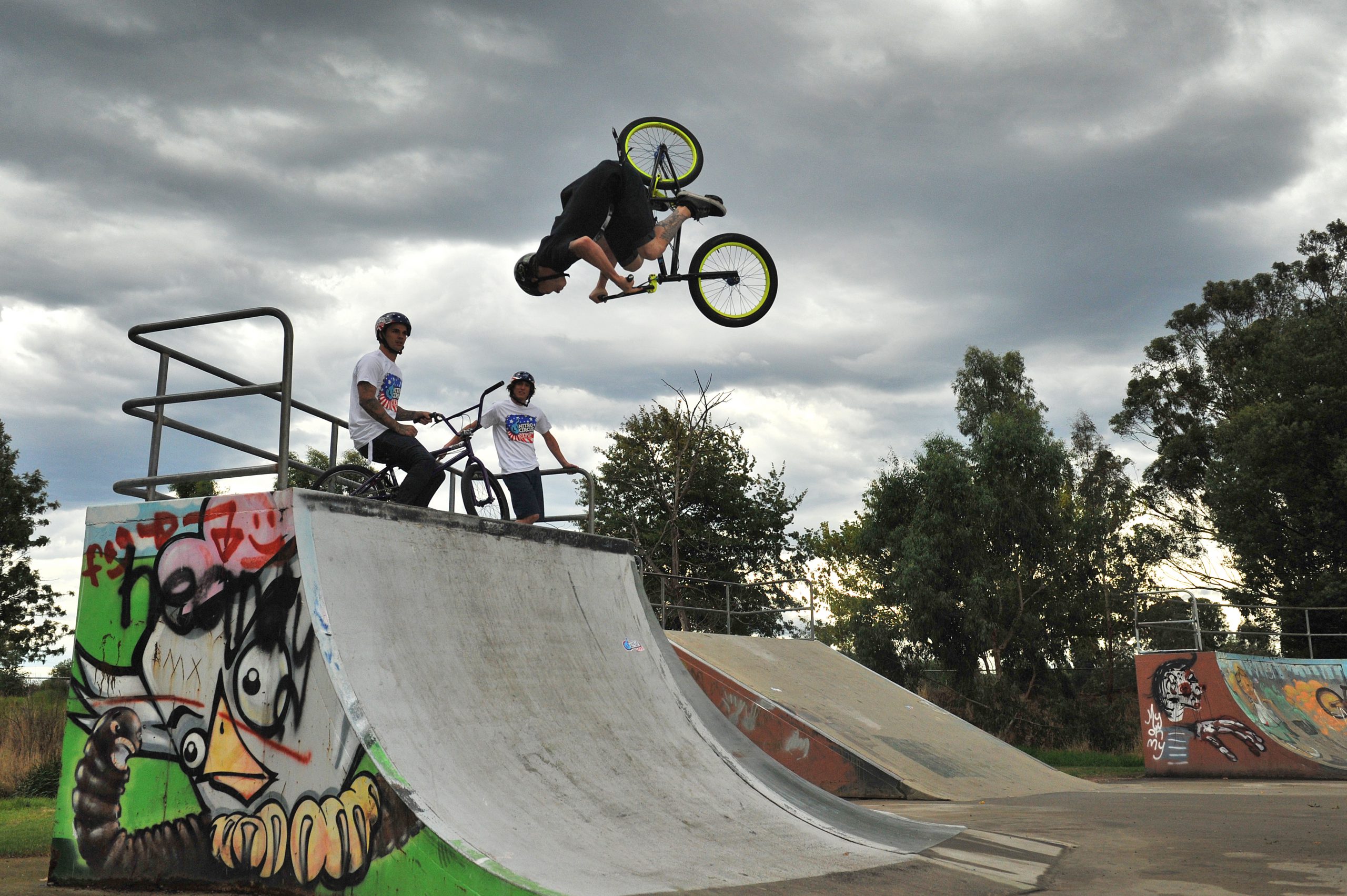 NITRO Circus athletes were flying high on Saturday, thrilling Morwell crowds with an array of extreme sports showstoppers, but their stunts haven't always received such fanfare.
Speaking to The Express at a Traralgon Skate Park expression session, the world's only extreme wheelchair athlete Aaron 'Wheelz' Fotheringham recalled his humble skate park beginnings in Las Vegas.
Born with spina bifada, Fotheringham took 'taking the ramp' to a new level when he decided to emulate his brother's BMX tricks in his wheelchair at the age of eight.
"I was breaking wheelchairs left and right and busting up parts," Fotheringham said.
"Eventually I was able to get a wheelchair sponsor and then I've developed a pretty cool friendship with him and we've been building the chairs ever since together."
Since being scouted by the Nitro Circus crew in 2009, Fotheringham has landed some incredible tricks, including a frontflip and double backflip, and conquered the 50 foot high 'giganta ramp'.
With no real predecessors in wheelchair stunts, Fotheringham has drawn inspiration from other extreme disciplines to create his own arsenal of tricks.
"I take a lot of my influence from BMX and skate and even some FMX (freestyle motocross), just see what they do and try to figure out how to do it on my chair," he said.
"It's fun to try and keep up but they're still way ahead of me."
Far from being limited by the chair, Fotheringham sees it as enabling his revolutionary 'chair-devil' exploits.
"I want people to see the wheelchair as sort of cool; I'm tired of all these lame stereotypes," he said.
"I see the wheelchair as something fun like a BMX bike instead of something that limits you.
"Without the wheelchair you're limited (but) the second I'm on it I can do anything; that's the way you've got to think about it."
Fotheringham performed alongside a host of motocross, BMX, and skate daredevils at Latrobe City Sports Stadium on Saturday night as part of Nitro Circus' regional Australia tour.
For more information about Nitro Circus and tour dates visit
www.nitrocircuslive.com