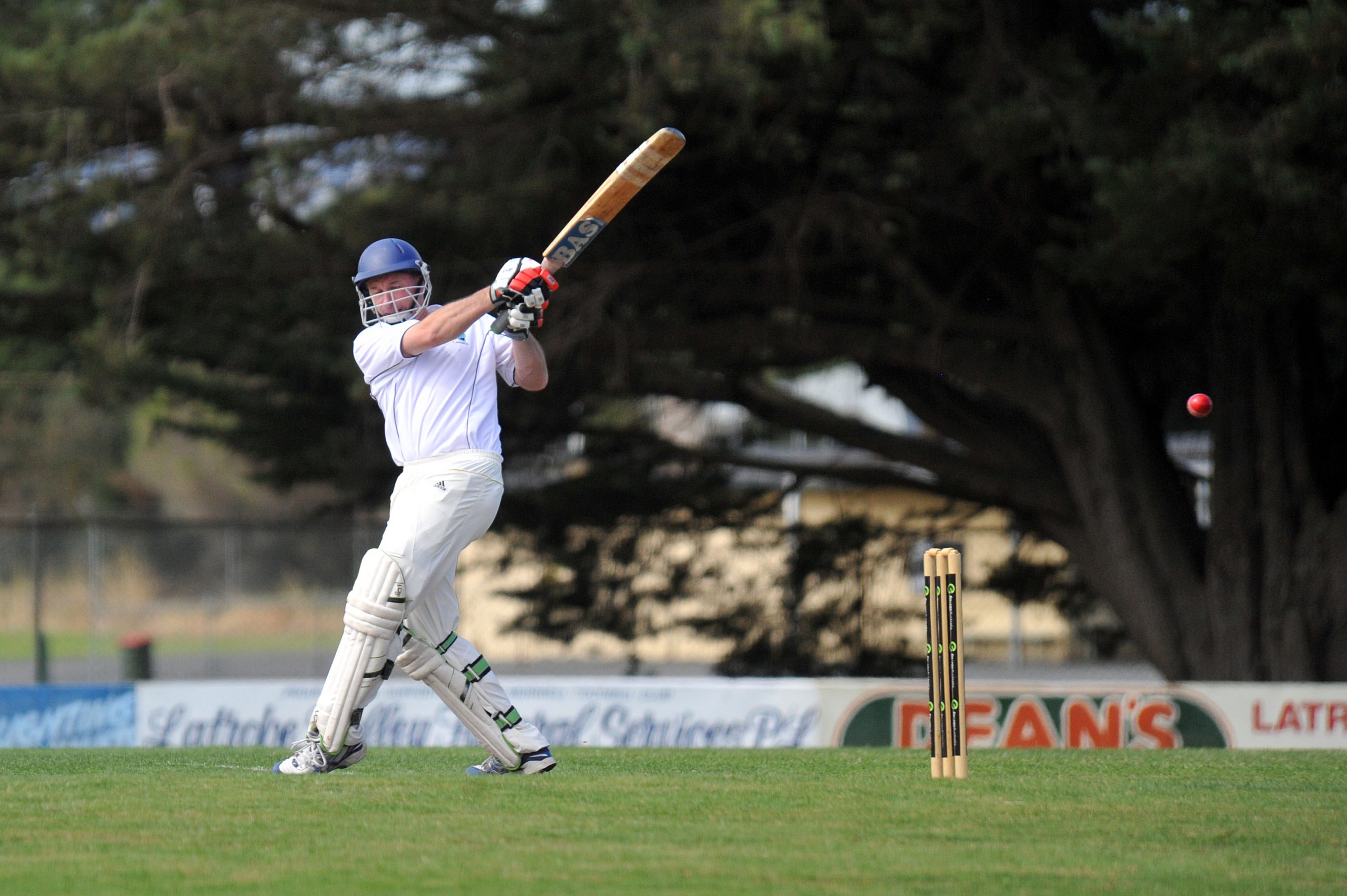 CGCA
THE Moe juggernaut continued its Central Gippsland Cricket demolition derby with an eighth consecutive EnergyAustralia Yallourn Cup premiership victory over Latrobe at Morwell.
The Lions were 7/185 yesterday when Andrew Philip ended Latrobe's pain, after the Sharks posted a meagre 62 on Saturday.
Philip played a captain's knock of 74 to all but secure the cup for Moe, and said losing the toss was a blessing in disguise.
"In the end it was a pretty good toss to lose because the pitch played low and it was popping up and no doubt we got two or three wickets out of it," he said.
"To our bowlers' credit we bowled the right lines and hit the right spots on the pitch and took our chances when they came."
Philip was awarded the Matt Clarke medal for man of the match, and has been with the Lions throughout the streak of eight.
With a decade of dominance beckoning, Philip said the all-conquering Moe side was not getting ahead of itself.
"We'll try and do nine first; no doubt we've got the personnel to do it but (10) is a long way away yet," he said.
"There's no secret (to our success); we play a very basic game plan we try to bowl line and length and bat out our allotted overs."
For Latrobe it was a third consecutive grand final loss, following an all too familiar storyline in which the batting disintegrated under pressure.
Moe was magnificent in the way their bowling attack, led by Chris Johnson (3/20), Sam Price (2/16), Matt Clarke (2/16) and Rob Phoenix (2/7), disposed of Latrobe's top order.
The Sharks had a disastrous start on Saturday morning when Johnson removed Ian Kennedy (0) and Kris Wells (0) in the one over.
Sam Price struck the biggest blow when he got a rising ball to graze the gloves of Kaushik Aphale (4) for Dale Walshe to take an easy catch.
Price struck again to remove Daniel Siddle (9) and the Sharks never recovered from their early losses.
Pat Farrant made it to 20 and Anthony Bloomfield (11) was the only other batsman to reach double figures as Latrobe was dismissed in 35.2 overs for 62.
Paul Cake's duck gave the Sharks a glimmer of hope but Philip (74) and Rob Phoenix (56) put the result out of reach.
Cruising at 2/125, the Lions lost three quick wickets before stumps to be 5/143 overnight, before Philip settled the matter on Sunday.
Brendan Evans was the best of the Latrobe bowlers taking 3/32 from 17 overs and Bloomfield
bowled with his usual efficiency to take 2/12 from 16 overs.
Second Grade
LATROBE won its 12th second grade premiership with a 41-run win over Mirboo North.
An impressive performance by Mark Lawrence sealed the deal, and the allrounder was rewarded with the Anthony Bloomfield medal as man of the match.
Lawrence came in at first drop and made 44 for the Sharks, before wrecking the Tigers with 5/35 from nine overs.
Latrobe was sent in to bat and Mick Zomer scored 36 in a 67-run stand with Lawrence.
Andrew Yarnton (2/18) gave the Tigers hope with three quick wickets that had Latrobe slump from 2/105 to 6/119.
The Sharks' tail wagged as Brad Aitken (18), Glen Steele (16), Ash Halkett (14*) and Tim Cranwell (10) made double figures to push the score to a respectable 181.
Brendan McKean (2/29) was tidy as was Steve Rogers (1/28).
Brendan van Huerck came out swinging and smashed 69 in a blazing opening stand of 85 with Jacob Blair (9).
After Blair departed, Lawrence had van Huerck caught by Anthony de Leonardis.
Mirboo North's batting fell away after the initial fireworks with only Matt Snell (17) making double figures.
Latrobe's catching was good but they were left to rue a few missed chances.
Third Grade
LATROBE'S third graders made it two out of three for the Sharks by winning its eighth premiership by 57 runs over Moe Blues.
Veteran Steve Grover won the Wayne Mills Medal for the man of the match for his innings of 62, which saw him pass 8000 runs for Latrobe.
Batting first the Sharks lost Dean Burridge (16) with the score at 25 before Grover and Peter Mooney took the score to 115.
Grover was bowled by Craig Veenman and Mooney was caught behind by Simon Robinson off Mark Micallef two runs later.
Wayne Summersgill (2/42), Micallef and Veenman took two wickets each and Robinson took three catches behind the stumps.
Only Veenman (67) looked dangerous for the Lions and Dean Jones (20) and Steve Rennie (19) were the only other Moe bats to make double figures. Veenman was particularly severe on Paul Dawson (1/54) and Grover (1/34).
All Latrobe bowlers took wickets with Jon Hayes (3/20), Nick Brewer (2/16) and Jamie Coltman (2/6) all efficient.