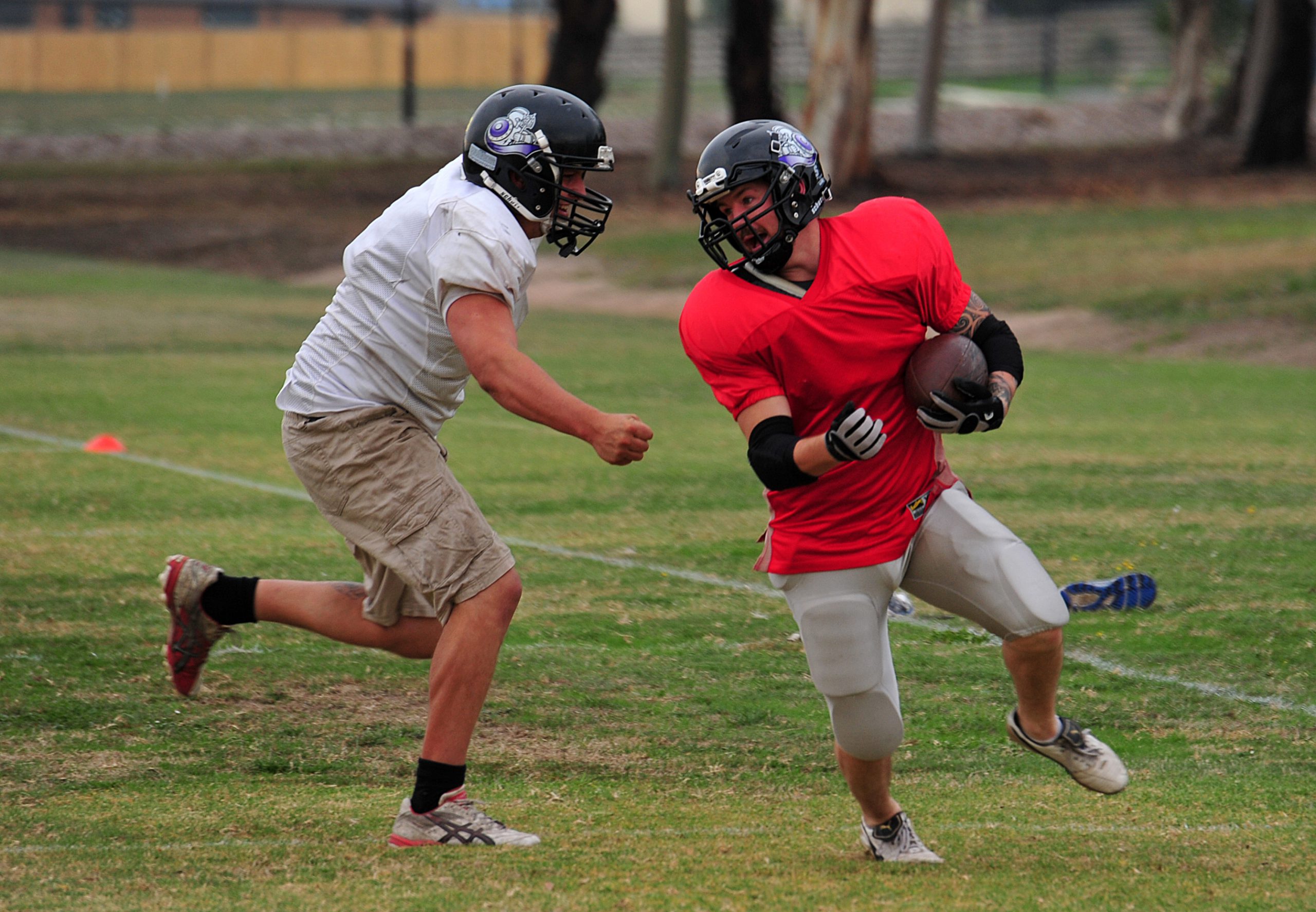 GridIron
By samuel darroch
HARDER, better, faster, stronger is the mantra for the Gippsland Gladiators' third Gridiron Victoria second division season.
With a new play book and several state representatives in the ranks, including Victorian junior Jesse Peters, the side is ready to take their game to the next level in 2013 when the season starts next month.
"Now we've got guys with three years experience behind us we're pushing the barriers a bit so that we can get a few more complicated plays out there and a few more things going," senior player Don Veale said.
"We're still learning but we're getting to the point now where it's about being faster and stronger and (focused) more on physical attributes we need to improve on than knowledge of the game."
After bursting onto the scene with a grand final appearance in their formative year, the Gladiators were brought back to earth when they finished second bottom in 2012.
With pressure from the league to make the move to division one, Veale said the team was out to make the most of what could be their final fling in the second flight.
"This year we're hoping to get back on track and play in the grand final… we want to win as many games as we possibly can," he said.
The playing group, which hails from as far as Sale/Maffra and Warragul, has a diverse mix of sporting backgrounds, but is tied together by a love of America's National Football League.
"(They're all) people who are fans of NFL; it's the guys who watch a lot of NFL on TV or play a lot of Madden on their Xbox and that's what gets them excited when they hear we've got a team out here," Veale said.
"We've got guys from soccer, football, rugby… there's no one sport that dominates; we've got a guy who had never played football in his life; he was a gymnast."
Currently about 26-strong, the team has seen several changes to its make up this season, but retains the same core group that started it all three years ago.
Adrian Hector will return to quarterback, while young dynamo Callan Beattie (defence) and Sale recruit Clark Morris (wide receiver) will add some spark to the outfit.
Veale said the 'gentleman's sport' was growing in Australia, largely due to the way the game allows individuals to focus on their strengths.
"There's specific skills for specific positions which gives you a shot to be out on the field," he said.
"A big difference between AFL (Australian Football League), soccer and this sport is that in those sports every player has to be able to do every little skill and have to do it well; there's no point having a player on the field in AFL that can't kick a football.
"In NFL they might not be able to kick a football but they might be able to catch really well or throw really well; it's exciting in that sense when you can take a simple skill and turn it into a big play."
New entries Bendigo and Ballarat will bolster the second division to six teams, and Veale is confident the Gladiators will be a force in 2013.
For more information or to get involved with the club, visit
www.gippslandgladiators.com.au
The team trains at Maryvale Reserve, Morwell on Wednesdays from 6.30pm and Saturdays from 10am.