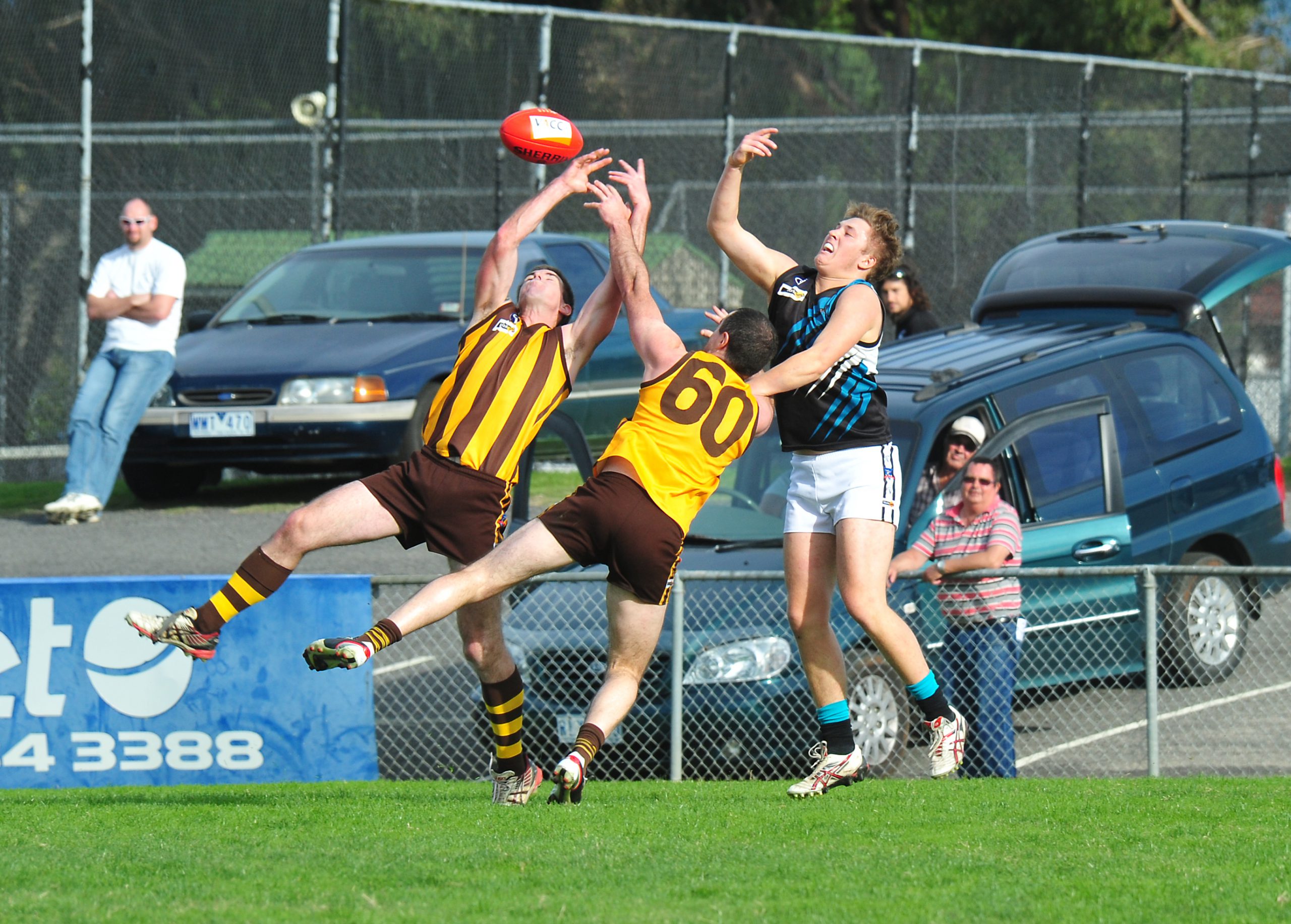 HILL End had a big third quarter to set itself up for a win over Yallourn Yallourn North 11.13 (79) to 5.5 (35) in Mid Gippsland football.
After allowing Hill End to get out to an early lead, YYN scored frequently enough to keep up with its opposition.
The Hillmen pulled away after half-time, with the ball inside their forward 50 for the majority of the third term.
The Bombers' pressure forced four of Hill End's eight scoring shots to go through as behinds, but they only managed two points themselves.
Hill End carried its momentum into the last quarter to register a comfortable victory.
Winning coach Phil Town said when his players started to man up in the second half they were able to keep possession and take control of the game.
"We weren't getting first to the ball and we weren't running hard enough and I thought when we started getting first to the ball and manning up then we started creating a bit of run, (a) bit of play and had control of the ball a bit more," Town said.
YYN coach Rick Hearn said the loss showed their skills were not up to scratch.
"We couldn't hit the target. If you can't hit the target, you can't put pressure on and if you're turning the ball over all the time you can't hit the scoreboard," he said.
"If we're not hitting the scoreboard… they get their confidence up and our confidence drops a little bit."
Hearn said his side would have to get accustomed to the pressure of premiership-point matches in order to win.
Boolarra v Yinnar
THE lead changed several times in a thrilling match between Yinnar and Boolarra, with the Magpies' last quarter effort getting them over the line 10.13 (73) to 9.12 (66).
Yinnar was dominating for most of the first quarter but did not have a large score to show for it. Boolarra caught up to be just five points down at the first break.
The momentum swung to the Demons in the second quarter, who kicked three goals and five behinds to the Magpies' one goal three.
The Demons increased their lead in the third quarter, creating a 28-point buffer that Yinnar reduced to 21 at three-quarter-time.
After lacking tenacity in the third quarter, Yinnar came out much harder in the last, overrunning Boolarra to kick four goals and a handful of behinds to sneak home.
Newborough v Thorpdale
BOTH sides were out to prove a point after losses in the previous round, but it was Newborough which went away with four points, 19.18 (132) to Thorpdale 10.13 (73).
Thorpdale came out firing and kicked the first three goals of the match before Newborough switched on and kicked the next five to be up by 10 points at quarter-time.
Thorpdale's patches of good play showed its attitude had improved, but skill errors still cost them.
Newborough coach Allan Chandler said he was happy with his side's performance and while there were elements to improve upon "things were progressing quite nicely".
"I'm really impressed with the younger players. Thomas Wilson played his best game. Josh Keyhoe was very good… all the younger ones were," Chandler said.
Yarragon v Morwell East
WITH a dominant first quarter effort, the Hawks created an insurmountable lead which only grew, to win 17.9 (111) to 8.10 (58).
Morwell East came out firing and booted a massive six goals in the first quarter to Yarragon's one point.
While Yarragon almost matched them in the three remaining quarters, the damage had been done resulting in a 53-point victory for Morwell East.
The win saw Morwell East claw up to sixth position on an even win-loss ratio with Yinnar, Newborough, Thorpdale and Hill End, and kept them in touch with the likely finals contenders.
First quarters were Yarragon's problem last year and the trend has continued into this season.
Mirboo North v Trafalgar
IN a tense, low-scoring affair Trafalgar emerged victors 7.14 (56) over Mirboo North 5.12 (42).
Trafalgar coach Chris Kyriacou described three quarters of the match as an arm wrestle, during which neither side was able to open the game up.
"I felt we probably should have won by about eight goals, but we took the foot off half way through the last quarter and let them probably kick three or four goals," Kyriacou said.
Kyriacou said it was a "really good win", and with several players out and three from the thirds in the side demonstrated the squad's depth.
Despite the loss Mirboo North crept to top of the ladder with a handy 72 percentage difference separating it from its round four opponents.