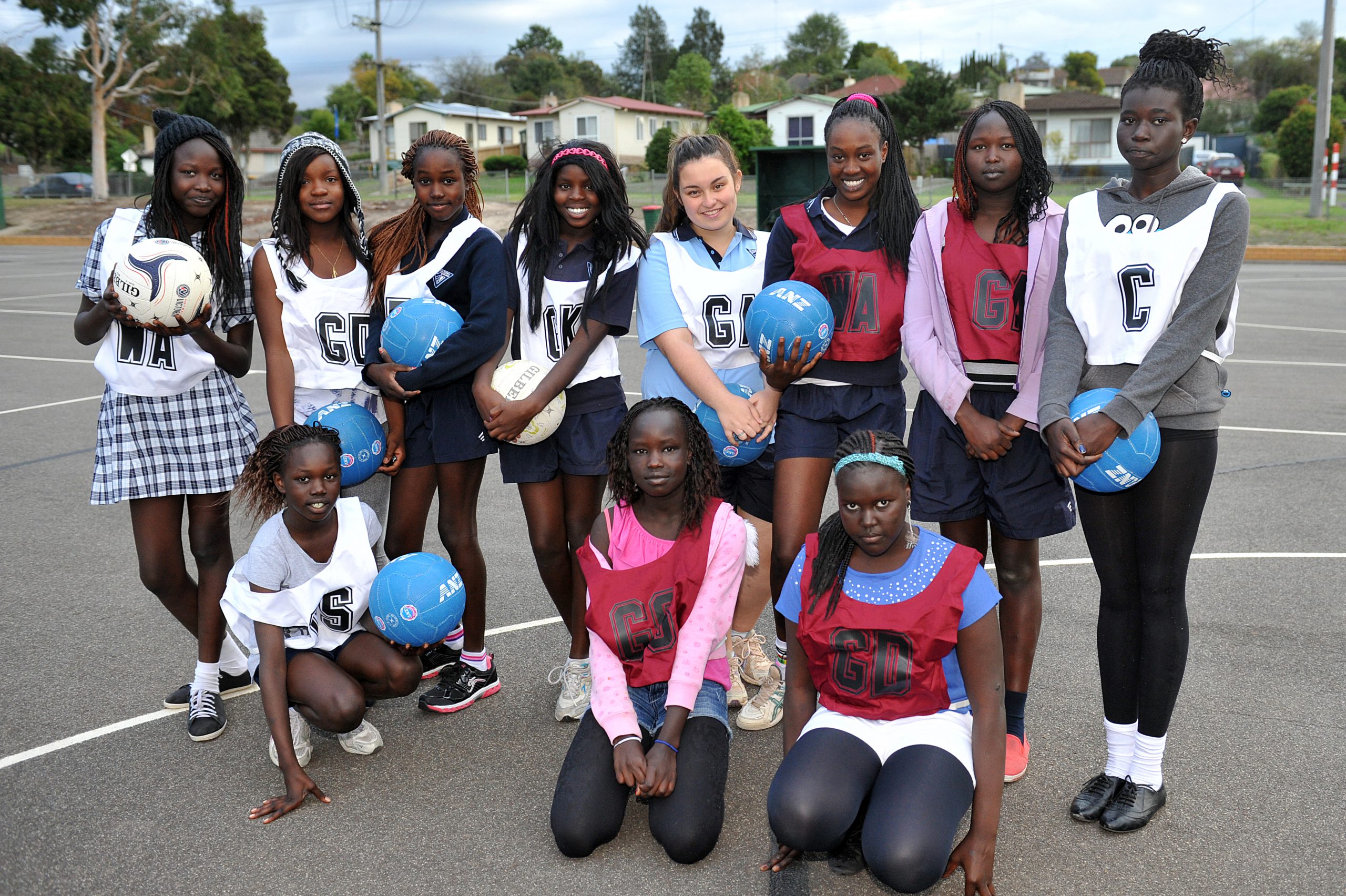 FITTING in can be tough, especially when coming from another country or culture, but a new Centre for Multicultural Youth initiative is making the process easier for Latrobe Valley children.
The Kick or Hoop program is promoting social inclusion through sport for disadvantaged and multicultural youths in weekly soccer and netball classes at Morwell Park.
For the predominantly Sudanese group of 15 taking part in the netball sessions, the opportunity to come together under the banner of sport has been a liberating experience.
Volunteer coach Judi Buhagiar knows firsthand the challenges faced by ethnic minorities from large families, having been through them herself, and wants to ensure these youths get their opportunity to shine.
"I was the youngest girl and… my sisters were much older; I needed to find something to do and sport was my release," she said.
"Sport has opened so many doors for me and I can't see why everybody else shouldn't be given that opportunity."
Buhagiar was blown away by the skills on show at the recent Koorie netball carnival, and lamented the women taking part never received the recognition they deserved.
It was a slight she does not want to see repeated.
"I don't want to come back in 10 to 15 years time and say look at them they missed out, I want them to somehow become part of that opportunity," she said.
"I'm not saying give them a special chance, just give them a chance and treat them like everyone else."
With an end goal of helping program participants transition into club competition, Buhagiar said several players were already showing exceptional talent, but still needed some help both financially and with their confidence to make the leap.
"We're, in some cases, looking for money to buy these girls shoes," she said.
"They come here for different reasons, some of them had to escape war and some of them have been living here for a long time and are making a great life for themselves, but they still need a bit of help from someone to encourage them and others to be part of everyday life."
CMY multicultural youth worker Tashy Hettiarachchi instigated the program after identifying gaps in female participation in sport in Gippsland.
Recognising that many migrant and multicultural children were unaware of potential sporting pathways, Hettiarachchi said participation in the program had implications that went beyond the netball court or soccer field.
"It gives them a sense of belonging to their community; it's their community, they need to participate and feel like the opportunities are open to them as well," she said.
"Multicultural kids are a part of society, they are a part of this community and they need to feel like they belong and they are welcome in sporting clubs."
Hettiarachchi said there had been expressions of interest from the Muslim community, but most were too afraid to travel via public transport to attend the sessions for fear of racial vilification.
"Because of their background or vulnerabilities and confidence levels they just seem to miss out on opportunities (which is unfortunate)," she said.
The Kick or Hoop netball sessions for girls are held Mondays at Morwell Park Netball Centre, from 5.30pm to 6.30pm with soccer sessions for boys held Wednesdays from 4.30pm to 6.30pm.
All young people are welcome to attend.
For more information phone Tashy Hettiarachchi on 0437 866 168.