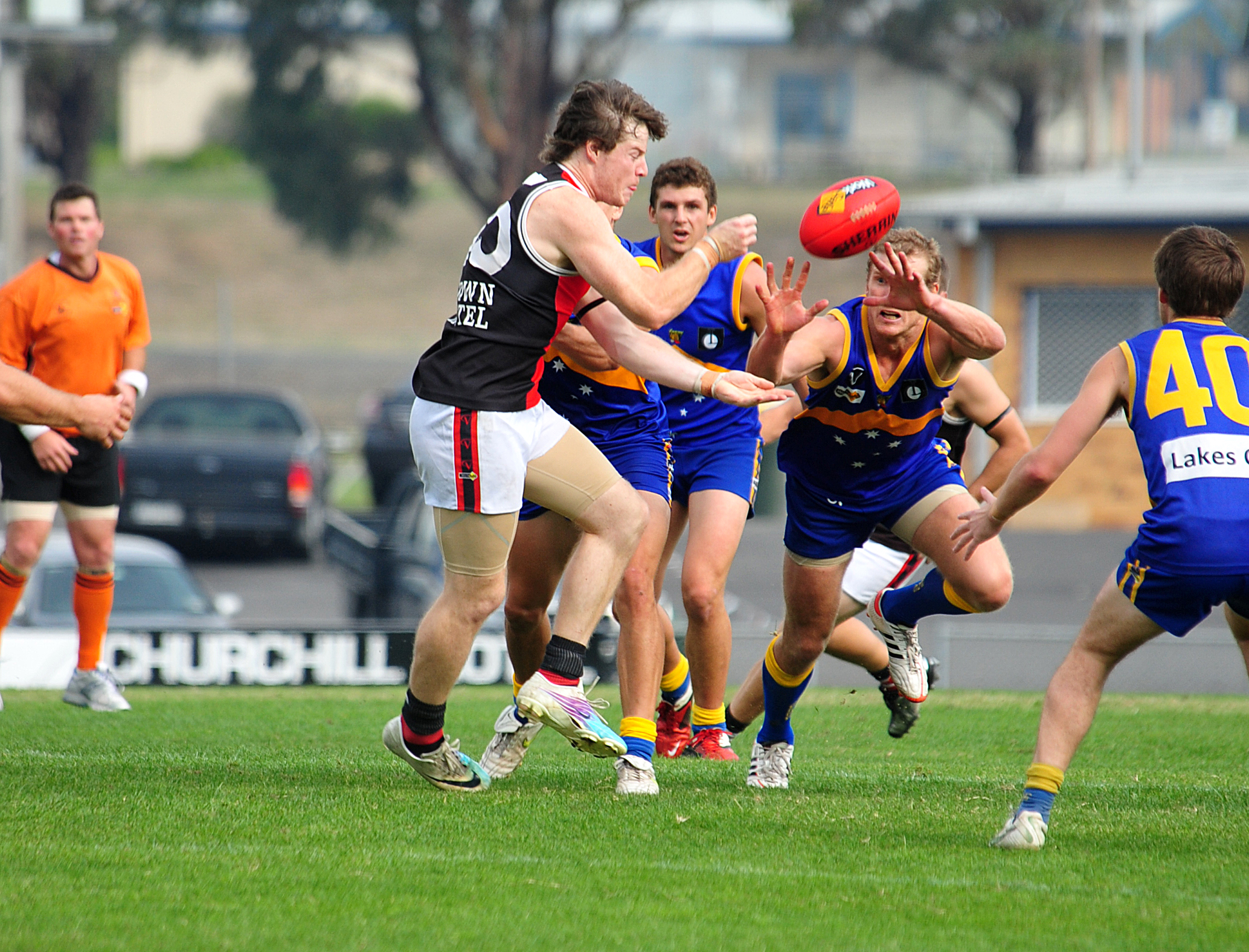 REIGNING premiers Heyfield face North Gippsland's biggest improvers, and the only undefeated side in the competition, Woodside, this weekend.
As a show of support for women with breast cancer in rural and regional Victoria, the red Sherrin will be a few shades lighter with a bright pink football to be used in Pink Footy Day matches.
The Wildcats will have their hands full when they meet the Kangaroos, who in past weeks have recorded an average winning margin of 67 points.
Heyfield has shown no signs of slowing up or dropping its dominance following last season's fairytale, with its premiership defence on track and astute recruitment adding to an already formidable lineup.
Former Cowwarr back man Scott Anderson has proven to be one of the Kangaroos' recruitments of the season, playing a pivotal role in defence.
Anderson has featured among the best in recent weeks.
Saturday's contest is likely to act as a barometer providing Wildcats coaching staff with an indication as to just where they are at the early stages of the competition.
Sale City v Cowwarr
Convincingly beaten in round four by last year's grand finalists, Sale City needs to refocus with Saturday's match against Cowwarr a further danger game for the seventh-placed side which has only recorded one win to date.
While the scoreline against Heyfield was far from complimentary, Dogs coach Joel Brayshaw noted there was plenty to take from it.
"Obviously we would like to have won a few more games to start the season," Brayshaw said.
"We were alright against Heyfield, it was an improvement from the weeks prior where we were fairly ordinary; while the score didn't reflect our performance against Heyfield I was encouraged by the effort.
"We kept with them in the opening half, however (we) allowed them to score too easily and quickly… in each of the quarters which blew the score line out."
Cowwarr is perched one rung above the Dogs with both sides eager to pencil in another win and remain in contention with the leading quartet.
"For sure it is a huge game for both clubs; we know that we can't let them get away to an 11-goal first quarter lead like last week if we are to be in the game," Brayshaw said.
"We need to stick with them early, match their intensity and keep Tim Johnston to a few kicks."
The key to the Saints' forward line, Johnston has been a livewire in past weeks kicking multiple hauls of more than six goals in the past fortnight, with his season total standing at 19.
Johnston is one of several key figures who will need to be contained by the home side if they are to be in the hunt for the four points.
Bois/Briag v TTU
The two Bombers will clash when Boisdale/Briagolong hosts high flying counterparts, Traralgon Tyers United.
TTU was forced to work hard for the points in round four and can ill afford to go into Saturday's clash against Boisdale/Briagolong complacent.
Caught out in the opening term against the Saints, Boisdale/Briagolong has shown some purple patches of form but a strong four-quarter effort is required if it aims to cause one of the upsets of the fixture.
TTU has hit its straps with two consecutive wins on the board and will be confident it can record a victory on the road.
Rosedale v Churchill
It has been an indifferent season for Rosedale, which has stood up and announced on several occasions it is a side set on playing finals football, but against lesser opposition, such as Gormandale last week, struggled to shake its opponent, winning by one kick.
This week the Blues return home to host Churchill, which takes to the road for a second week following a 30-point drubbing by league leaders Woodside.
Contesting a number of classic contests in past seasons, supporters of both clubs know the stage is set for another close and physical match.
Glengarry v Gormandale
Traditional North Gippsland rivals Glengarry and Gormandale will play for the Keith Lang-Bill Onley Cup on Mother's Day at Glengarry.
Last Mother's Day was the second occasion in over eight seasons that the Magpies triumphed over the Tigers, and will again prove to be a test for Glengarry's resolve.
Like Glengarry, Gormandale has struggled in the opening rounds of the competition.
While disappointed to be zero and four, Gormandale coach Luke Henderson knows given the closeness of the competition his side was not down and out just yet.
"The Mother's Day clash against Glengarry… we believe is a game that we can win, and should win," Henderson said.