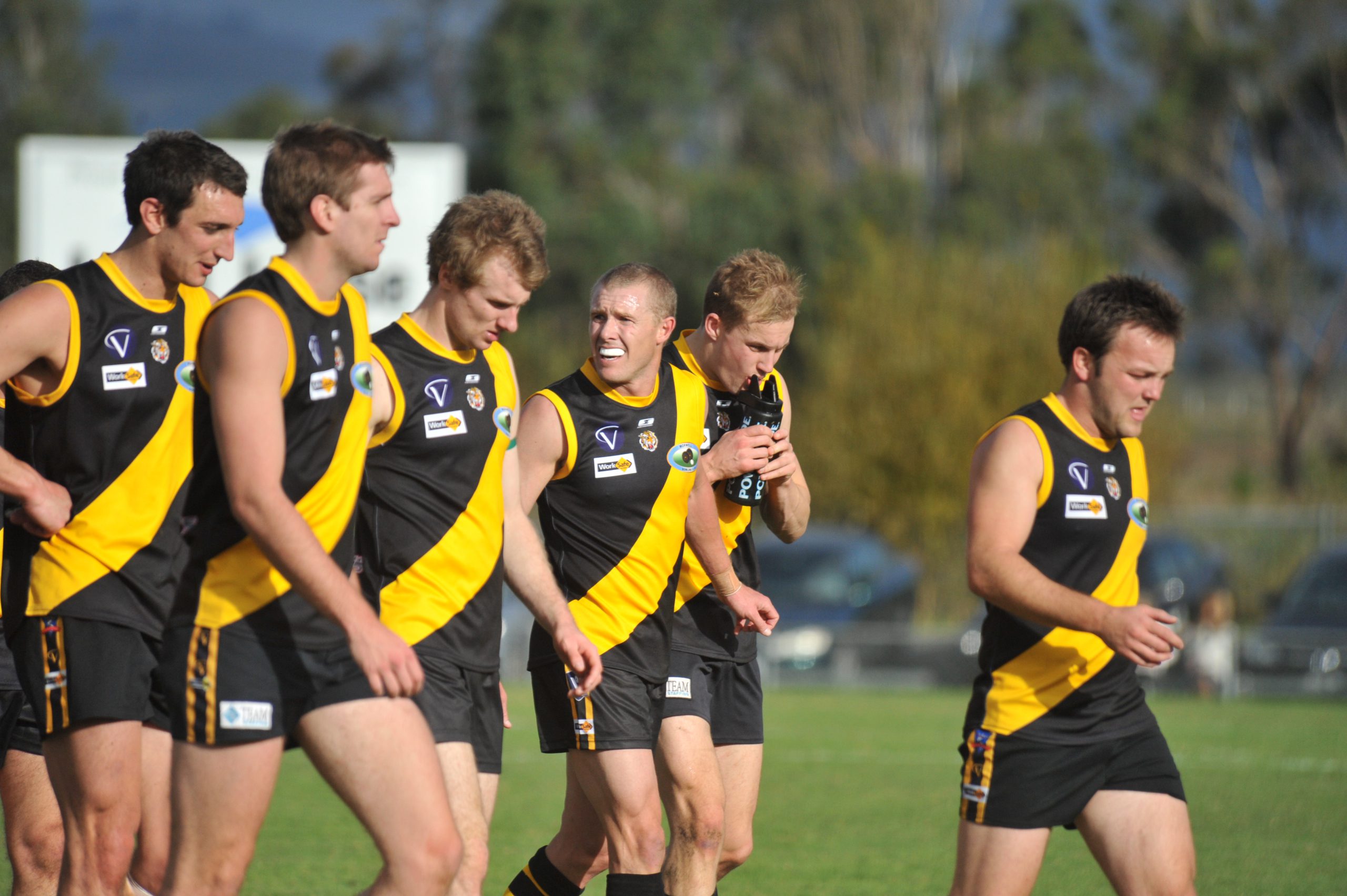 MORWELL will be vying to maintain its unbeaten run when it travels to Maffra to take on the Eagles in round five of the Gippsland League on Saturday.
The Tigers will be without Tarkyn Lockyer who made his debut for the club last weekend.
However the Collingwood Football Club's influence at the Tigers continued when its Victorian Football League coach took training on Tuesday night.
Dale Tapping, who coached the Sandringham Dragons to a TAC Cup premiership in 2011, is the latest in a string of Magpies personnel to get on board with the Tigers.
"Taps is a great teacher of men, he has an unbelievable background in footy and his work development will be a massive bonus to our younger guys at the club for the training sessions he takes," Morwell coach Harmit Singh said.
"He (Tapping) has been a very important mentor to me in my playing and coaching career and we are excited to have him on board in 2013."
The Tigers are fresh from an impressive performance over three quarters against Bairnsdale last week.
"Disappointing last quarter obviously but they are a good team," Singh said.
"It is a big game (against Maffra). They are a fantastic team, super coached."
Morwell broke a six-game losing streak against Maffra at home in round 10 last year before almost stealing victory at the Eagles' fortress.
"I think we always have good contests against them. They have fantastic players so we will probably go in as underdogs. Hopefully we can play a little bit better; we will have to to try and knock them off", Singh said.
Bairnsdale v Traralgon
COMING off a 142-point win over Moe, Traralgon will travel east to take on Bairnsdale.
A draw features among two close encounters the sides have had since the Redlegs' return to the Gippsland League and this weekend is tipped to be no exception.
However, the man at the helm of Bairnsdale said his side must take something from last week's loss to Morwell and improve if it wants to return to the winners board.
"We have to make sure that we keep positive and stick together," coach Shaun Mooney said.
"Our accountability and our effort to put pressure on the opposition has to be up. When we have got the footy we can be dangerous with our attack and our run and our carry, there's no issues there, but if you give the opposition too much time and space they are going to cut you apart.
"It's a football clich but we really are taking it week by week. We have a young side and we need to stick together and look at the positives that we got out of our loss to Morwell."
Moe v Sale
THE Lions will return to their den following last week's dismal loss to Traralgon.
Things will not get any easier for the young Moe unit who will play host to the reigning premier.
However it's not all bad news for the rebuilding Moe; there have been plenty of good signs in many quarters of football this year.
Sale will be looking to take its unbeaten run to 18 games, however it has been forced to work hard for the four points in recent weeks, especially last week against Warragul.
Warragul v Wonthaggi
BOTH Warragul and Wonthaggi have served it up to the reigning premier Sale in recent weeks and this weekend they will go head to head. Warragul was brave in defeat against Sale last week.
It produced one of its best performances at home since rejoining the league in 2005.
The Gulls led the Magpies at quarter-time and went on to lose by just 16-points.
Warragul has a good recent winning history against the Power; in 2010 it celebrated its only win of the year by just a point against Wonthaggi and last year managed to escape the wooden spoon with a 41-point victory over the Power.
Leongatha v Drouin
LEONGATHA will be out for its second win of the season when it hosts Drouin on Saturday.
The Parrots have won their past nine encounters with the Hawks, including its two meetings last year by 81 and 24 points respectively.
Parrots forward Dwayne Holt will again be sorely missed as will the expertise of Jake Best.
The pair booted respective bags of eight and six majors in the first of those encounters last year.
After a good opening round win at Bairnsdale, Leongatha has suffered consecutive losses to Sale, Maffra and Wonthaggi.
Drouin proved a surprise package early with a huge first term performance against Maffra last weekend.
The Hawks ended up going down by 40 points to the Eagles but there were plenty of good signs which it will be hoping to replicate this week.