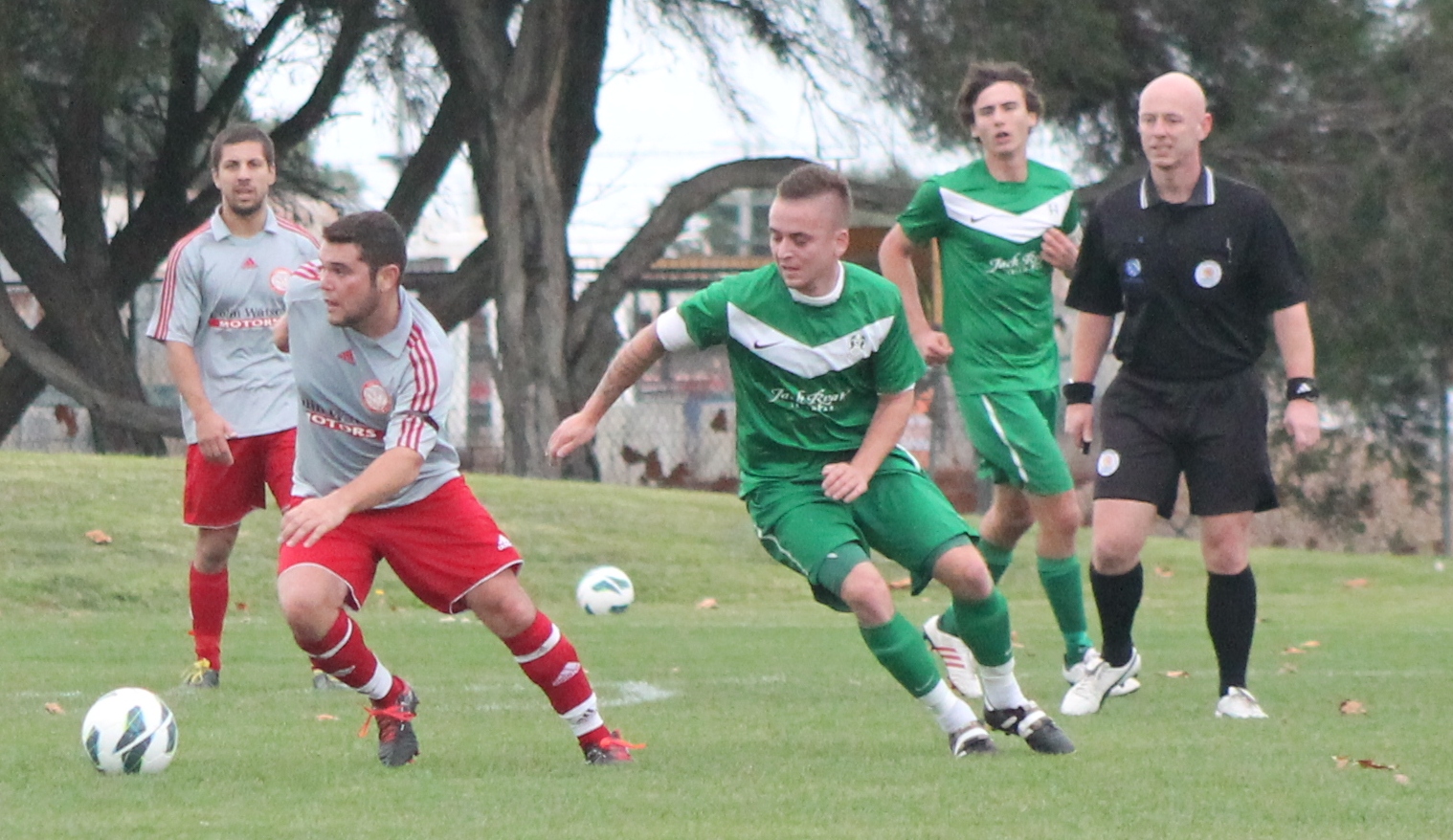 SALE sent shockwaves through the Gippsland Soccer League when it handed Churchill just its third loss in as many seasons on Sunday.
The Swans jumped to second place on the ladder with a 2-0 triumph and sit just one point behind the rampaging Rams after fellow title aspirants Moe slipped up against Monash.
Churchill was missing danger man Kwaku Dade and was weakened in defence with hard man Dean Pyle also out.
Sale rued a missed opportunity in the opening two minutes when Chris Porto's shot thundered against the post. Churchill missed a pair of chances at the other end when Taylor Jackson and Tim Dawson both failed to finish.
The Swans then had a goal disallowed for offside, but went into the break sniffing an upset when brothers Taylor and Mitchell Jackson succumbed to injury for the Rams and were substituted out.
Sale applied the pressure in the second half and soon found the lead when Jon Piefke was given space to pick his spot and drill home a goal.
Churchill was rattled and Tommy Nguyen made it 2-0 20 minutes later with another classy finish.
Rams substitute Jordan Kennedy almost pulled a goal back from the restart but missed from close range.
It could have been 3-0 to the Swans if not for a spectacular reflex save from Rams custodian Jason Sands from a Nguyen shot.
The match ended eight minutes early when Dawson suffered a back injury and could not be moved for precautionary reasons.
Monash v Moe
MONASH was without captain Ashley Birrell and Marc McHallam but still managed to end Moe's great start to the 2013 season with a 3-2 win.
Moe's first home game did not go to plan as they fell away after dominating the opening 25 minutes of play.
Ethan Lawrence headed home a Coen Slaughter corner on the cusp of half-time, an advantage which was doubled by Eric Sostak minutes after the break.
Slaughter made it 3-0 in the 75th minute from the spot after Sostak was hacked down after beating two defenders.
The game looked sealed with five minutes remaining but Moe finally found the attacking third and netted twice through Kev O'Farrell and Jake Heusmann.
The two consolation goals were not enough for Moe, which squandered its chance to lead the table after Churchill slipped up against Sale.
Olympians v Falcons
FALCONS went into this clash missing five regular starters, but found the net within five minutes through an Isaac Abas header.
Anthony Pardo converted Olympians' only chance in a scrappy first half before Falcons missed a golden opportunity to regain the lead when they duffed a one-on-one chance.
Both sides turned up the heat after the break, but it was Falcons who broke the 1-1 deadlock, again off the head of 17 year-old Abas from a set-piece.
Content to put numbers behind the ball as Olympians chased the game, Falcons' defence was ransacked when substitute Andres Nilo put away a clever backheel to make the score 2-2.
Olympians continued to push hard for the winner and were rewarded for their endeavour when George Fkiaras scored with minutes left to play to claim a 3-2 win over a devastated Falcons outfit.
NYU v Fortuna
In a back and forth first half, Fortuna scored first through Joel Pirotta.
Newborough Yallourn United equalised via Aiden George who headed home a long free kick after 35 minutes.
Fortuna got their noses back in front just before half time when John McEvoy netted.
Fortuna came out with purpose in the second half and punished some weak marking by NYU in midfield, with McEvoy in particular running amok. He added three more to the score in a short space of time, one a peach of a free kick from outside the area to mark his hat-trick.
Matt Coward finished off the rout as he pushed forward unmarked from defence and put a low drive into the bottom corner from 20 yards.
Final score 7-1.
Tyers v Traralgon City
DYLAN Fairbrother and John Kuol picked up doubles as Traralgon City cruised past Tyers 6-2.
Nicholas Walsh and Adam Batt also found the net for Traralgon in a convicing away win.
Round Seven Preview
CHURCHILL will host Olympians on Saturday night and Traralgon will have its work cut out against a side it has not defeated in more than seven years.
Churchill is missing a galaxy of star players and the Blues are riding high with a string of solid performances.
The match of the round should be a tightly fought affair with both sides employing an attacking brand of soccer.
Falcons v Moe
FALCONS will go into its Saturday night clash against Moe at home buoyed by the return of several senior players.
A win for Falcons will see them rise up the table and further cement their credentials as contenders.
Tyers v NYU
TYERS hosts NYU in the battle for the Scott Frendo Cup.
The trophy honours Frendo, who passed away in the Black Saturday bushfires and had family ties at both clubs.
Both teams will be looking for their first win of the season in what is sure to be a competitive battle.
Sale City v Traralgon City
FRESH from an upset victory over Churchill, Sale City will be eager to consolidate its giant killing performance with a win at Harold Preston Reserve.
Monash v Fortuna
THE focus at Monash will be on Pink Ribbon Week, but there is plenty to play for in this clash.
Two points separate the sides occupying the middle rungs of the ladder and top four places beckon.