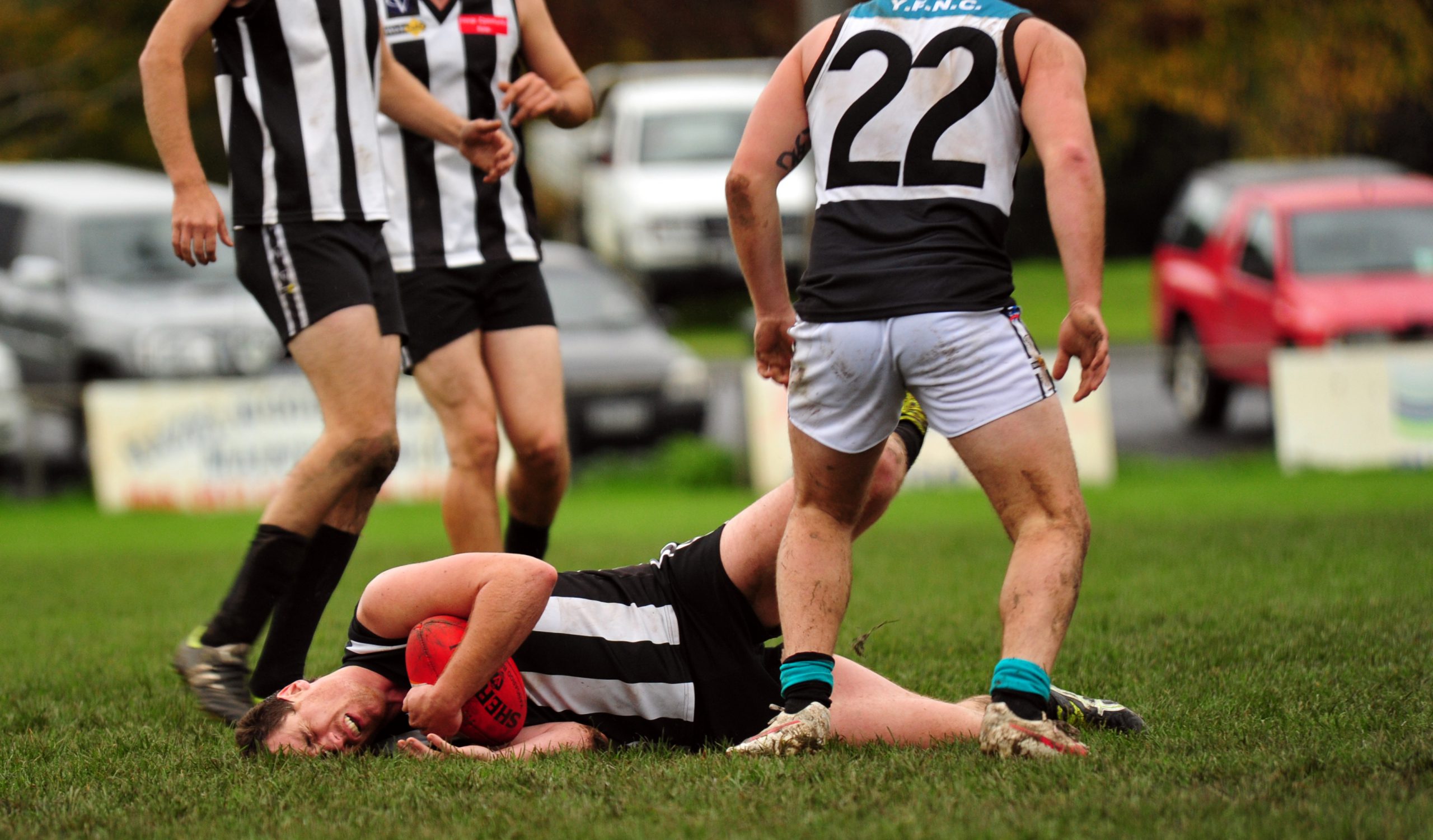 FOOTBALL
MID GIPPSLAND
KICKING goals was easier said than done for Hill End, which could not capitalise on opportunities in the forward line and went down to the Bulldogs, 11.14 (80) to 3.9 (27) in round eight of Mid Gippsland football.
On ground the sides were evenly matched, but Newborough was able to convert more of its forward entries to produce a winning score.
Hill End coach Phil Town said his side "took it up to Newborough all day" and the scoreboard did not reflect the quality of the match.
"We had as much of the ball as they did; we just need to convert that to goals," Town said.
"It was well fought out to the end, but we just didn't get the glory." Town said the absence of full forward Karl Mutke, who is out with a niggling foot injury, was hard felt up front.
With attack the focus, last year's interleague coach Dean Caldow will host Thursday's training session to work on forward plays and accuracy in front of goal.
Yinnar v Yarragon
YINNAR'S impressive third-quarter sealed victory 23.14 (152) to 6.8 (39) over a badly undermanned Yarragon.
The Panthers kept up with the Magpies for most of the first half, but late goals in the second quarter had Yinnar up by 31 points, and doubled the Bombers' score going into half-time.
From there it was all Yinnar, which established an insurmountable 72-point lead in the third quarter before coming home with a mammoth 113-point win.
Yinnar coach Sam McCulloch said it was the most consistent game his side had played so far this season.
"We probably had a few patches where we let them in the game, but overall it was a really good four quarter effort. We stuck to our game plan, which was really pleasing," McCulloch said.
He said the side made an effort to sustain its pressure throughout the match.
"A couple of times in games where we've got to that five or six-goal margin, we've let teams back in. Whereas today we continued on and really ran the game out," McCulloch said. Yarragon coach Anthony Pavey said his team did well with nine regular reserves players in the mix, including three who had already played a match that day, and a thirds contingent.
"The effort in the first half was good, but it was just the lack of fitness with the boys that were on the park. I didn't fully expect them to run out the game. In that first half they were good," Pavey said.
Mirboo North v YYN
MIRBOO North all but won the match in the first half and benefited from its hard work as the conditions worsened to finish 17.15 (117) winners over Yallourn Yallourn North 1.2 (8).
Mirboo North dominated from the outset with Tiger Tim Trail kicking four of the side's opening six goals. The Bombers did not score in the first quarter and went goalless in the second, while Mirboo North managed 70 points before YYN posted its first score, a behind.
As the ball became heavier in the wet, Mirboo North scored less often in the third quarter as the Bombers picked up their intensity, not wanting to see the first half replicated.
Dale Walsh kicked the Bombers' first and only goal for the match.
With the game already won Mirboo North kicked four goals to drive it home under darkening skies in the last quarter.
It was not the result YYN coach Rick Hearn had hoped for, but on a personal level the match was a memorable one. Hearn returned to the senior team to play alongside his son Ryan, who at 15 years old was playing just his second senior match.
Thorpdale v Boolarra
THORPDALE'S improved endeavour was not enough to keep up with Boolarra, which built on its lead each quarter to win 10.9 (69) to 19.13 (127).
Boolarra's Trent Perczyk kicked eight goals to help the side to a nine-goal victory, which kept it in the top four frame on even points with Newborough.
Thorpdale coach Brett Sherriff said his side's effort was much better than last round, but ball use needed improving.
"The endeavour, tackling, the talk was a lot better this week, but – again it was a little bit better – just our turn overs are costing us," Sherriff said.
Morwell East v Trafalgar
IN an even and hard fought game Trafalgar got over the top of Morwell East in the last quarter to win 9.20 (74) to 4.14 (38).
The Hawks were up by five points at quarter-time, giving the Bloods a scare.
Inaccurate kicks from both sides kept scores low and Trafalgar was up by fewer than three goals at half-time.
Morwell East coach Paul Henry said three attempts at goal at the start of the third quarter, which went through as behinds, could have made the difference, as it would have put the Hawks in front. It was not to be and instead the Bloods were up by two goals going into the final quarter, and kicked away to a convincing win.
Henry said his boys' effort was fantastic, but they lacked a bit on their finishing skills compared to the top three sides Mirboo North, Trafalgar and Newborough.
"When (the better sides) get the ball they capitalise and kick goals. We work very hard for our goals," Henry said.
Netball
MIRBOO North easily beat its Yallourn Yallourn North opponent 48-27 in A grade, but the real excitement was in the B grade match where a close one ended in the Bombers' first loss for the season.
The Bombers led all match, but went down in the dying minutes, 44-42.
Boolarra A grade got out to a good start against Thorpdale, who could not catch up to the ladder-leader and went down 56-54. In other matches, Morwell East thrashed Trafalgar 42-24, Newborough had a comfortable victory over Hill End 43-18 and Yinnar beat Yarragon in a tight match 32-28.