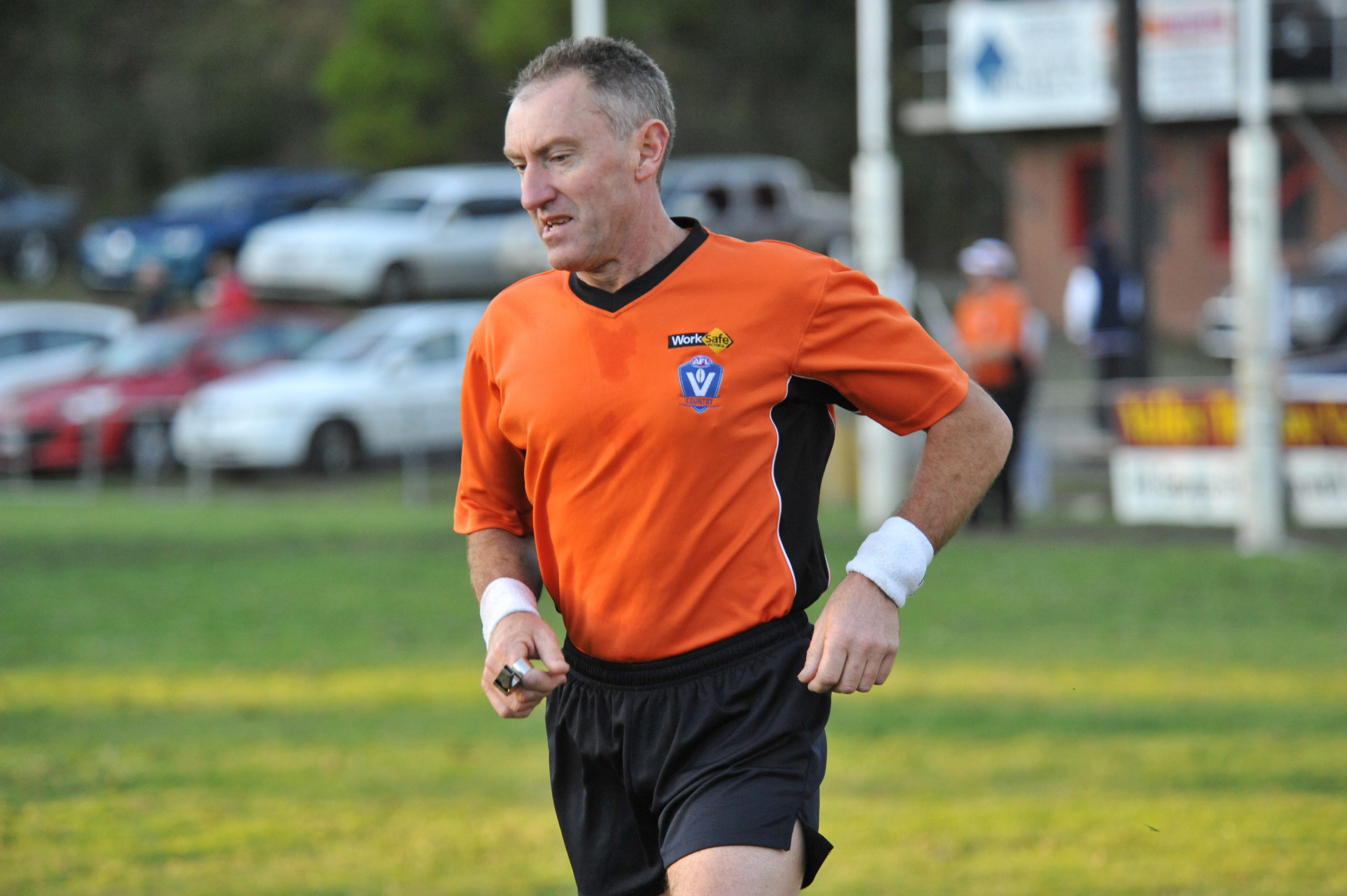 TRARALGON umpire Darren Fletcher has patrolled boundary lines from Morwell to the Melbourne Cricket Ground in a career-spanning 400 senior matches and countless magic moments.
The 46 year-old celebrated the milestone in the Mid Gippsland Football League match between Thorpdale and Yallourn-Yallourn North at the weekend, in his second season back from a 12-year umpiring hiatus.
With the Latrobe Valley Umpire's Association set to celebrate its 60th anniversary in August, Fletcher said the commemoration came as a timely reminder of the body's contribution to the game amid dwindling numbers.
"They certainly do need plenty of help, the umpires, there's always room for improvement and there's always room for extra numbers," Fletcher said.
The experienced campaigner, who officiated in 128 senior AFL matches, said the camaraderie shared by umpires was similar to that felt by teammates at a football club, and he was keen to reconnect with his past and present cohort.
"It's no different to a footy club; it's a little bit different that it's more individual, but we still have to work as a team on the field and help each other and that's one of the reasons why I come back," Fletcher said.
"I've got to know a lot of the new umpires, and a lot of the older umpires, so it will be a good day to catch up with everyone."
Fletcher took up umpiring aged 16 in the Latrobe Valley, following in his father's footsteps, before pursuing a career in Melbourne.
He officiated in the first under 18 grand final at the MCG and made it into the senior AFL ranks in 1993, ahead of 20 other aspiring whistleblowers.
"I probably realised I wasn't going to be a good footballer so I sort of took up the umpiring, not really expecting to go to Melbourne… but (was) rewarded by running around the MCG in front of 80,000 people," Fletcher said.
"There's a lot of umpires who umpire good one week and pretty ordinary the next, it was just the consistency (that got me) through to the top level."
Fletcher went on to umpire 13 finals, including the first night game in Brisbane, but one game stood out above all others.
"Probably the game I remember the most was in 1999 when Carlton beat Essendon in the preliminary final," he said.
"That was the highest game that I did, Carlton got up and beat Essendon in the last quarter."
After hanging up the whistle, Fletcher last year returned to the local boundary lines to umpire alongside a friend in his 1000th match, and decided to continue on in the Gippsland and Mid Gippsland leagues.
He has shed 10 kilograms since his comeback and became a mentor for younger umpires.
"I just wanted to be a bit more involved rather than come in one day, enjoy the celebrations and go out," he said.
"I'm enjoying it a bit more this year; I'm a bit fitter and just involvement with the guys again and helping the young kids (has been good).
"I think it does help with a lot of the kids around umpiring if they can talk to someone that's been in Melbourne or someone to look up to, at least when you do talk to them they do give you a bit of respect and maybe listen a bit more."