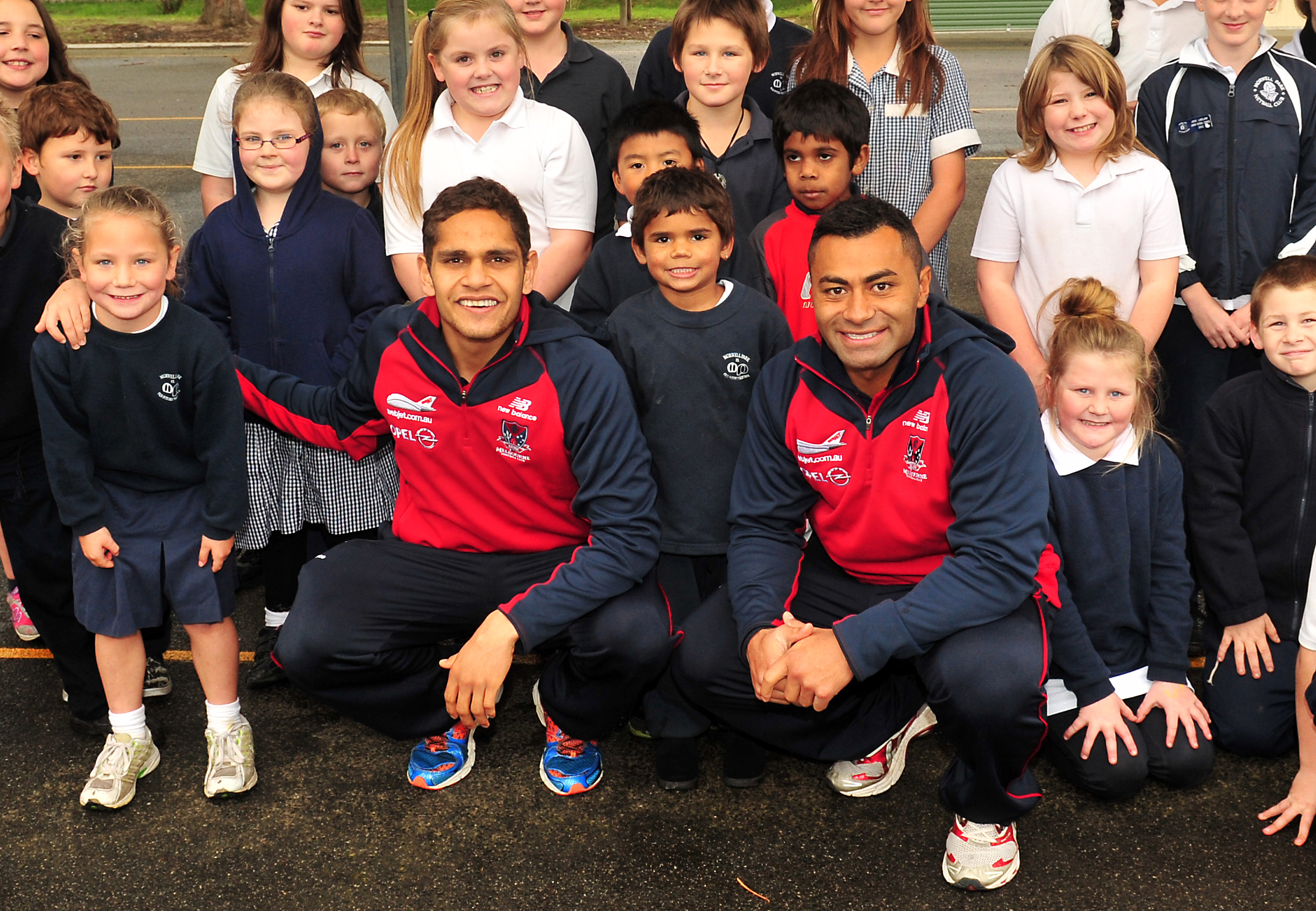 THERE may not have much to smile about at the Melbourne Demons this season, but a cluster of the Australian Football League club's star players made certain Latrobe Valley school children did last Wednesday.
A group of about 380 students were put through their paces in a skills clinic at Traralgon Recreation Reserve, run by Colin Sylvia and Jack Watts, before rain derailed a planned afternoon session.
Instead, the Dees held a question and answer forum for Grey Street, Liddiard Road and Stockdale primary school students at the Traralgon clubrooms.
Among the visiting contingent was Garfield local Josh Tynan, who got back to his Gippsland roots during his second season in the senior squad.
The former Gippsland Power defender said he was excited to engage with country Victoria children, something he cherished as a junior.
"We've got a few Melbourne boys down just to do a few clinics and get around the locals schools, which is good, because they don't get as much exposure to the football and the AFL scene," Tynan said.
"It's always good; back when I was this age how much I appreciated the AFL players and how much you look up to them.
"One day we had Collingwood come down and I was a big Collingwood supporter so I loved it."
Tynan was drafted to Melbourne in 2011 as pick number 52 and has played two senior games for the Demons to date.
The 19 year-old said he was enjoying the challenge of AFL football, after graduating to the top grade through regional channels.
"I think I always just aspired to get to that next level throughout juniors," he said.
"Whether that was from Garfield then to get to Gippsland Power then… Vic Country and the next step up was AFL.
"It's been good; it was a big step up last year going from under 18s to senior footy but I'm loving the experience and just things like today, clinics and that, it's great to be a part of."
Tynan said the battered, bruised and beleaguered Demons were working hard to turn their season around, and the playing group remained focused in the face of on and off field turmoil.
"Obviously we would have expected to go a bit better than how we started this year, but you can see the work we're putting in behind the scenes which probably hasn't yet transferred over on to the ground, but in the near future hopefully we'll start seeing some signs and improvement," he said.
"We just want to develop as much as we can and get the most out of it.
"Every game we see as an opportunity to improve and get better as players and as a footy club."
Two Demons, Dominic Barry and David Rodan, journeyed across town to Morwell Park Primary School to participate in an Aboriginal Day of cultural activities.