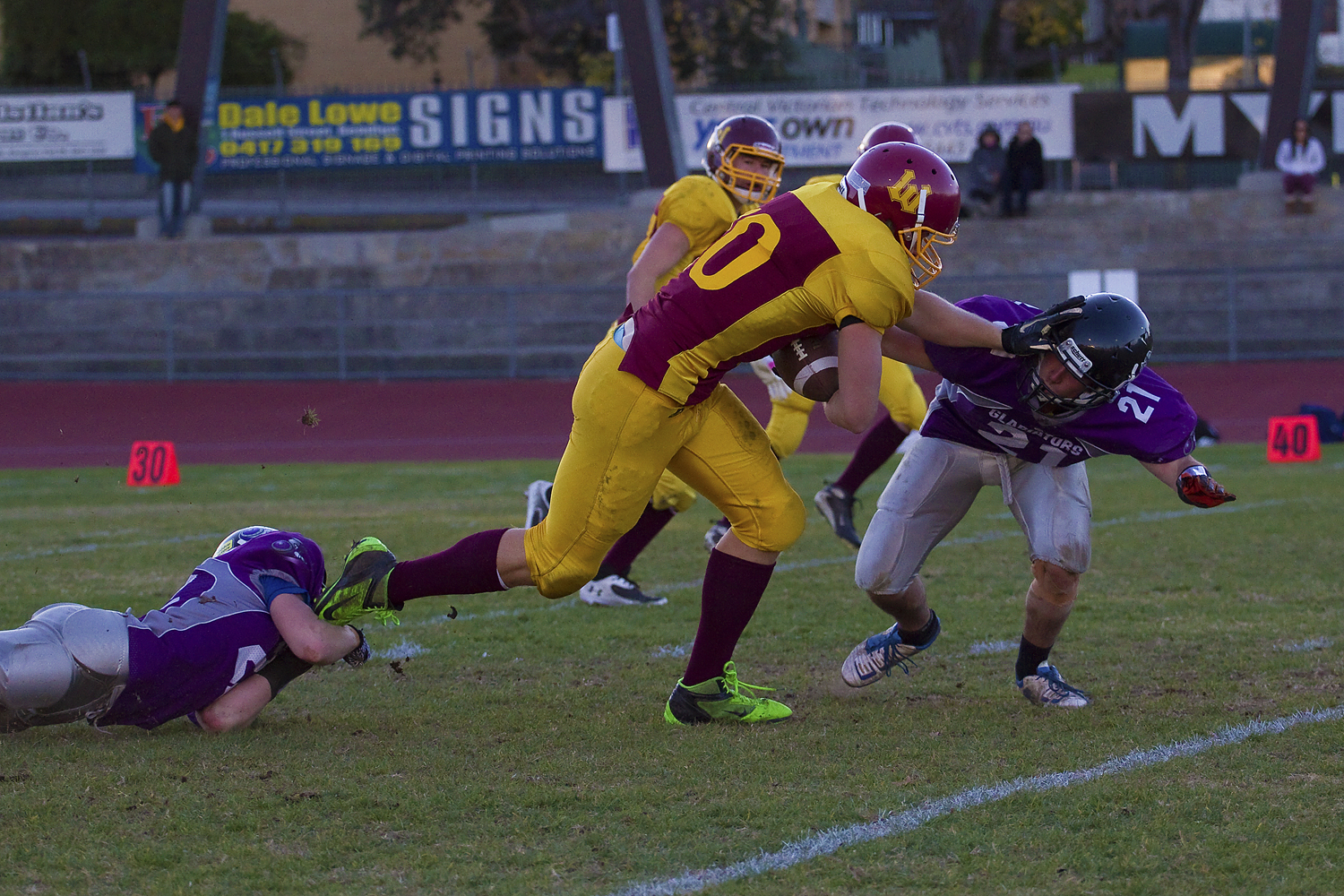 The Gippsland Gladiators came close to topping division leaders Monash Barbarians for the second time in four weeks in the latest round of Gridiron Victoria Football League.
After last meeting's draw the Gippslanders held high hopes for a win, but knew with a growing injury list it was always going to be a big task.
With only 18 players available for the game the Gladiators expected another tough hit out.
The offence moved the ball well, led by quarter back AJ Hector and offensive lineman Tim White.
However, with the offence unable to put any points on the board, it was the Gladiators' defensive unit that kept them in the game and refused to give the Barbarians any ground.
The Barbarians' quarter back found the going tough as the Gladiators' defence continually pushed through into the backfield and delivered bone rattling sacks.
Defensive end Callum Beattie led the way with three sacks, with Richard Kors and Hector also causing damage with two sacks each.
At half-time both teams were unable to make an impact on the scoreboard.
In the second half the lights come on and the Gladiators got their first taste of night football.
Led by Scott Stuckey and Paul Ballinger, the Gippslanders continued to demonstrate the defensive dominance they had become known for.
The Gladiators kept the Barbarians pinned down and were unable to score.
With a few more injuries to add to the list, Glenn Hadgkiss (calf) and Jessie Peters (back), the Gladiators were forced to play both sides of the ball. Hector showed true leadership working behind an inexperienced offensive line and still managed big gains, with Chris Atwater running the ball and Stuckey and Zac Gallatlay pulling in great catches.
Unfortunately for the Gippslanders, in the last minute of the game, the Barbarians finally found a hole in the Gladiators' defence and a quarter back sneak found the endzone.
With a completed pass for the point-after touchdown, the Barbarians won the game 8-0.
This Saturday the Gladiators return home to Maryvale Recreation Reserve, Morwell, to face Western Crusaders in another cross divisional game from 1.30pm.
For more information visit www.gippslandgladiators.com.au or www.facebook.com/GippslandGladiators