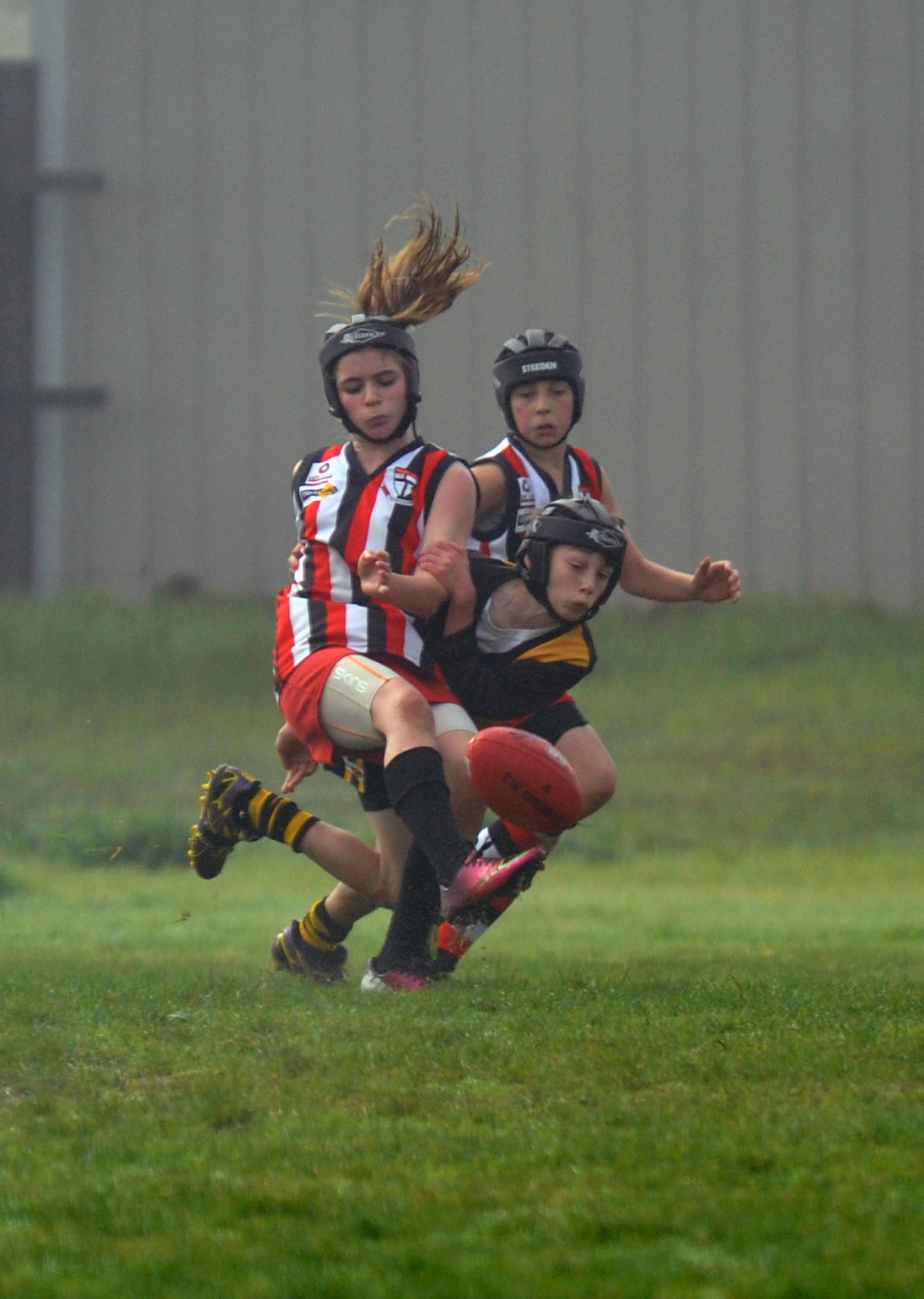 A FRIENDLY sibling rivalry drove Kayla Kennedy to pull on a pair of boots and give Aussie Rules football a go four years ago.
Now the Traralgon teen has all but forgotten about her competitive endeavour with her 11 year-old brother Colby after falling in love with the sport.
"I then got better at football and decided I wanted to keep playing football; it's different from other sports, there's so much running around," the 12 year-old said.
"I play basketball and footy, but I think I like footy more and I want to keep playing it as long as I can."
Kayla currently carries out the ruck duties for Pax Hill in the Traralgon and District Junior Football League under 12s. The avid footballer is the only girl currently playing on the team.
"It's not always easy, especially in the ruck, but sometimes I go on the back flank for a bit of a rest, and sometimes I play in the rover position," Kayla said.
"Some of the guys think because I'm a girl that I won't be tough, but I can beat them and I'm always taking off up field with my speed."
As much as she loves playing football, Kayla said she feared the day when she would have to give it up once she hit the cut off age of 13 for female participation in the sport.
However, with a Gippsland Youth Girls Competition aimed at 13 to 18 year-olds kicking off in Gippsland at the weekend, Kayla's lifespan in the sport has increased dramatically.
"After all the years of playing football I was worried that all that training would go down the drain," she said.
"I didn't want to have to stop and only play in the backyard.
"There will be a bit of difference playing in the girls' league , but it will still be the same game, it will still be fun."
Kayla's father, Glen, said the girls' league was a "different kettle of fish", but he was happy that his daughter now had the opportunity to play on in the sport she cherished so much.
"She loves it and I definitely want her to keep at it," he said.
Four teams currently compete in the Gippsland Youth Girls Competition – Warragul Colts, Morwell Tigers, Cumberland Park and Bairnsdale.
For more information about the competition and joining one of the girls football teams, visit
Gippsland Youth Girls Competition
Round one results
Warragul Colts 18.16 (124) d Cumberland Park 1.1 (7)
Bairnsdale 10.20 (80) d Morwell Tigers 3.1 (19)
Round two fixture
Warragul Colts v Morwell Tigers – Eastern Park, Warragul, Sunday, 2pm
Cumberland Park v Bairnsdale – Jack Canavan Oval 2, Traralgon, Sunday, 2pm