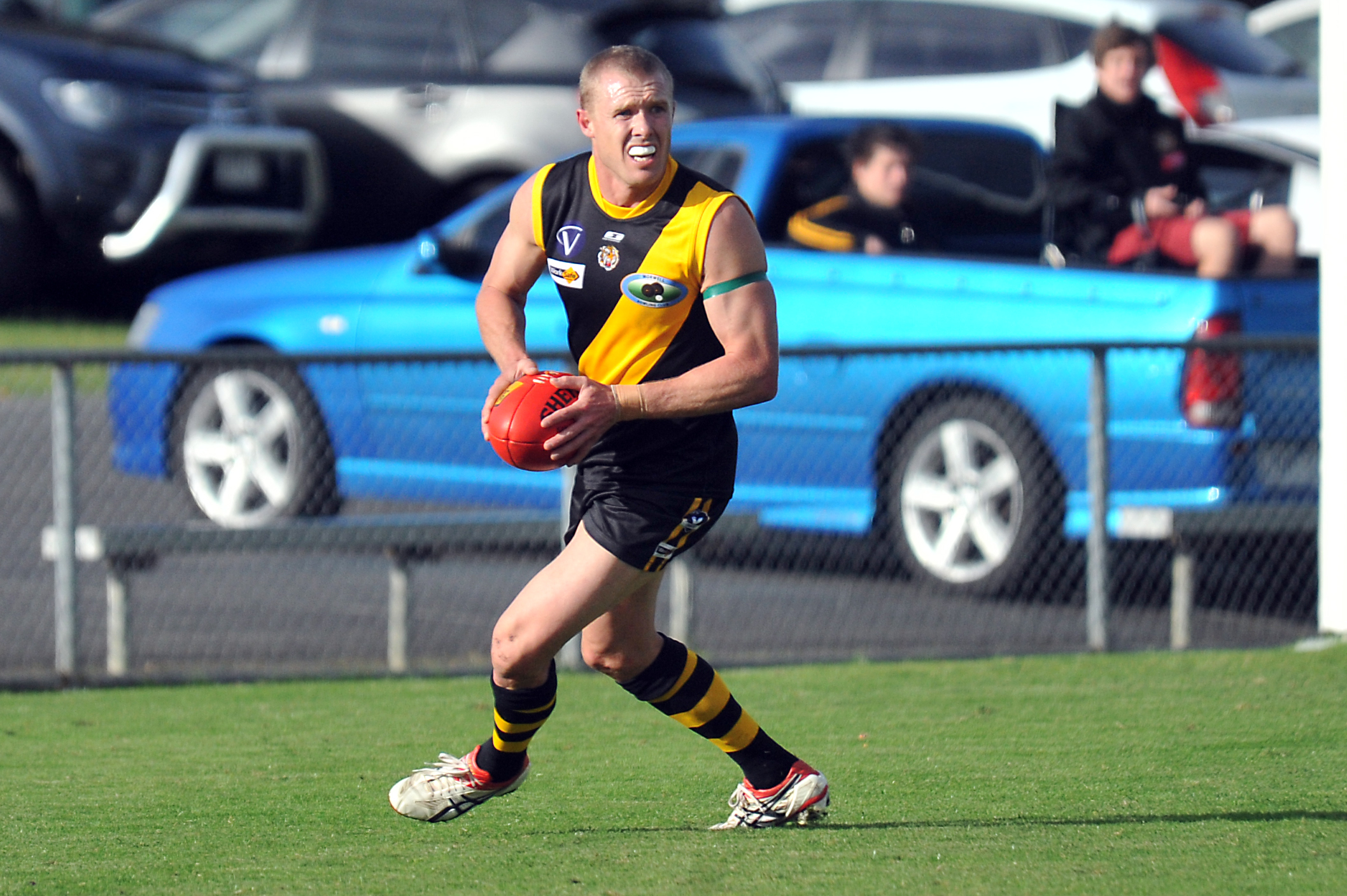 Former Collingwood stars Tarkyn Lockyer and Anthony Rocca will line up for Morwell when it hosts Moe in another Gippsland League Sunday blockbuster.
The all-star duo will bolster the Tigers' line up, which until three weeks ago was sitting on top of the ladder having won eight consecutive matches.
Morwell has since conceded losses to fellow top four teams Sale and Wonthaggi, before getting its campaign back on track with a win over Warragul last week.
Opponents Moe is also coming fresh from a victory, its first of the year over Drouin.
Lions coach Jason MacFarlane was hopeful his side, which had shown vast improvement over the past five weeks, could surprise the Tigers.
"Nothing is out of the question, you never know," MacFarlane said.
"If you throw something up there you have got 21 and 21 and you never know, we might get a win," MacFarlane said, who was yet to decide which of his players would get the first crack at Lockyer and Rocca.
"I think it's great for football. It would be good to see them out there," he said.
"I don't mind it once every now and then. It will be a great challenge for anyone that gets that role."
The all Latrobe Valley clash is expected to draw a big Sunday crowd to Morwell for the third time this year.
"Moe are coming off a pretty solid month of footy, although they secured their first win for the year on the weekend, they have pushed a couple of sides to within a kick or two so we won't be taking them lightly," Morwell president Wade Prestley said.
Fresh from its biggest win over Moe since 1997, back on Anzac Day, the Tigers will take plenty of confidence into the match.
"Our Moe-Morwell clashes are always passionate contests as we do battle of the Joe Hutchison Memorial trophy, and we expect this weekend to be the same – we look forward to seeing the guys on the field together," he said
Until early last year, Moe had won eight of its past 10 matches against Morwell, however the tables have turned in recent times, with the Tigers winning the past two by 10 and 20 goals.
Rocca needs to play just two games for Morwell should it make the finals.
His former teammate in Lockyer has already qualified.
Off the field, Rocca and Lockyer will join Collingwood's best known supporter "Joffa" in addressing the club's annual sponsors luncheon and auction on Saturday.
Tickets are still available for the luncheon.
Cost is $60 per person, which includes a two-course lunch, beer, wine and soft drink.
It will be held in the Tigers' social rooms from 11.30am to 3pm.
Traralgon v Warragul
Traralgon will look to strengthen its grip on fifth spot when it hosts Warragul.
The Maroons are fresh from a big win over Wonthaggi, which saw it end the Power's seven game winning streak.
The Maroons' competitive percentage means a top three finish is still within reach, however it must continue to win.
Traralgon has won the past eight matches against Warragul and was nearing closer to the Maroons' best run over Warragul, which was 10 straight from 1989 to 1993.
Warragul has not won at Traralgon since 2009.
Sale v Wonthaggi
Ladder leaders Sale will host third-placed Wonthaggi in what is tipped to be the closest match of round 12, and potentially a preview of one of this year's finals.
The Magpies have conceded just one loss this year.
Before last week's lost to Traralgon, Wonthaggi had won seven consecutive games and remains undefeated on the road.
And it is Wonthaggi which has the better winning record against the Magpies.
A decade ago Wonthaggi had a long standing upperhand over Sale.
However, the Magpies have since won their past five against the Power.
Drouin v Bairnsdale
Drouin will be looking to bounce back from its disappointing loss to Moe when it hosts Bairnsdale.
The Redlegs are also coming off a loss after going down to Maffra at home.
The match is expected to be a tight contest.
Drouin and Bairnsdale are five-all after the past 10 encounters, which have seen home ground advantages play a big part.
Both teams have won their past four at home and all by margins of more than 69 points.
Bairnsdale has developed a good record away from home this year, which has included wins at Maffra, Warragul and Leongatha, where it won for the first time in about 30 years.
Leongatha v Maffra
Maffra will be looking for another win over Leongatha as it vies for its 14th consecutive finals campaign and a top three finish.
Last year Leongatha broke a 22-game losing streak against Maffra after it defeated the Eagles for the first time since 2003.
Not only did it break the drought, but the Parrots defeated Maffra twice last year, before going down to the Eagles in both of its finals encounters.
It has been a difficult year for Leongatha, which has been decimated by injury and illness.
However, with a six-goal last quarter against Sale last week, the Parrots still have what it takes to match it with the best sides in the competition.