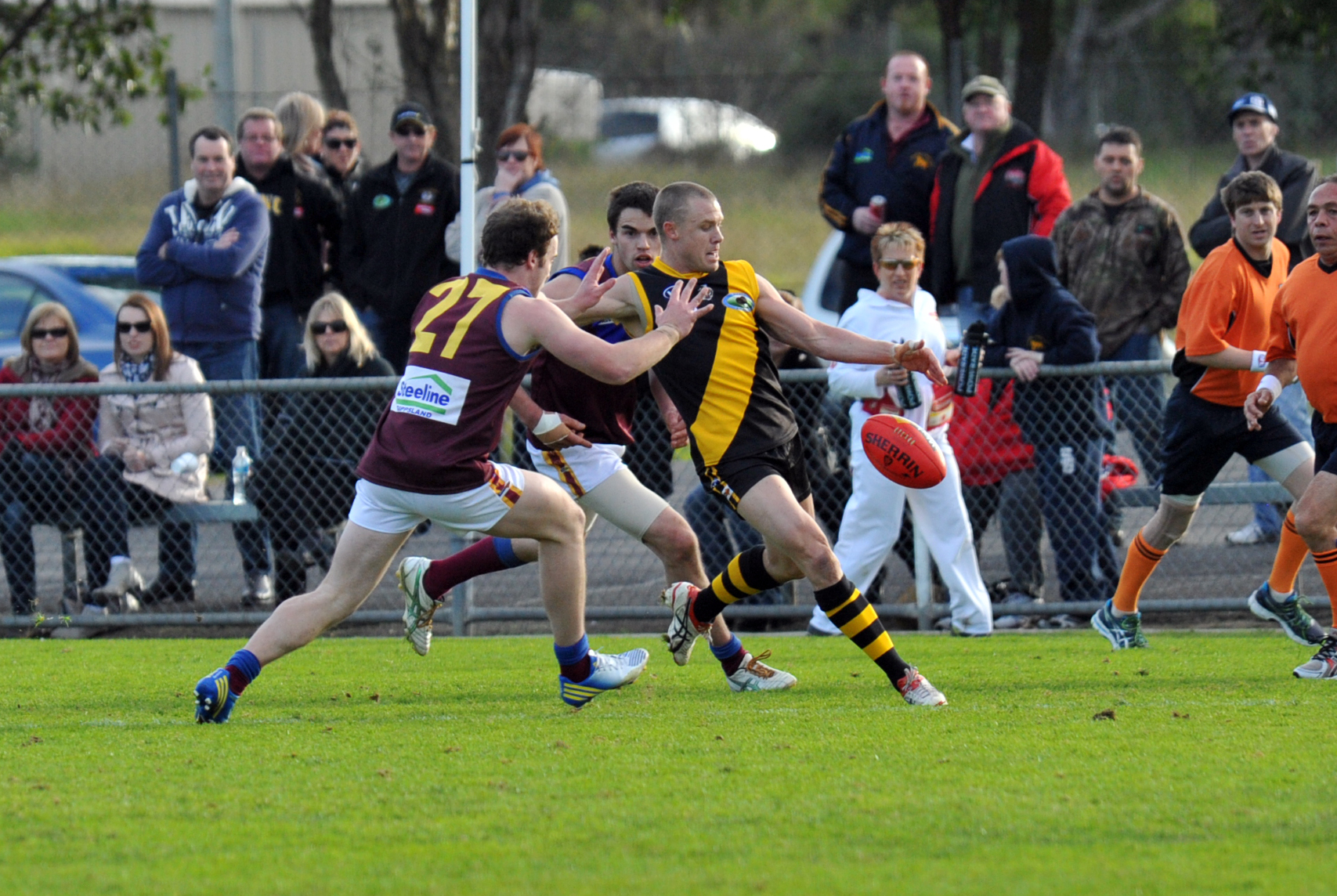 Eight goals from former Collingwood forward Anthony Rocca and five from Tarkyn Lockyer in a best on ground performance, has helped Morwell to a huge 183-point win over Moe in round 12 of Gippsland League football.
"Just to play out the minutes was a pleasing thing; we have had a few quarters where we have dropped away and let sides back into the game," Morwell coach Harmit Singh said.
"(Yesterday) there was a focus to make sure we played every minute of the game and I think we were pretty good."
Despite kicking 13 majors between them, the Tigers camp maintains its hopes of finals success will not depend on the availability of the Magpie duo.
""We beat Traralgon and good sides like that without them," Singh said.
"Obviously they help, it would be silly to say they don't, but I think we will just play it by ear, depending on how their bodies are."
"We won't be relying on them; we have done a fair job to get where we are without those guys."
A disappointing crowd of just over 1100 turned out for yesterday's clash.
"I think the weather and how Moe is travelling is indicative of the crowd," Morwell Football Netball Club president Wade Prestley said.
Morwell led by only 14 points at the first change, but by half-time the Tigers had stretched its lead out to 70 points.
The home team added another nine majors in the third to lead by 120 points at three-quarter-time.
Morwell did not take its foot off the pedal in the final term as it slammed on 11 goals to Moe's one to run out 183-point winners.
Traralgon v Warragul
Traralgon made it two-in-a-row with a big win over Warragul.
Tim Aitkin made his return to the Maroons line up after being cleared by North Gippsland Football Netball League team Traralgon Tyers United during the week. And he did so in style with six goals.
Traralgon was also bolstered by the inclusion of former Port Adelaide and Carlton player, and current Gippsland Power coach, Nick Stevens who kicked two goals in his second appearance for the Maroons.
Stevens is now eligible to play finals for the club.
"Nick played really well, he should have been in our best," Traralgon coach Paul McCulloch said.
"Every week he is getting fitter and more accustomed to his teammates and the competition."
Stevens is expected to line up for the Maroons in the next two rounds.
Traralgon burst out of the blocks against Warragul with five goals to two to take an 18-point lead into the first break.
Warragul managed to keep the margin at 19 points after a hard fought second term. Traralgon had the upper hand, albeit just, in what was a close third term where the Maroons stretched their lead out to 28 points at the last change.
However, Traralgon made a statement in the last term with seven unanswered majors to run out convincing winners.
Sale v Wonthaggi
Ladder leader Sale fought off a late comeback from Wonthaggi to claim victory in the battle between first and third.
Playing on home turf, the reigning premier got off to a good start with a five-goal-to-two first quarter.
The Magpies carried the momentum into the second and by half-time had extended its lead to 24 points.
Sale extended that buffer by one point in a close third term, before Wonthaggi launched its attack.
The Power booted four goals to the Magpies' one in the last, however it was too little too late for the visitors.
Leongatha v Maffra
Maffra suffered a shock upset for the second time this year, as Leongatha produced its biggest win of the year at home.
The Eagles got off to the better start with four goals to two to lead by 11 points at the first change.
By half-time Maffra had conceded the lead and trailed the Parrots by one point.
The lead changed hands again in the third with the visitors in front by a kick at the final change. Digging deep, Leongatha produced its best quarter of the year to post just its fourth victory for the season.
Drouin v Bairnsdale
Bairnsdale has strengthened its stronghold on sixth spot with an 86-point win on the road against Drouin.
The Redlegs sit two games clear of Leongatha and within just one game of the fifth-placed Traralgon.