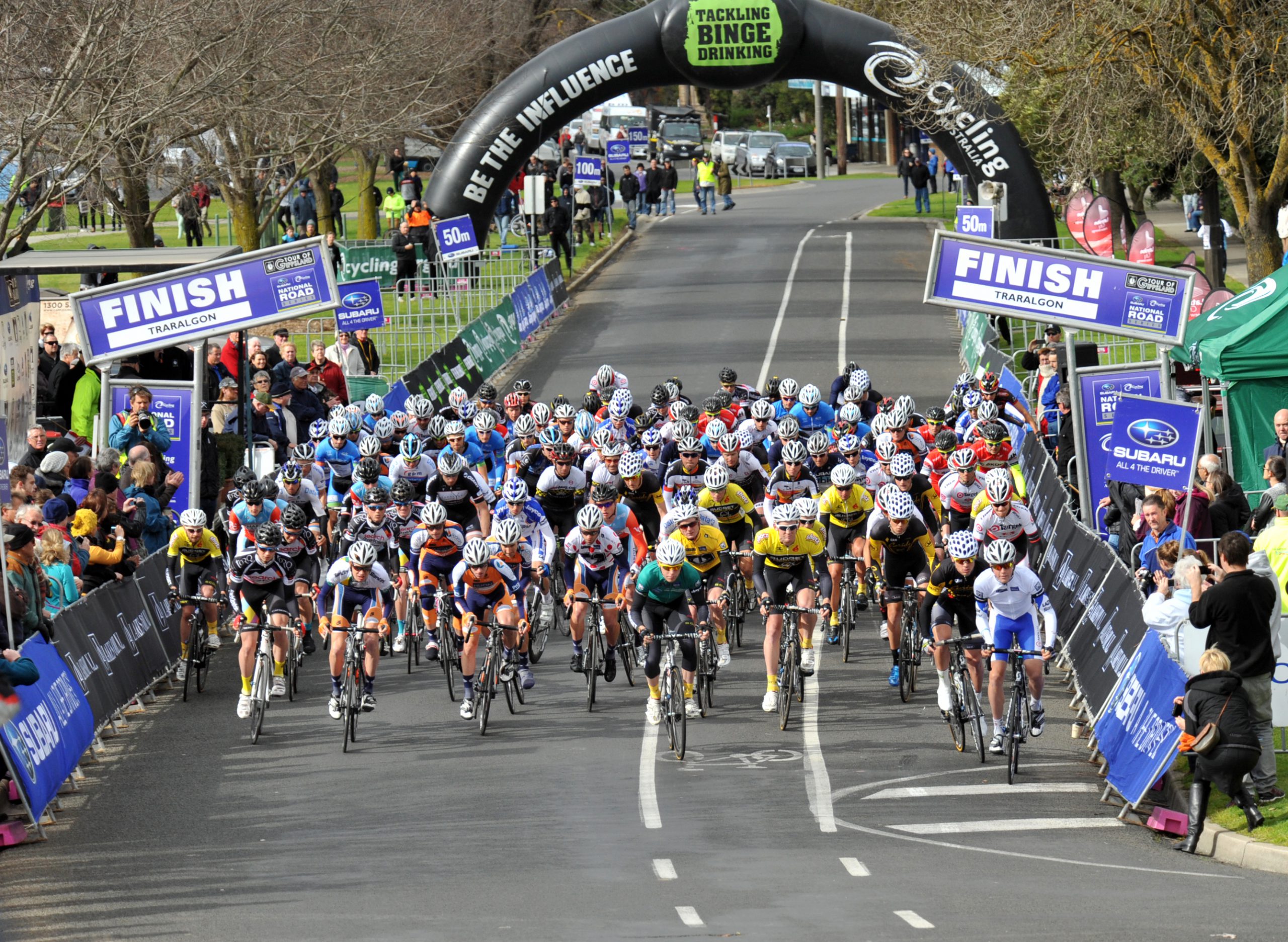 AFTER breaking his jaw and losing a tooth on the 2007 Tour of Gippsland Jack Anderson did not intend to ride the event again.
Six years later, however, the Queenslander was atop the podium in yellow as tour champion, and had nothing but praise for the National Road Series race.
"(The Tour of Gippsland was) fantastic. Last time I was here… I actually crashed on the very famous 'pick-a-plank' bridges and broke my jaw in three places, so to come back this many years later, I didn't think I would be back here again to be honest, but it was a great tour," he said.
"The people are fantastic, it's a beautiful area… great communities and if I'm still riding my bike next year I'll definitely be back."
Anderson clinched the 2013 tour by one second over Nathan Earle, whose four bonus points for second place in the final criterium left him agonisingly short of the leader's jersey.
The man who effectively handed Anderson the crown by beating Earle to the line, Alex Edmondson, was also impressed with the challenging Gippsland terrain.
The London Olympian won the under 23 title and third place overall after the stage win at Kay Street, and applauded the circuit's composition.
"It was pretty challenging here with the hill and the wind as well. It was a good course for me, I needed the race to be a bit harder and it was," Edmondson said.
The 19 year-old surged to the front of the pack on the final stretch, after conquering a course complicated by a significant uphill headwind.
His second stage win secured the youth rider jersey for the tour, which Edmondson tackled lacking 'match fitness'.
"It's an amazing feeling (to win young rider) because I came into this tour not really knowing how I was going to be going, I just came back from overseas… and hadn't done that much road prep, but fortunately had some good form," he said.
"If it wasn't for my team (though) I wouldn't be standing here with third place on the podium. I'm shell shocked really."
The tour began on 31 July with two stages, the Rhyll Criterium and a Phillip Island Kermesse, where Anthony Giacoppo and Ben Grenda shared the spoils with a stage win each.
Edmondson donned yellow on day two after taking out the 90 kilometre road race from Leongatha to Yinnar ahead of eventual champion Anderson, before the Queenslander grabbed the tour lead with a sprint win in stage five on Friday.
Friday also saw Giacoppo win a second stage in the Sale criterium.
Anderson preserved his five-second lead in the general classification on the penultimate day of racing with a top 10 finish on the Lakes Entrance to Metung leg, before locking down the title by the narrowest possible margin in Traralgon.