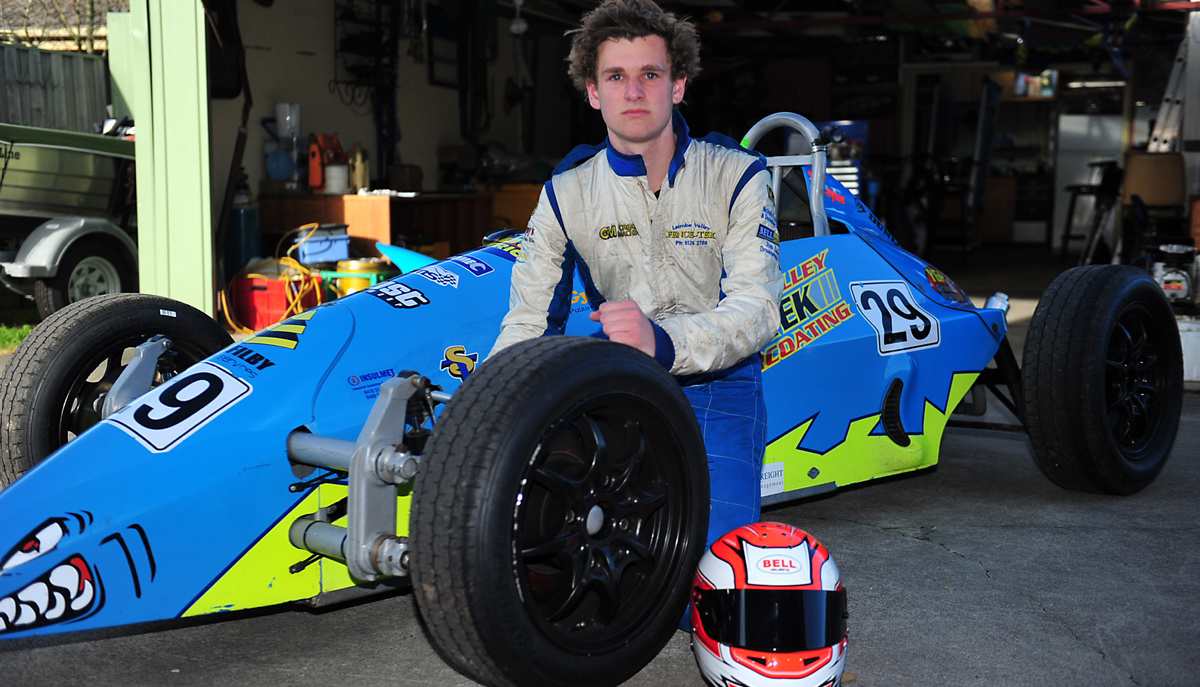 MOE teenager Brandon Taylor is not eligible for a learner's permit until tomorrow, but already the 15 year-old has a national title to his name behind the wheel.
The Lowanna College student took out the Clemenger International Freight Formula vee Australian Series 1200cc class this month, despite being ruled out of the opening round in New South Wales due to his status as an underage competitor.
Two first and two second placings in round two at Sandown gave Brandon a share of the championship lead on 114 points with Mat Pearce, and he dominated the final round in Mallala, South Australia this month, to claim a maiden national point series title.
In just his second year of formula vee, an Australian entry level motorsport category which features vehicles built from predominantly Volkswagen parts, Brandon beat out national champion Steve Butcher and a host of open class drivers en route to the championship.
"It's pretty good (to win). Especially because it was close all weekend (in the final round) which made it that much better," Brandon said.
After shadowing his father's foray into motorsport as a helping hand for Beacham Racing, team owner Greg Beacham put Brandon in the driver's seat for the first time at age 12.
Brandon graduated to formula vee at 14, after two seasons of hillclimb, won his debut event at Winton raceway and has been hooked ever since.
"Pretty much it just grabbed me (straight away)," he said.
"Just helping was the best part about it… and it just kept going and going and I finally convinced him (Greg) to buy me a car.
"The speed and adrenalin and that part of it is all good fun, especially when it comes down to good close racing and bumping wheels through corners, but you still know when you get out of the car you're good mates and it comes down to driving ability in the end."
Brandon's hunger for success was not satisfied with one series win; the gifted driver is targeting a trifecta of 2013 trophies including the state series, which he leads after two rounds, and the September National Challenge in Queensland.
"I'm looking forward to getting through the rest of it," he said.
"You've got to put the time and effort in, push it as far as you can and try to improve as much as you can yourself.
"It's pretty much just dedication to it, that's all it is."
Team owner Beacham applauded Brandon's success to date, and lauded his ability to overcome tough fields on a regular basis.
"The closeness of the racing is phenomenal," Beacham said.
"You won't find many classes in Australia and overseas that run so close."