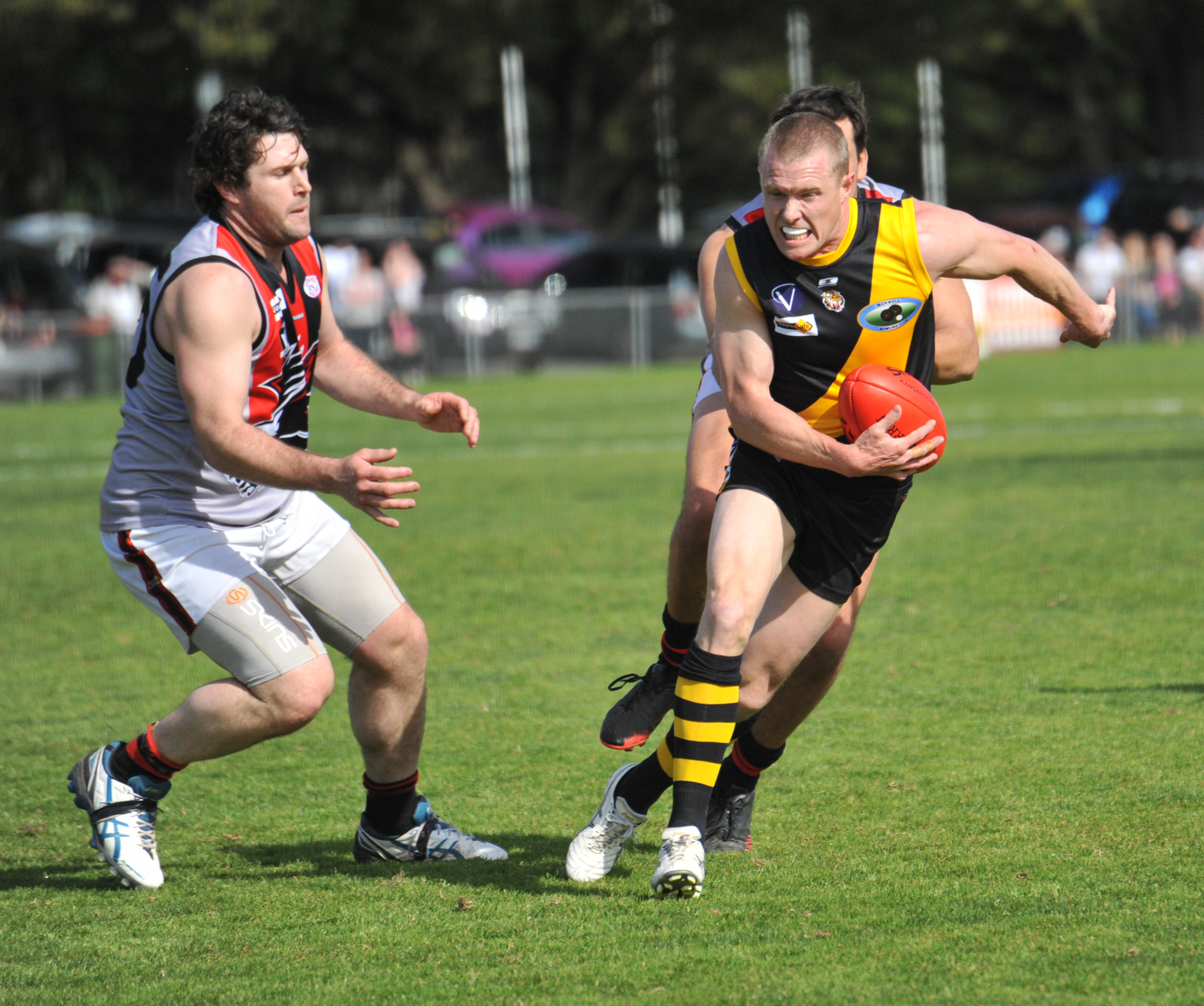 MORWELL'S dream of a 2013 Gippsland League grand final berth became a reality yesterday after a 45-point win over Maffra at home.
"It's great. I couldn't be prouder of the playing group and all the off-field staff," Tigers coach Harmit Singh said.
The 26 year-old from Collingwood Football Club has never before coached a team to a grand final.
"We thought we'd go okay. Top three was the goal but obviously to get to a grand final is fantastic," he said.
Vying for the club's first senior premiership in close to two decades, Morwell has not played in a grand final since 2008 when it met this year's opponent Sale.
"It's great. A big relief I guess. It is always something that you want to do but it's great for the club and great for the town," Morwell Football Club president Wade Presley said.
Having started pre-season training on 12 November last year, the winning Tigers sang their theme song loud and proud.
Morwell was beaten convincingly by Maffra in the qualifying final a fortnight ago, however the Tigers won both home and away season encounters with the Eagles.
"Maffra touched us up a couple of weeks ago and we tried to learn from that and work on a couple of things," Singh said.
Former Collingwood player Tarkyn Lockyer booted the opening two goals of the match as the Tigers continued a season-long trend of good starts.
Morwell led by 12 points at the first change, after a quarter which included an incredible banana kick goal to club captain Joel Soutar, and by half-time the lead was out to 23 points.
"We start really well most weeks. The boys really switched it on in the second quarter," Singh said.
The Tigers did not take their foot off the pedal after the break.
"Last time we played them (Maffra) we got off to a good start and they came back hard so that was always in the back of our minds, but the boys stuck to the task and did what they set out to do," Presley said.
"They are such a good team. I think we always thought they'd come at us and we just couldn't relax. We know how good they are and how quickly they can kick goals," Singh said.
While it did stop Morwell's run at times, the more experienced Maffra side appeared to be off its game.
The Eagles were making uncharacteristic errors throughout the fixture.
"I guess great players sometimes can't play to their absolute best. Our backs did their bit but it was a credit to our midfielders and our forwards who put them under a lot of pressure," Singh said.
Lockyer opened the second half as he did the first with his third major and by three-quarter-time his side led Maffra by 33 points.
Adam Bailey goaled first for Morwell in the last, before consecutive majors from Brent Connelly, Daniel Bedggood and Darren Sheen saw Maffra narrow the margin.
The Eagles' charge ended there, with Daniel Hutchinson's second major of the afternoon sealing victory for the Tigers to the tune of 45 points.
Captain Soutar was named best on ground for Morwell.
"Joel led from the front again today and that's why he is captain I guess," Singh said.
Collingwood fly-in Lockyer finished with three.
"Tarks loves being here… he was fantastic today," Singh said.
The coach plans to treat grand final week the same as the past 22.
"I'm a big believer that you keep doing things like you normally do. So we will keep things simple, treat it as a normal week, train four times and play again next Sunday," he said.
The grand final will pit the teams that finished first and second on the ladder respectively, the reigning premier Sale and Morwell, against each other in the seniors.
As for Maffra, yesterday marked the end of an era with none of the club's four football grades qualifying for a grand final.
Morwell's reserves, and A and C grade netballers, all bowed out of contention in their respective preliminaries.