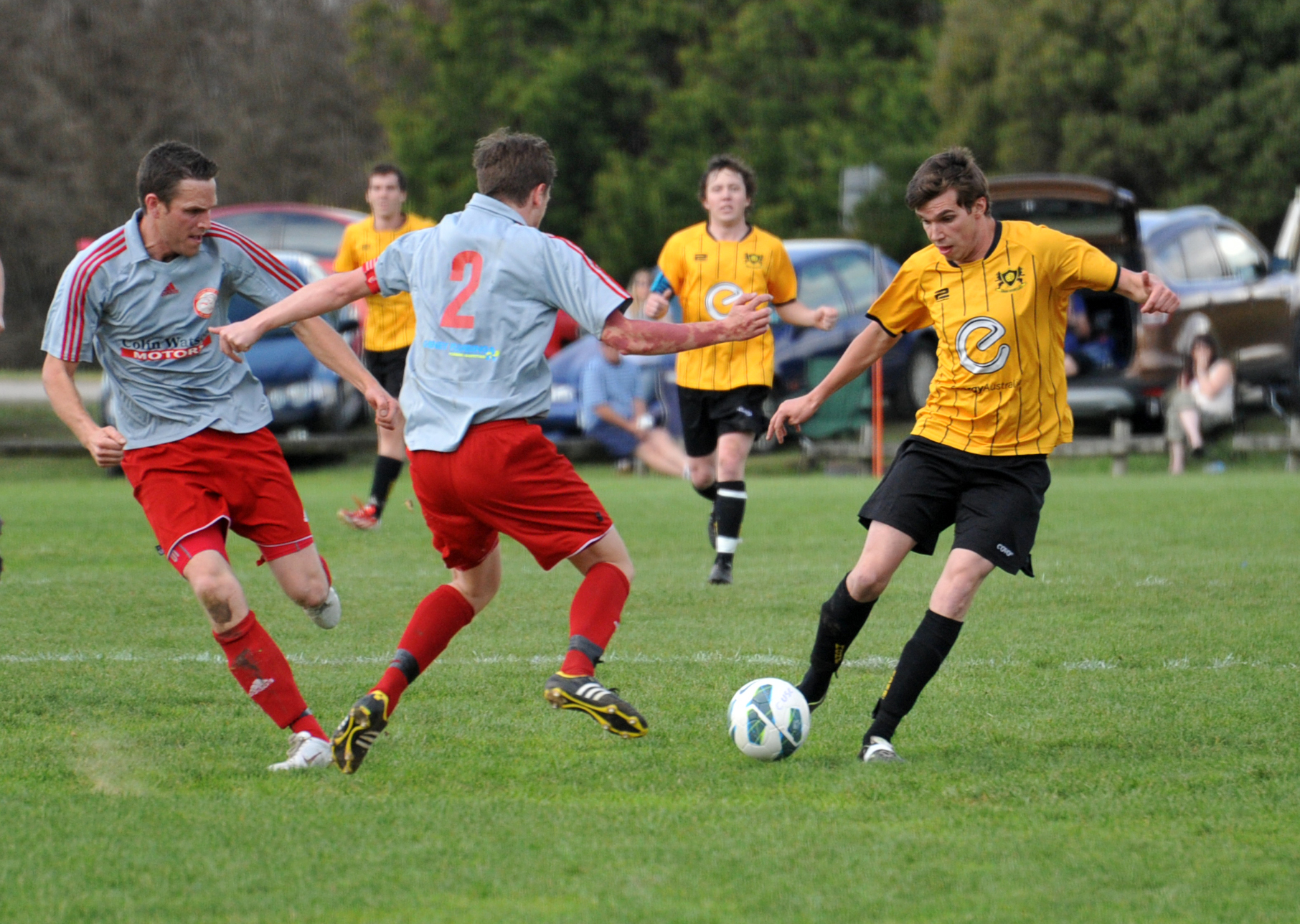 SOCCER
GSL SEMI FINALS
THE Gippsland Soccer League's top two faltered in semi-final action yesterday as Monash and Sale United advanced to the grand final.
Monash overcame Churchill 2-1 in a fight to the death at Hazelwood South Reserve, while league champion Moe United fell 2-0 to Sale United at home.
After going up 2-0 with 15 minutes to play through an Ash Birrell-spot kick, Monash was forced to withstand a late onslaught by the Rams.
Tim Dawson reeled a goal back within minutes as Churchill threw everything into a series of desperate offensive efforts, culminating in a spate of chances to equalise.
Paul Riess pulled the ball down in the box only for Jackson Taylor to spray his shot from close range, and Riess himself had a free header at the back post desperately cleared off the line by a resolute Monash defence.
A pair of goal mouth scrambles, several corners and a string of dangerous balls into the box all came to naught as Churchill fought tooth and nail to force extra-time.
With the Monash faithful pleading for the final whistle during an eon of stoppage time, the men in yellow finally emerged victorious over Churchill for the first time this season.
"In the last 15 or so we were on the back foot but I'm really proud of the boys, we dug deep and it was well deserved," Monash defender and coach Wal Noppert said.
"At that time in the game nerves don't really come into it, it's all adrenalin. It's all about keeping your man out and shutting him down and I think we did that.
"They were a bit of a bogey team for us this season; we played them three times and lost three times but always deep down we knew it was going to be a close match and we did have a chance."
Both sides began cautiously and neither could create space in the final third.
Churchill was finding it difficult to avoid the offside trap – it was flagged mercilessly throughout the match – as each of its promising openings were pulled back.
The Rams' best early chance fell to Taylor, whose goalbound header was barely redirected by Monash keeper Ross Johnson.
Monash was enterprising down the right flank but its delivery was lacking in quality, leaving it bereft of goal scoring opportunities until late in the half.
A free kick on 40 minutes was the catalyst for the opener; Birrell curled one into the box before a deflection fell to Monash feet.
A first time cross found Ty Christie at the back post who rifled his header past keeper Jason Sands to send Monash 1-0 up at half-time.
Churchill almost went further behind after the break, but Birrell's strike from the top of the box flew high and wide to the left.
The Rams' offside woes continued, leading to incidents of angry remonstration with the officials which boiled over after a goal was disallowed.
Jarryd Johnson created something out of nothing down the right side to spark the Rams, but his jinking run was let down by a shot fired directly at Johnson.
The Rams fought bravely after the Monash penalty, but two goals was one too many to pull back in 15 minutes.
Monash now faces Sale United in a third versus fourth grand final showdown.