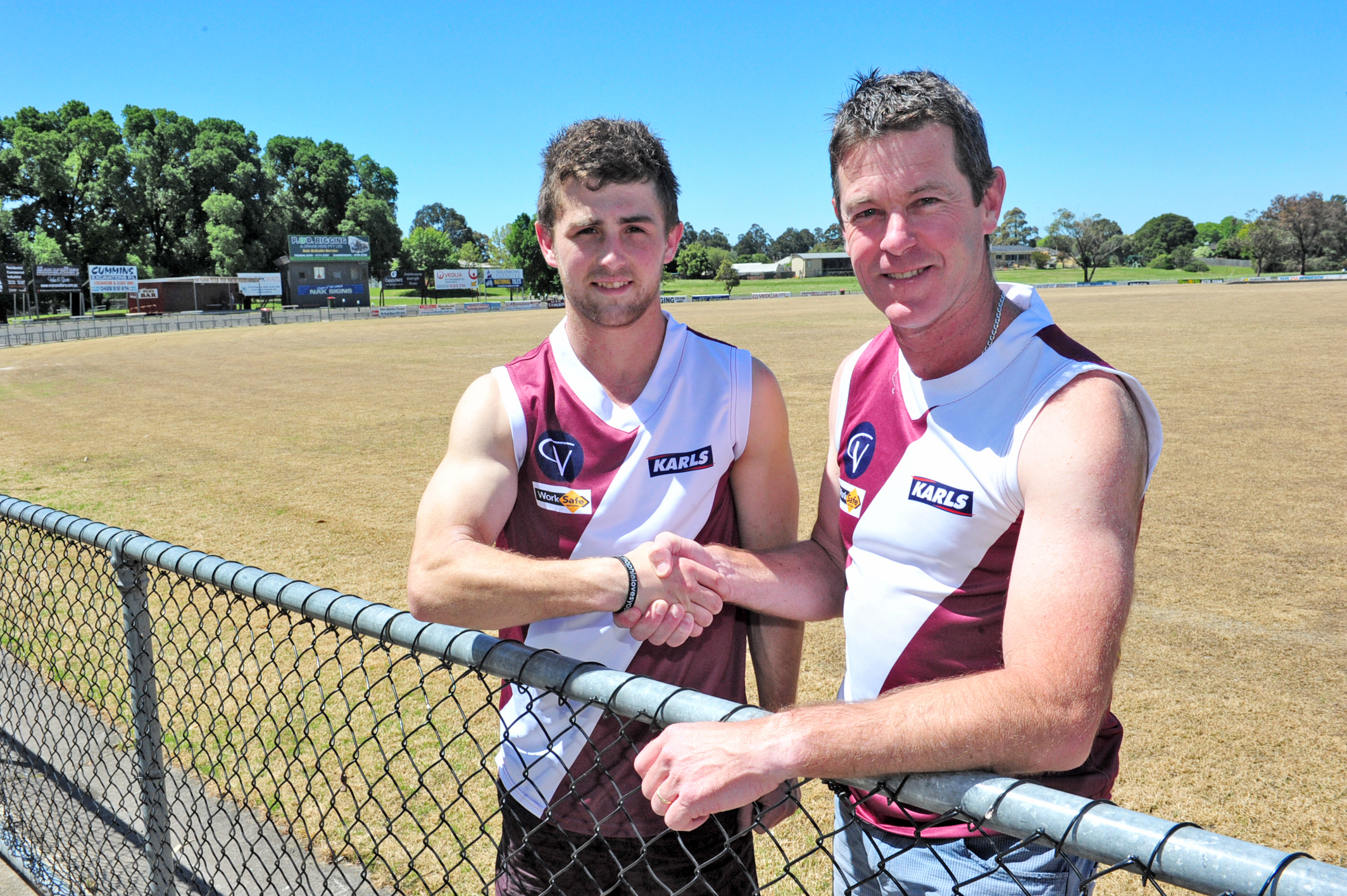 FOOTBALL
GIPPSLAND LEAGUE
*by JOSHUA HANRAHAN
THE Northe family name has been synonymous with the Traralgon Football Club for decades and the son of a former great is keeping the tradition alive.
Tim Northe joined the list of Traralgon senior best and fairest winners this year, an honour roll his father Russell sits atop having won the award a record eight times.
After playing his junior football with TEDAS in the Traralgon and District Junior Football League, Tim followed in his father's footsteps and moved to Traralgon to play fourths, before being selected for Gippsland Power.
At 17 he won Power's club best and fairest and, when his time in the TAC Cup was done, was drawn to play with VFL club Box Hill where former Power coach Damian Carroll had just taken the top job.
After a VFL Reserves premiership in 2011, and a number of senior games, Northe played the majority of 2012 in the VFL Development League before returning to Gippsland in 2013.
With the wide world of country football at his fingertips, the decision to come back and play with the club where his family has so much history was an easy one.
"I missed home, living down in Melbourne, but I always knew coming back down to Traralgon I was going to play there, I know a lot of people there," Northe said.
"It was obviously a good feeling to win the best and fairest; dad's won a few, I've grown up around the club all my life and it's a great honour to win.
"Back in the late 1990s, early 2000s when Traralgon was a really strong club they won three-in-a-row between 1998 and 2000 and I always remember going to dad's games in my Traralgon outfit."
Traralgon senior coach Paul McCulloch, who played with Russell in his heyday, also remembers Tim as a youngster at the club.
"I've been at the club for a long time, I played with his dad and I remember Tim as a one year-old wearing his dad's jumper around the club," McCulloch said.
After seeing plenty of both father and son play, McCulloch can see similarities between the pair.
"Tim's probably a lighter body than his dad and probably a bit quicker, but they're both left footers and both have an uncanny ability to pick up 35 plus possessions because they continue to run and work all around the ground," he said.
After joining Alan and Josh Jennings as only the second father and son duo to win best and fairests at the club, McCulloch believes Tim could one day join his father as a senior captain and club great.
"He's still a young man, but everything points towards him having a great career," McCulloch said.
"He's already in the leadership group, he'll continue to rise as a leader and he's got all the traits to go on and play in excess of 200 games."
At 21 years of age, Northe has plenty of football left and harbors ambitions to continue the Northe legacy at the Maroons.
"I've had some great memories there and it (the club) obviously means a lot to the family," he said.
"Mum's been around with dad, dad knows everyone around the club and me and my two younger brothers grew up around the club.
"It will be in my memories forever."
*Joshua Hanrahan is a Monash University journalism student.