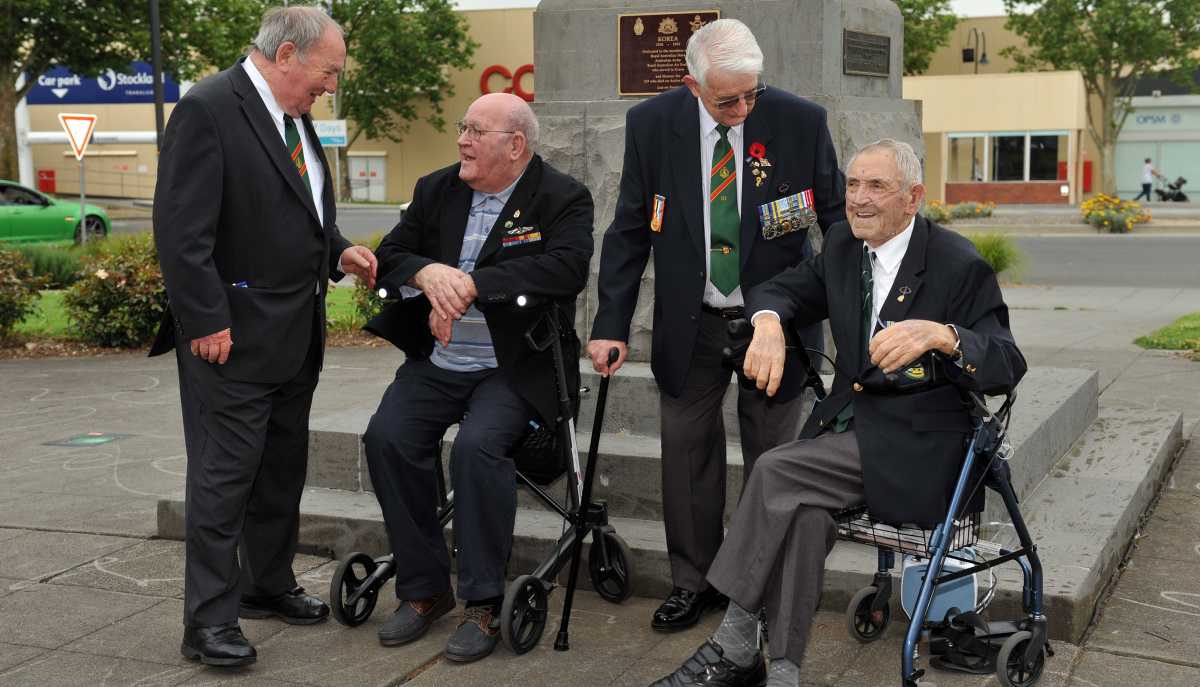 SIX decades on from the Korean War, Traralgon Returned and Services League veterans of the conflict will at last be formally acknowledged and immortalised for their service this Remembrance Day.
A new plaque fixed to the Traralgon cenotaph, commemorating 339 lives given in
active service and all who fought in Korea, will be dedicated and blessed in today's ceremony, a long awaited tribute for local servicemen.
Among them will be veterans James Baldwin, John Hickman and James Craven of the Royal Australian Regiment Third Battalion, and Duane Houge of the American Navy contingent.
After years of neglect in the public eye, Mr Craven said it was a special moment to see the plaque finally installed.
"It's taken 60 years to get this plaque up and we've waited a hell of a long time… we sort of had no recognition whatsoever," he said.
"When we came back from Korea we weren't even allowed to join the RSL, we weren't given any (repatriation pharmaceutical) benefits by the government, we got nothing, they didn't want to know us."
Mr Craven will lead the Requiem at today's official unveiling of the plaque, which carries with it poignant memories of the desolation of war.
"We had 339 killed over there in Korea and about 1500 wounded, so to have recognition for them means a hell of a lot to me," Mr Craven said.
"We've all lost mates over there and I think it's just wonderful to have a plaque like that for us here."
Fellow veteran Mr Hickman recently embarked on a week-long 60th anniversary return tour of Korea and could scarcely recognise the country outside of the trenches.
"I wouldn't know the place when I went back, when we went through Seoul it was blown to pieces… when I went back it was bigger than Melbourne," he said.
Ex-servicemen visited grave sites on the tour – a difficult part of the program for Mr Hickman.
"It just brings back a few memories that was all… think of your mates and that sort of thing," he said.
Mr Hickman said to be honoured on the home front for "the forgotten war" was a long overdue consideration.
"It's about time, everyone else has got theirs bar ours… there were 17,000 of us over there through the time," he said.
A replacement World War II plaque for 1939-45 servicemen will also be unveiled as part of the ceremony.
The plaque had to be made anew to correct a spelling error in Charles Reginald McCallum's name, who fought with the Victorian 2/14th Infantry Battalion against the Japanese at Kokoda.
McCallum was awarded a Distinguished Conduct Medal for standing his ground while wounded, with a Bren gun in his right hand and a Thompson sub-machine gun in his left, to hold off enemy troops while his platoon retreated from battle.
He was killed in action at Brigade Hill a week later on 8 September 1942.