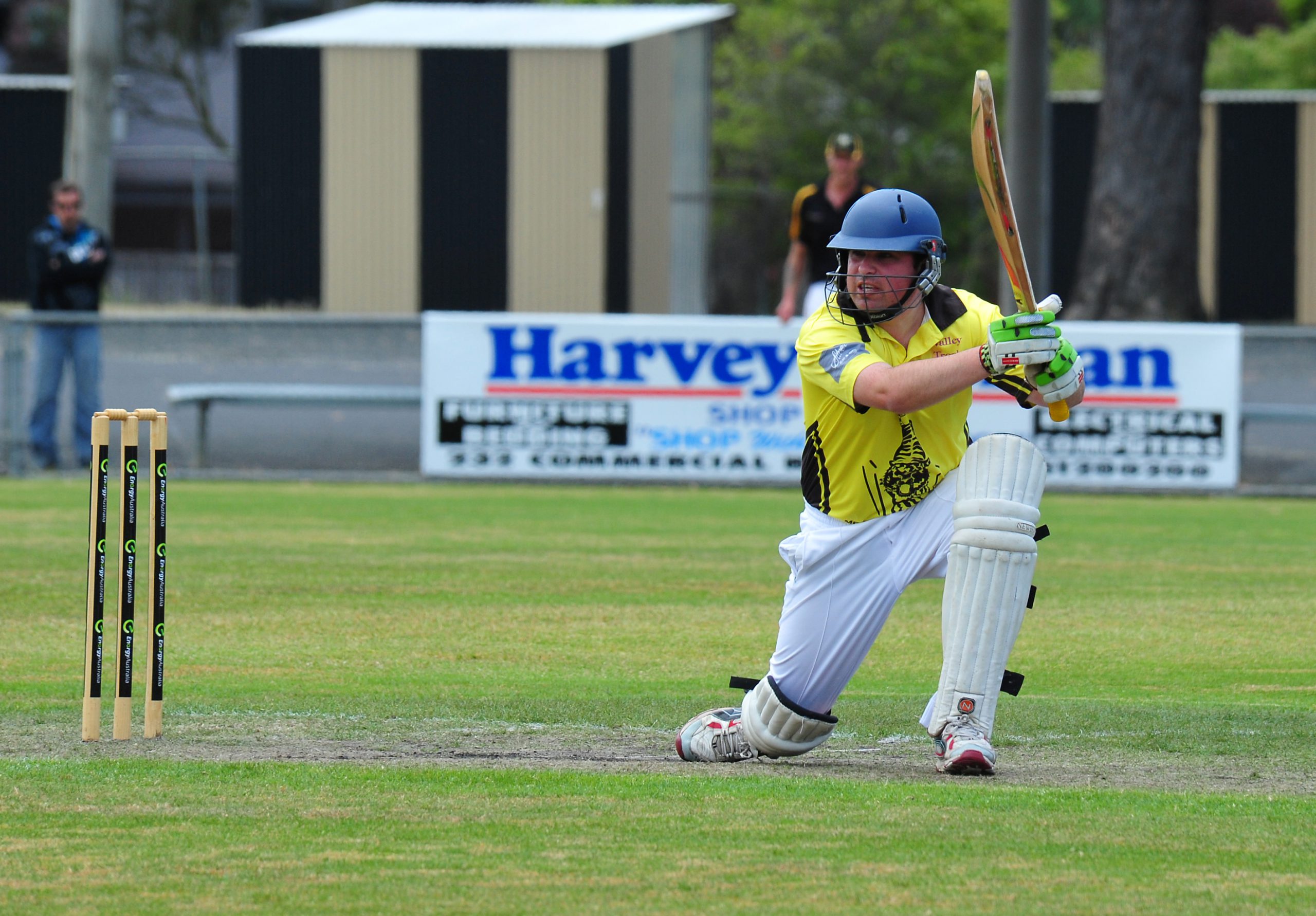 CRICKET
CGCA
MORWELL posted an imposing 8/184 but it was not enough to earn the points against the powerful batting lineup of Mirboo North.
Batting first in the clash of the Tigers, Riyaz Pathan scored a fine half century before removing himself hit wicket.
Mark Cukier (40) and Wayne Fleming (38) helped power the run rate as Rob Phoenix (4/38) did the business for Mirboo North with the ball. Pete Grima (2/24) and Dale Banks (2/38) also chimed in.
Mirboo North lost Matt Snell early in the chase but Brett Pedlow's 81 put his team in a great position at 1/125 before he was dismissed by Cukier.
Morwell then claimed 4/44, as Cukier and Fleming stifled the middle order, but had too much ground to make up and the visitors passed the target five wickets down.
Moe v Trafalgar
MOE got its season back on track with a win over Trafalgar.
Batting first, the Lions' top order finally all showed up to the same match; Andrew Philip's 60 was ably supported by contributions from Sean Spiteri (41), Joel Jacovou (30) and Dale Walshe (25) to boost the Lions to 5/180.
Jackson Noonan with 2/20 was Trafalgar's only bowler to get any reward for his efforts.
In reply the Ships were all out for 150.
Aiden George top-scored with 38 while Rhys Holdsworth made 34.
Latrobe v Thorpdale
LATROBE nearly slipped up against Thorpdale in a close-run encounter.
The Blues made just 116, restricted by tight bowling from Anthony Bloomfield (3/17) and Brendan Evans (2/20), but it was almost enough in a brave defence.
Anthony Bloomfield's 40 looked to have the match sewn up before a flurry of middle order wickets left Latrobe 10 runs adrift with only two wickets in hand.
Tim Cranwell and Ash Halkett combined to help the Sharks limp over the line.
Henk and Schalke Conradie took two wickets each, as did Travis Pickering.
Second grade
RAWSON accounted for Latrobe as Nathan Lee hit 62 to power the Kookaburras to 152.
Mark Lawrence (4/45) was expensive but made the breakthroughs, while Jon Hayes (3/13) and Glen Steele (2/26) bowled well in support.
In reply Latrobe had a few batsmen make starts but none went on to post a big score while four made ducks.
Luke Casey (3/27) and Dylan Lee (3/42) did the damage with the ball.
Connor Williams' unbeaten 72 saw Mirboo North defeat St Vincent's, helped along by Jarrod Speed's 34. 7/196 was too much for the Saints and they were bowled out for 131.
Clinton Brooker was the hero with 5/14.
Morwell was cleaned up for just 57 by Jeeralang-Boolarra as Dermott Leys (3/13), Simon Pickett (2/6) and Paul Howes (2/15) tore through the batting lineup.
Alex Henderson's 19 was the only double-figure score of the innings.
The Panthers were then knocked over for 104 but the Tigers bowling attack had too few runs to defend.
Lachlan and Dean White both took two wickets, as did Marcus Heyne.
Yallourn North's first grade bye ensured a victory in second grade as Josh Keyhoe's 109 not out saw the Bombers reach 5/243, well out of reach of the hapless Thorpdale, which was subsequently rolled for 44.
Ricky Martin took 4/19 while Keyhoe nabbed 3/5.
Moe and Newborough had to abandon play before a ball was bowled due to a wet pitch.
Third grade
JAYDEN Hawkins hit 95 for Hazelwood North against Moe, but with almost no support from his teammates the Razorbacks could only reach 148.
Tony Cardillo (28) was the only other bat to reach double figures as Clinton and Steve Rennie took three wickets each.
The Lions made 4/157 in reply with Chris DeVent and Dean Jones both scoring half-centuries.
Latrobe had a shocker against St Vincent's Whites, getting rolled for 87.
Veteran Peter Mooney was the only batsman to make it past 10. Matt Van Loon got the major rewards with 4/14.
In reply the Saints suffered a late scare but got home thanks to a calm innings from Ryan Francis.
Morwell defeated Newborough after Jack Hansford (34) and Craig White (31*) helped the Tigers to 132.
Steve Johnstone took 3/15 while John Parker and Mark Konndouras each nabbed two wickets.
Leigh Colgrave's 79 not out should have been enough to see the Bulldogs over the line, but they ran out of overs and finished two runs short of the target.
Willow Grove meanwhile had a three run win over Jeeralang-Boolarra as Nathan Perkins (4/12) was a major factor in defending just 76. Mitchell Jennings, Alexander Pearman and Brad Dunstan all took two wickets for Willow Grove.
Mirboo North comfortably defeated St Vincent's Greens after the Saints were rolled for 57.
Tom Hopcraft was the destroyer with 4/14 while Cameron McIlwaine took 3/8. The Tigers lost just three wickets in the chase, netting the runs inside 20 overs.