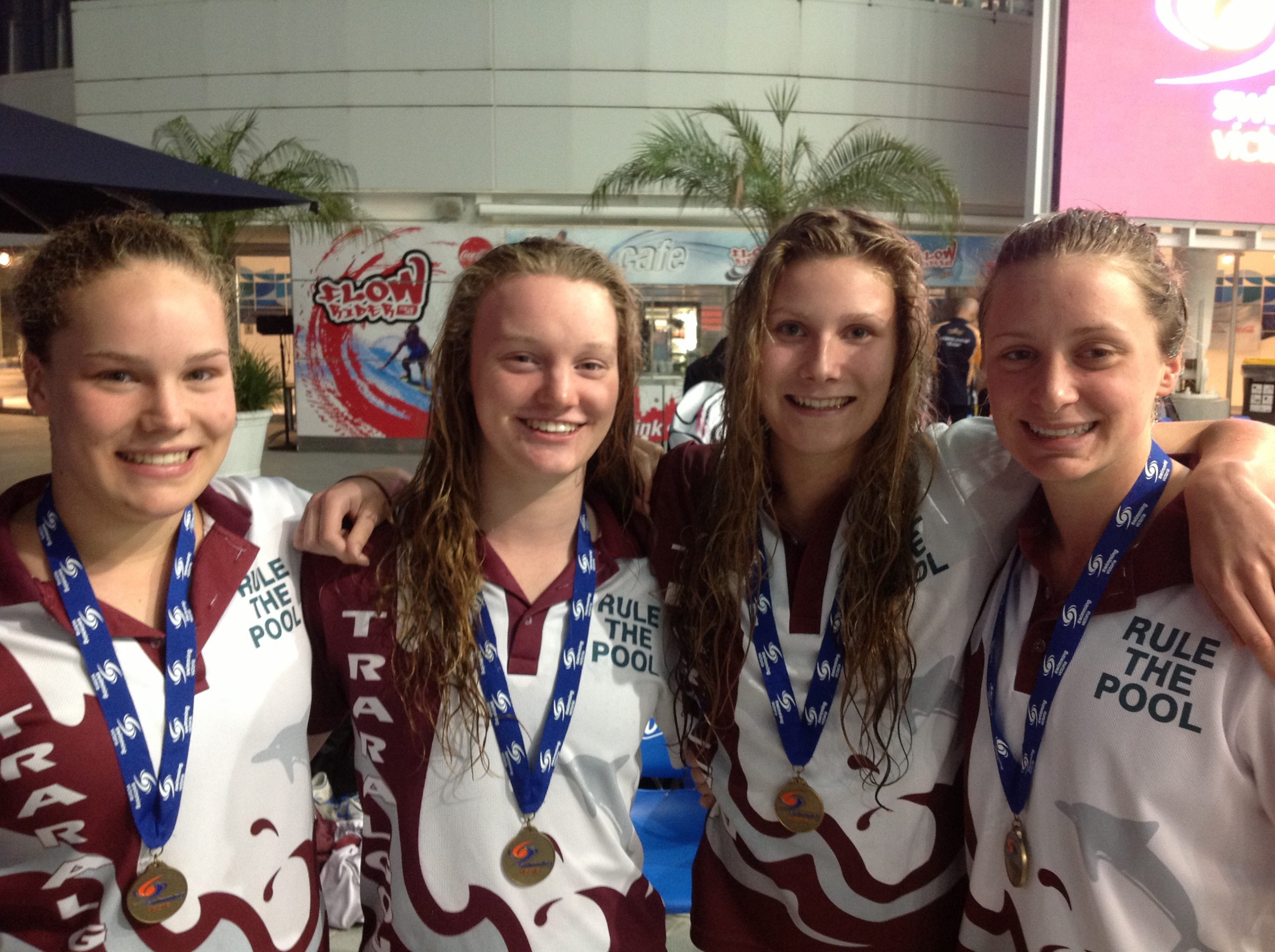 SWIMMING
TRARALGON Swimming Club achieved the highest ever placing by a country club at the Victorian State Age Championships, coming in fourth during a record breaking meet.
The club once again finished top of the country rankings with 1083 points, its highest ever tally, beating out regional rivals Geelong (333) and Wodonga (330).
Its 53 swimmers won 14 gold, 14 silver and 10 bronze medals, broke four country and 16 Gippsland records and had 86 top 10 finishers in total.
" We had a goal going into the meet to finish sixth at best based on the number and quality of swimmers from some of the other metropolitan teams," senior coach Brian Ford said.
"However, our team was superb over the six day meet; every swim was important to the team whether a final was made or a personal best achieved.
"To come fourth in Victoria is just a fantastic result and a tremendous reward for our hardworking swimmers, parents and coaches."
Traralgon's most successful swimmer was 13 year-old Alex Tsebelis who won age group champion with one gold, four silver and one bronze medal, plus four other top five finishes, all in personal best times.
His 16 year-old sister, Georgia, was also outstanding after a long period of illness, winning three gold and two silver medals, breaking records in the 100 metre freestyle (57.44 seconds) and 200m individual medley (2.21.23s) and Gippsland records in the 200m backstroke (2.19.90) and 100m back (1.04.30).
Newcomer to the club, 13 year-old Melina DeCort, was phenomenal in her age group, winning the 100m backstroke in a new country record of 1.05.94 and the 200m back in a Gippsland record of 2.22.90 to go with silvers in the 200m and 400m IMs.
Training partner, 13 year-old Ellodie Reid, dominated her age group in the freestyle events to win the 100m, 200m, 400m – in a new Gippsland record time of 4.28.34 – and 800m races, along with silver and bronze respectively in the 200m and 100m backstroke.
Sixteen year-old Brayden Haney was the premier breaststroker in his age group, winning the 100m and 200m events with great technique and precise timing.
Mikaela Cornelissen made a successful return from injury to claim gold in the 15 years 100m butterfly, silvers in the 50m and 100m free and bronze in the 100m back.
Other medalists were 11 year-old Chance Doultree (bronze in 100m breast), 13 year-old Lauren Akers (bronze in 100m free and 200m breast), 13 year-old Connor O'Neill (bronze in 200m back), 15 year-old Taylah DaRos (silver in 100m fly, and bronze in 50m free), 15 year-old Caiden Gill (silver in 50m free and Gippsland record in 100m free – 53.43) and 16 year-old Maggie O'Keefe (silver in 50m free).
Traralgon's relays were again prolific with two medals and numerous top 10 finishes.
The best relay was the girls 16 years 4×100 freestyle team of Bridie O'Keefe (1.01.00), Georgia Tsebelis (57.21), Maggie O'Keefe (59.06) and Mikaela Cornelissen (58.17), who won the Victorian title from the powerful Nunawading combination in a new country and Gippsland record of 3.55.44.
The boys 14 and under 4×50 medley team of Connor O'Neill, Alex Tsebelis, Locke DeGaris and Mitch O'Neill was also impressive, claiming bronze by 0.12s.
The club is now targeting the Victorian Country Championships in Wodonga over the Australia Day weekend in January.
Having won 13 of the last 14 "countries" and the last nine, the Traralgon club is seeking a decade of dominance.
"Countries is undoubtedly the best and most important country meet of the swimming calendar," Ford said.
"The whole club rallies to maintain its outstanding success which has continued since 2000. We cannot wait to take on the other country clubs to measure the quality and strength of our program."