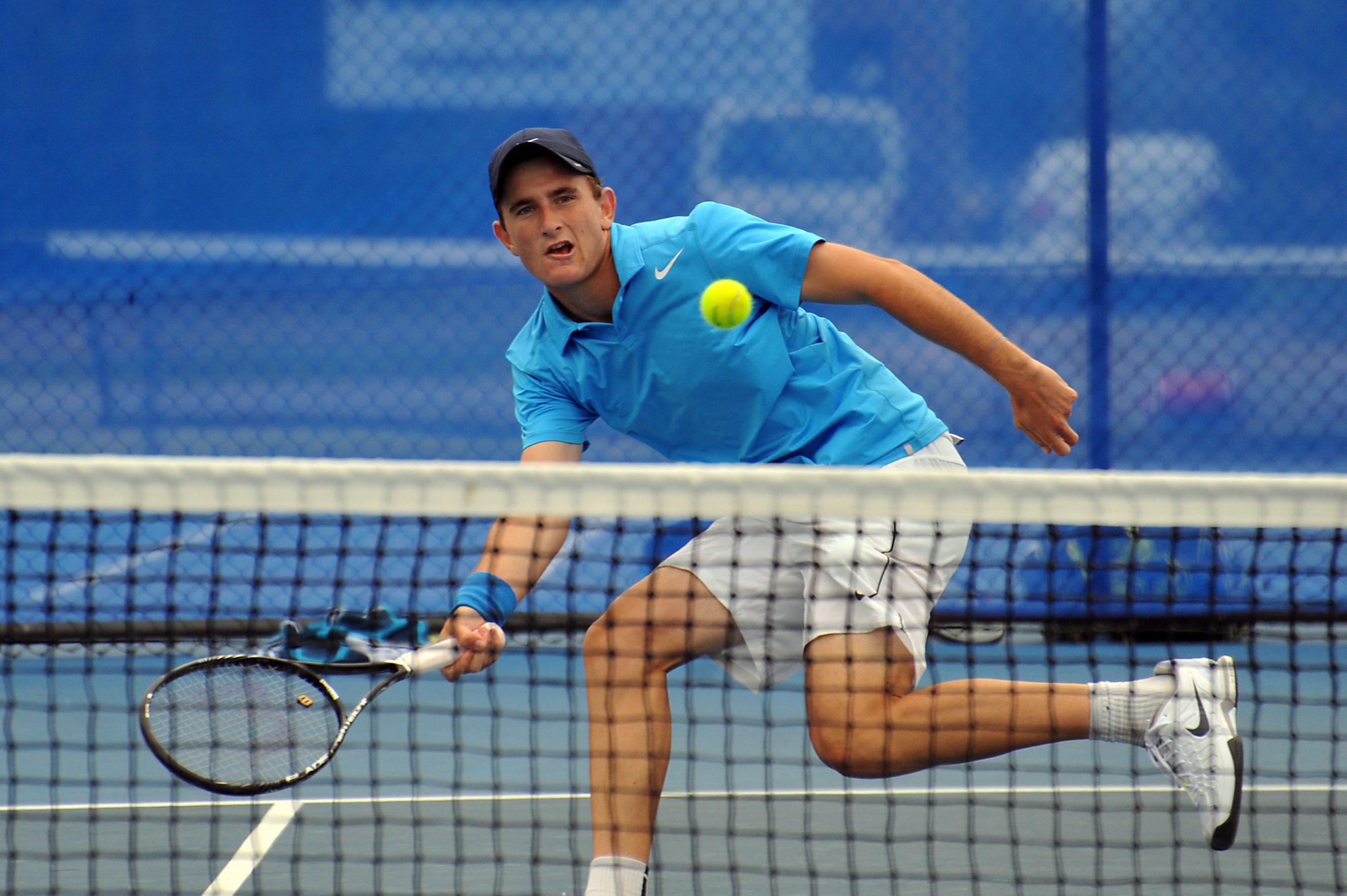 THREE of the world's top 10 junior boys, including current world number one Alexander Zverev of Germany, are among an unprecedented number of internationals set to compete at this year's AGL Loy Yang Traralgon Junior International.
Sixth-ranked Frenchman John Sebastien Tatlot and American world number seven Stefan Kozlov, who boasts a recent semi-final win over Zverev at the Metropolia Orange Bowl International Championship, are also in the field for the tournament's 21st edition since moving to Gippsland from Melbourne.
Despite an indifferent run of form in ITF competition of late, Zverev will be eager to improve on his efforts in Traralgon last year and emulate the feats of 2013 champion Nick Kyrgios just ahead of the Australian Open.
"He played the Traralgon event last year so he's obviously improved out of sight since that period," tournament director Francis Soyer said.
"It will be exciting to see his progress as a player and person from what it was last year."
At just 15 years of age Kozlov is the sleeper.
The young gun suffered a narrow loss in the Orange Bowl final against countryman Francis Tiafoe (6-7, 6-0, 3-6), following on from another final appearance at the Eddie Herr International Junior Tennis Championships last month.
Soyer said the inclusion of mutiple top 10 players, and another 20 top 50 ranked players on the boys' side and 12 on the girls', spoke volumes about the place of the Traralgon International on the junior calendar.
"I think it says a lot about the last 20 years at the Traralgon event. It has obviously seen a number of great players," he said.
"I've been speaking to Jo-Wilfried Tsonga and he remembers his time in Traralgon very well, and a number of other guys who have been through there, once they become professionals remember their time there.
"They remember it being a friendly place, a place to prepare for the Australian Open and a good introduction to their time in Australia."
Soyer said the timing of the tournament, and it being played on the same Plexicushion hard court surface as the Australian Open, made it an invaluable experience for touring players.
"It provides optimal preparation conditions for the players coming down… there's a lot of obvious reasons why they would want that leading in to the grand slam," he said.
At least a dozen Australians will feature in both male and female draws after wildcard allocations, marking bumper green and gold representation.
"It's got to be one of the highest in a while, which is saying good things about the development programs in place and the coaches we have around the country," Soyer said.
Daniel Guccione, younger brother of esteemed professional Chris Guccione, is a recent addition to the wildcard field, while another famous sibling Sara Tomic will return to Traralgon for another crack at a field headlined by world number five Varvara Flink.
Soyer said it was a tribute to the event and its reputation that the standard of excellence had been steady throughout his seven years of involvement.
"Last year was a highlight obviously with the 20th anniversary and we did a lot of extra things, hopefully we can just maintain that standard moving it forward for the next few years and another 20 years in Traralgon," he said.
The tournament begins today with qualifying and runs through until next Thursday.
ITF International Past Champions
Boys singles
2001: Joachim Johansson
2002: Richard Gasquet
2003: Matthieu Montcourt
2004: Mihail Zverev
2005: Carsten Ball
2006: Antonio Veic
2007: Roman Jebavey
2008: Jared Easton
2009: Julien Obry
2010: Justin Eleveld
2011: Andres Artunedo Martinavarr
2012: Filip Peliwo
2013: Nick Kyrgios
Girls singles
2001: Marion Bartoli
2002: Hanna Nooni
2003: Nadja Pavic
2004: Timea Bacsinszky
2005: Magdalena Rybarikova
2006: Anastasia Pavlyuchenkova
2007: Jasmina Tinjic
2008: Cindy Chala
2009: Ksenia Kirillova
2010: Timea Babos
2011: Monica Puig
2012: Krista Hardebeck
2013: Anna Danilina
Boys doubles
2001: Andrew Banks (GBR) Tom Pocock (GBR)
2002: Richard Gasquet (FRA) Jo-Wilfried Tsonga (FRA)
2003: Gael Monfils (FRA) Josselin Ouanna (FRA)
2004: Julian Reister (GER) Mihail Zverev (GER)
2005: Lukas Lacko (SVK) Pavol Cerenak (SVK)
2006: Fumiaki Kita (JPN) Dennis Lajola (USA)
2007: Stephen Donald (AUS) Rupesh Roy (IND)
2008: Matt Reid (AUS) Ryan Harrison (USA)
2009: Julien Obry (FRA) Adrien Puget (FRA)
2010: James Duckworth (AUS) Ben Mitchell (AUS)
2011: George Morgan (GBR) Mate Pavic (CRO)
2012: Nick Kyrgios (AUS) Wayne Montgomery (SAF)
2013: Enzo Couacaud (FRA) Stefano Napolitano (ITA)
Girls doubles
2001: Petra Cetkovska (CZE) Barbora Strycova (CZE)
2002: Sania Mirza (IND) Linda SMolenakova (SVK)
2003: Debravka Cupac (AUS) Natalie Tenevska (AUS)
2004: Angelique Kerber (GER) Marta Lesniak (POL)
2005: Michaela Johansson (SWE) Nadja Roma (SWE)
2006: Tyra Calderwood (AUS) Jessica Moore (AUS)
2007: Anastasia Pavlyuckenkova (RUS) Adriana Rodionova (RUS)
2008: Bianca Swanepoel (SAF) Chen Astrugo (ISR)
2009: Kristina Mladenovic (FRA) Silvia Njiric (CRO)
2010: Eugenie Bouchard (CAN) Luksika Kumkhum (THA)
2011: Eugenie Bouchard (CAN) Monica Puig (PUR)
2012: Ilka Csoregi (ROM) Elizaveta Kulichkova (RUS)
2013: Elise Mertens (BEL) Ipek Soylu (TUR)