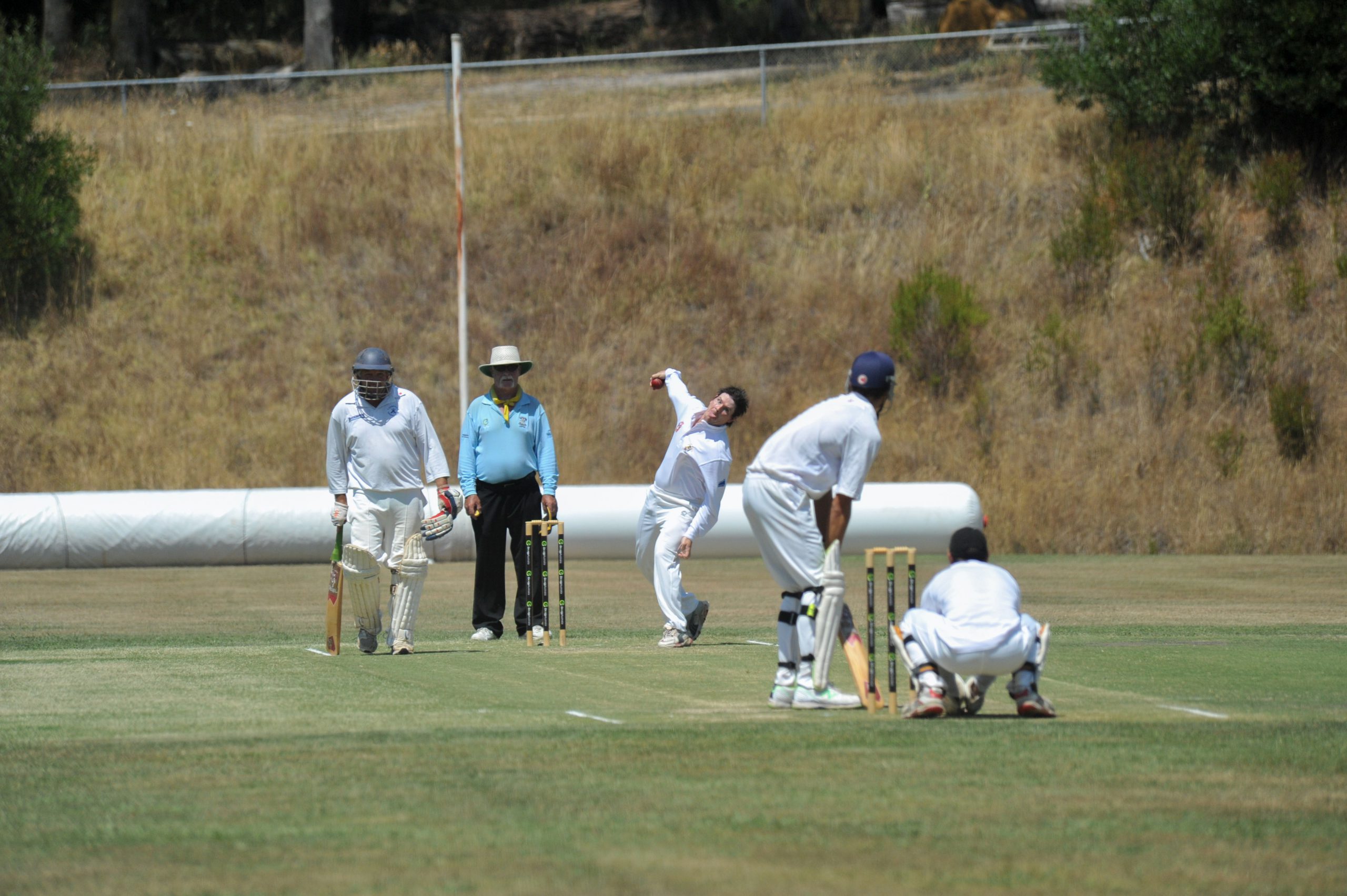 CRICKET
CGCA
Morwell v Moe
MORWELL made a poor start in its run chase against Moe, losing early wickets to be 3/30 before Riyaz Pathan and Robert Fox steadied the ship.
The pair's 37 run partnership ended when Pathan was run out for 31, but Fox continued to score at the other end.
Brendan Brincat helped add 54 to the total before being adjudged LBW for 30.
Fox and Glen Bone then took the Tigers to 187, a promising stand which ended when the flying Fox was run out for a sensational 97 in searing heat.
Bone then showed poise and composure to guide the Tigers home with two wickets left in the bank.
Sam Price was the Lions' bright spot with 2/29, continuing his exceptional return from injury.
Jayden Mathison and Andrew Philip each took one wicket, but the rest of the attack was unable to create the breakthroughs necessary to gain the points.
Mirboo North v Thorpdale
MIRBOO North dismissed Thorpdale for 185 to seal a first innings win.
Rob Phoenix did the bulk of the damage with 4/40, while Damien Turner chipped in with 3/36.
It was the same old story as Harvey Poole played a lone hand with 65, again lacking support from his teammates, with Kayne O'Connell's 25 the next best effort. With 23 overs remaining in the day Mirboo North sent out bash brothers Brad and Pete Grima to open the batting and both proceeded to score half centuries.
Boyd Bailey dismissed Brad Grima to break through, before Shannon Pickering picked up 3/22 in his short spell before the Tigers closed at 4/197.
Trafalgar v Yallourn North
TRAFALGAR was bowled out for 220 by Yallourn North in reply to the Bombers' 302.
The Ships made a bad start and crashed to 4/59, then 7/76, and looked to be staring at a huge defeat as Luke Nelson and Lucas Fry took two wickets each to dent the home side's finals hopes.
Captain Rhys Holdsworth could only manage 28, but was comfortably the best of the top order players.
Craig Nielson joined Klay Butler with the game in a hopeless position and the two decided to hit out.
Butler slashed his way to 61 and took the score past 200 before being caught by Andrew Petrou off the bowling of Luke Nelson.
Jackson Noonan also played well to score an unbeaten half-century, but the Ships finished well short.
Yallourn North then played out 13 overs in which Josh Keyhoe failed to get going again, dismissed by Holdsworth for 16.
Tyler Brown looked at home during his stay of 27*, while Andrew Petrou was solid at the top and finished unbeaten on 12.
Second grade
MATT Snell's 41 underpinned Mirboo North's 9/192 against Morwell.
Rob Semmler (3/46) and Steve Bilic (3/40) were dangerous with the ball but lacked penetration from their colleagues.
Liam Smit removed Mark Smith in the first over before Bilic and Kris Fortuin got the innings back on track with a 48 run stand.
Steven Rogers then uprooted both batsmen on his way to 3/23, before Brendan McKean ripped through the lower order with 3/38.
Steve Elser scored 52, but when he was removed by McKean the Tigers lacked the quality to get over the line, finishing 22 runs short after their 45 overs.
Moe bowlers Nick Clarke (3/17) and Ben Noy (2/11) destroyed the Saint Vincent's top order, except Justin Hecker, who managed to post a defiant 51.
Peter Hyland then blasted through the tail with 4/8 to blow the Saints away for 108.
Ayden Kelly scored a calm 52, adding 88 with Jacob Mulqueen (39) to guide the Lions to an eight wicket victory.
Elliott De Carli struck 83 at the top of the order and Darren Wilkie 45* at the bottom as Yallourn North powered to 9/234 against Rawson.
Nathan Lee was expensive for the Kookaburras but picked up 4/64.
Lee then top scored with 25 as the visitors were shot out for 91.
Wilkie continued his day out with 5/23 while Ricky Martin collected 2/10.
Trafalgar reached 9/166 against Jeeralang-Boolarra after Scott Moorhouse rescued the innings with an unbeaten 53 at number nine.
Peter Gilpin and Craig Blackberry both took 2/18 to help restrict the Ships.
Blackberry then hit an unbeaten century as the Panthers romped home by eight wickets.
Thorpdale was dismissed for 83 by Newborough, which could have been less if not for a resilient 38 from Matt Powell.
Royce Colgrave, David Reynolds and Robert Blunt all took three wickets for the Bulldogs, who then cantered home by nine wickets.
Third grade
Saint Vincent's White batsman Justin Blair continued his rich vein of form with 111 while Wayne Arnold struck an unbeaten half-century against Newborough as they reached 5/281.
Mark Konndouras was the Bulldogs' best with 3/59.
John Parker's 51 gave the visitors a sniff but Arnold (4/28) and Josh Holden (3/11) wrapped the innings up for 170.
Jeeralang-Boolarra recovered from 3/15 to post 149 against Latrobe, although the total could have been much higher if the Sharks had not removed the aggressive Shane Gill and Matt Allan within two overs of each other.
Paul Dawson's 3/35 damaged the top order before Nathan Nikodemski picked up two in two balls, before two runouts closed out the innings.
The home side wobbled early to fall to 3/34 before Steven Grover struck an unbeaten 114, adding 125 with Peter Mooney to secure the points.
Adam Parker was the Panthers' only wicket-taker with 3/15.
Hazelwood North inflicted Moe's second defeat of the campaign, and the second in as many matches after posting 8/191.
David Morrison's unbeaten 70 underpinned the innings, while Brad McBride struck an aggressive 47.
Craig Veenman's 2/16 was the Lions' best while the other bowlers leaked runs.
Moe then finished up short at 9/174 with Stace Puts' 33 the Lions' best effort.
Saint Vincent's Green reached 6/141 against Mirboo North.
Zayne Dowdell (38) was solid at the top before Sam Schonberger (46) and Hayden Pepper (28*) boosted the run rate.
Rohan Hughes was the Tigers' key bowler with 2/28.
The visitors then stumbled to 4/33 before Jesse Buxton (26*) and Fred Couper (58*) steered them home.
Brett McRae took 2/24 but was the only bowler to get it right.
Willow Grove punished Morwell and stormed to 3/283 after Brody Hams and Simon Noy hit half-centuries opening the batting.
Nathan Perkins then scored a century at first drop while Jarryd Cutler chipped in with an unbeaten 34 to pile on the misery for the Tigers.
Craig White's 31 was home side's best effort as they were rolled for 136.
Rob Fiddelaars claimed 3/16 to put Morwell out of the game early.