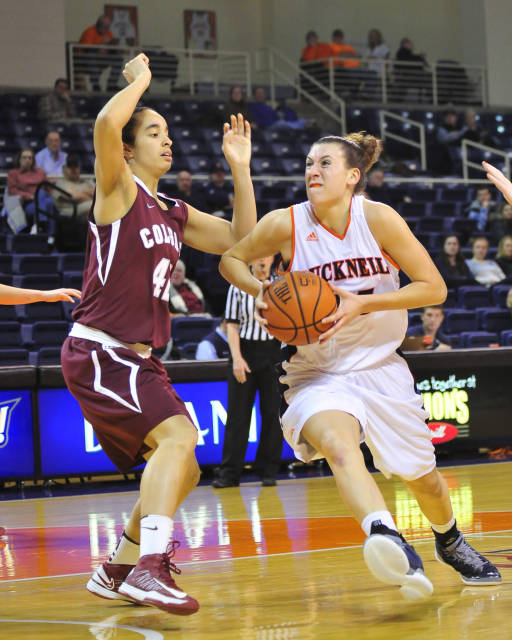 BASKETBALL
BIGV
LATROBE City Energy has signed its first ever female import, Lindsay Horbatuck from United States college team Bucknell University.
The 185-centimetre forward captained Bucknell, and in her final two seasons averaged 7.6 points, 1.3 assists, 1.1 steals and 9.6 rebounds in 61 starts.
Horbatuck finished her college career with 15 double-doubles and graduated with the second highest single season rebounding total in program history, totalling 325 boards last season.
The star signing has also played 10 games in the Bulgarian National League for Haskovo, averaging 8.3 points per game and 9.4 rebounds.
Horbatuck said playing at Energy was "a dream come true".
"Australia has been a place that I have always wanted to visit my entire life and I was excited by the opportunity to play at Latrobe City Energy," she said.
"I am also very excited to be able to share my basketball knowledge and give back to the Gippsland community.
"With my educational background in elementary education and teaching, I love when I have the opportunity to teach young kids about the sport that has given me so much."
Energy president David Roberts said Horbatuck would be a huge addition to not only the team, but the club's development programs and street basketball for refugees and new arrivals clinics.
"Lindsay will be a great asset to the club on and off the court and will focus on strengthening the pathway for our female players," Roberts said.
"Currently, Energy is on track for two of our four girls' VJBL teams to make Victorian Championship; the highest junior league in Australia.
"It will be great to provide these players an opportunity to work with an international female player of Lindsay's calibre."
Horbatuck is due to arrive this month and will be available for the season opener on 15 March at Traralgon.
Moss Leeds Tigers
ENERGY stalwart Jarryd Moss has been hard at work throughout the BigV offseason, playing for Leeds Tigers in the England National League.
Moss leads the Tigers' scoring, assists and steals with averages of 18 points, six assists and three steals per game.
The Tigers are currently third in the north conference of the division four national league with a record of seven wins and four losses with three games to play.
Moss has also been active in the club's community link program, teaching juniors basketball in a country dominated by other sports.
"There are a lot of similarities between basketball in England and back home, with the sport competing with football in both countries for funding and community exposure," Moss said.
"The best part for me is how receptive the kids are to the sport and having someone there willing to teach them about it. I was half expecting to them to show up, lose interest and start kicking the ball around but so many of them loved the game right away.
"Both Energy and Leeds Tigers do a great job reaching out to kids to promote basketball."
Only two teams from each division advance to the quarter finals phase, leaving Leeds work to do to progress.
Regardless of results, Moss said he had taken plenty from the experience to apply back home with Energy, having gained "confidence and a refreshed perspective".
Moss will likely return in time for Energy's 15 March opener, with Leeds' final regular season match slated for 8 March.