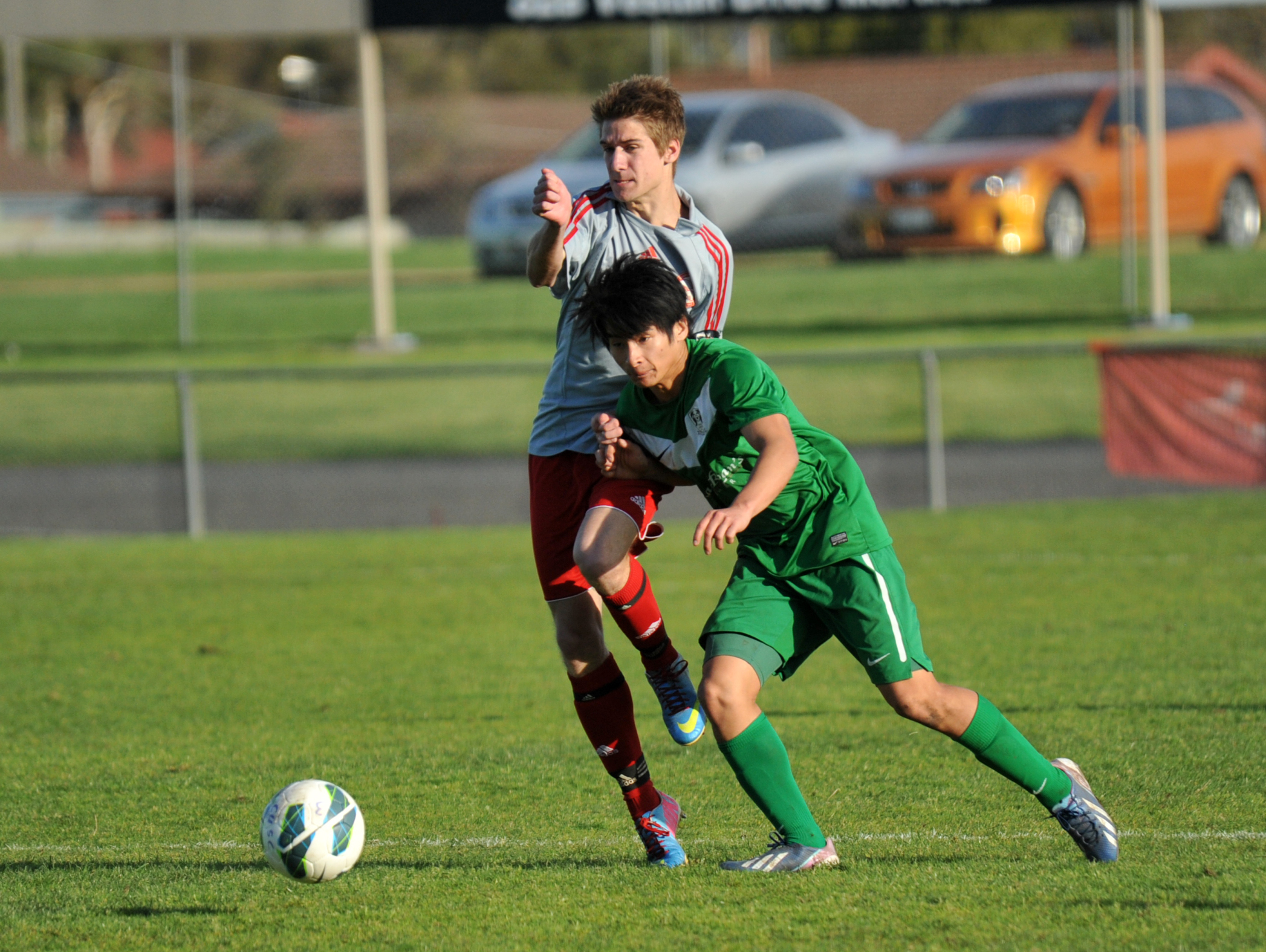 SOCCER
GSL
By samuel darroch
THE Gippsland Soccer League silverware was spread far and wide last season, and 2014 promises more of the same with the title race wide open ahead of round one this weekend.
Morwell Pegasus' re-entry into the central division, along with East Gippsland United in the youth and reserve grades, adds more diversity to an already colourful football palette, with each club in the league set to brush telling strokes on this season's blank canvas.
Breakout campaigns from grand finalists Monash and Sale United relegated Fortuna from the top four series for the first time in almost two decades, and the re-emergence of reigning league champion Moe United proved Churchill is no longer the infallible force it was in 2012.
The Red Devils are shaping as the team to beat again, and boast one of the biggest off-season signings in 2013 golden boot winner Ash Birrell.
The ex-Monash captain will come face-to-face with his former club in round one's biggest matchup, against a Wolves lineup lacking last season's attacking potency.
Coen Slaughter's move to Morwell Pegasus' state league side, along with Jamie Green, leaves Ty Christy as the sole remnant of a strike force which managed a league best 61 goals last campaign.
Despite the changes in personnel, Wolves coach Wally Noppert believes the attack will take care of itself but the defence must lift, following a horror 15-minute lapse which cost them the grand final.
"We've got a lot of other attacking threats… it's just a matter of fine-tuning our defence," Noppert said.
"It's a goal for us (to win a trophy) obviously getting that close (last year). It was right on the tip of our tongue and the guys are shattered; we want to try and rectify that and go one better."
Sale United has recruited well and will push for its first league championship since 1980, following its grand final triumph and a runner-up finish in the Battle of Britain Cup.
The Swans have retained league best and fairest Ash Ross, and picked up ex-Wolverhampton Wanderers academy member Patrick Lawless in a big coup.
The omnipresent threat of Churchill looms large again in 2014, and with star striker Luke Cheney considering a return the Rams could be back to their potent best.
With state league coaching duties his priority, Cheney's inclusion is up in the air, but the largely unchanged lineup, which won the Battle of Britain Cup and dominated the first half of last season, will be a frontrunner irrespective.
Perhaps the biggest off-season signing was that of A-League referee and elite goal keeper James Nicolopoulos to wooden spooner Tyers.
The shot stopper may have plenty of work to do between the sticks unless the Lightning shows vast improvement, but his presence at the back should tighten the defensive unit.
Of the mid-table clubs, Fortuna 60 and Traralgon City are likely to lift under the expert guidance of tried and tested coaches.
Dominic Palermo, who led Fortuna through a golden era between 1996 and 2011, is back to revitalise the club after a marred season on and off the pitch.
2013 Falcons coach Mauro De Luca has crossed Crinigan Road in favour of an orange shirt, and semi-professional Englishman Matt Ross also joins the ranks in a settled Fortuna squad.
Peter Lietzau has taken charge at Traralgon City and looks a good fit to develop the club's young talent.
His experience may be enough to negate a lack of hardened senior players on the pitch, while the inclusions of Max Lietzau (Moe), Manny Askew (Olympians) and Paul Storey (Falcons 2000) will help the Roosters' cause.
Olympians are again a mystery.
One of the better sides on paper, Olympians managed just seven wins last year and finished sixth.
New coach Aaron Daniels, who led the club's under 21 outfit last year, is searching for the perfect blend of youth and experience to push the Traralgon outfit to greater heights.
The departure of striker Frank Albanese, who netted 20 times last year, will be hard-felt.
Falcons 2000 is another rebuilding side, and with the chance to put one hand on the new Immigration Wall Cup against Morwell Pegasus on Saturday will come out firing from day one.
"It's always a bigger occasion, bigger crowd and everything (cup ties). I think playing it as the first game in the first round will give us a bit more of a crowd so anything that brings more attraction to the game is good," coach Nick D'Alessandro said.
With a long list of recruits, including Churchill Rams Jordan Kennedy and Tommy D'Alia who bring with them a winning culture, D'Alessandro is hopeful of improvement across the grades.
Falcons' opener against Pegasus, returning to the central division after contesting the new south league last year, will be the first glimpse at the new-look Horsemen.
Ben Cassar has amassed a long list of recruits, including Newborough duo Heydan and John Cook, and believes his squad is top six material.
"The team is looking good, we've been getting good numbers at training, the attitude has been very, very good, fitness levels are high, height and strength – I've got a good tight knit team," Cassar said.
"It's good to get Pegasus back in there and get some Gippsland connection again. With us being in Melbourne and focused on Melbourne we've sort of neglected our juniors and our Gippsland supporters (and we want to change that)."
Another side targeting a top six finish after a disappointing year is NYU.
The Combine has lost four key players, including club best and fairest Chad Shelley to Monash, but gained three seniors, and will attempt to build on its structures from last season.
East Gippsland United will take its place in the reserve and youth leagues after it dominated the central second division last season, and may threaten for silverware in both grades.
There will be no second division competition, after only three sides nominated.
The season kicks off on Saturday with the Morwell derby between Pegasus and Falcons, and continues on Sunday with the remainder of round one.