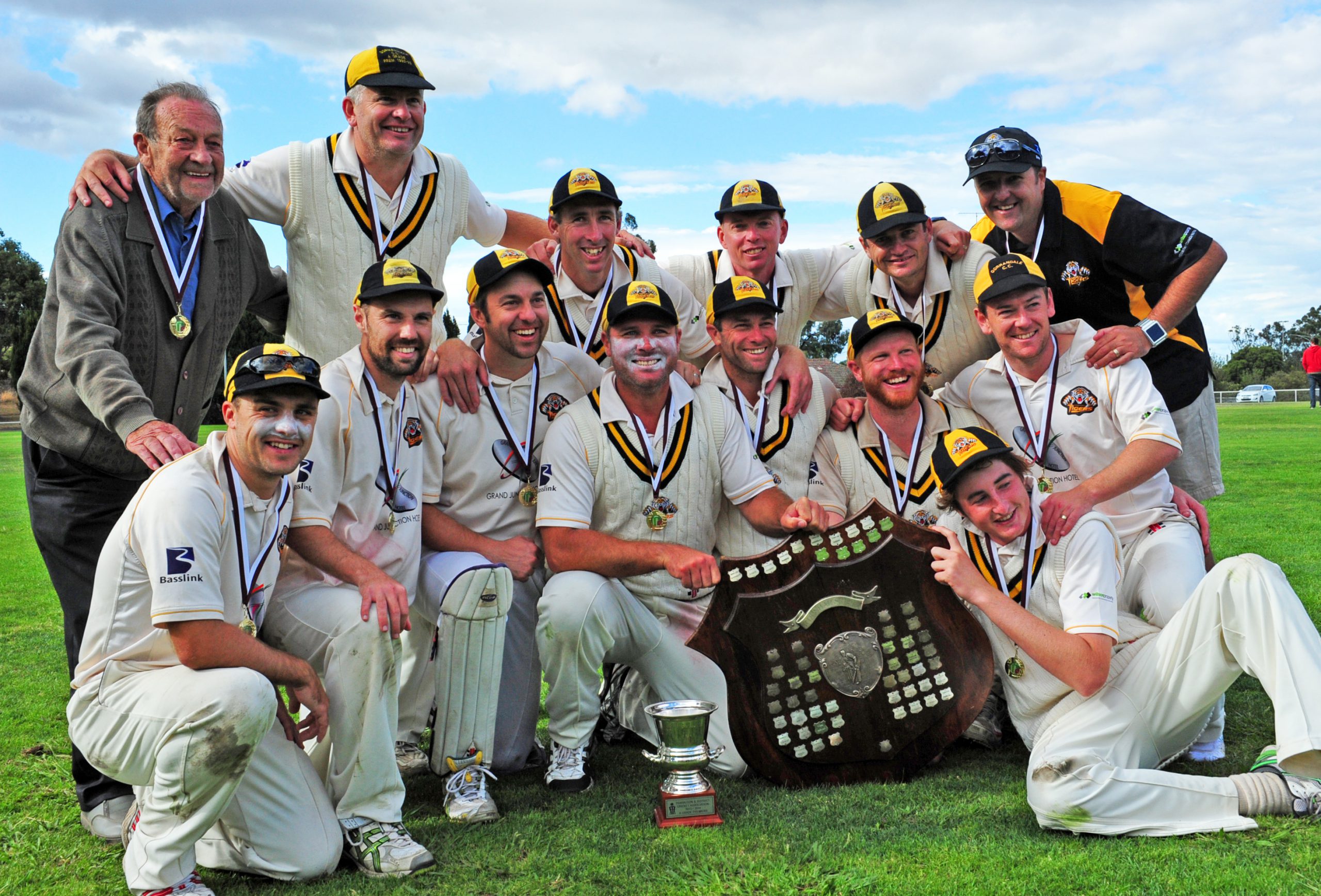 RELATED COVERAGE: Former foes unite
GORMANDALE is again Traralgon and District Cricket Association champion following a resounding 137-run victory over Ex Students at Duncan Cameron Park yesterday.
An incredible partnership of 197 between Stuart Anderson (127) and Adrian Burgiel (94) rescued Gormandale's innings on Saturday, before the former snared 3/48 to lead the bowling effort and bundle the Sharks out for 183.
It was the Tigers' fifth premiership in their run of eight consecutive finals, and a fitting send off for retiring A grade veteran Grantley Switzer.
Since claiming his first silverware with the club in C grade at age 13, Switzer played some 25 seasons at the top level and posted a record 21 centuries in more than 300 appearances.
"It's a perfect way to finish off; it's my seventh flag but probably the most special and the most emotional win," he said.
"They embarrassed us last year and to come back from 5/50… to win that, this club has been a big part of my life and I can't think of a better way to finish."
Brother and captain Travis Switzer said it had been an anxious couple of weeks for the club, which had lost just once all season in the lead-up to the decider.
"I've had a few sleepless nights… when you've had such a good season you want to finish on a good note and win a premiership; we've performed great throughout the year but you've also got to perform under pressure," he said.
The skipper praised the heroics of Anderson and Burgiel and said he hoped to see them back in Tigers colours again next season.
"It was a fantastic partnership between two of the best cricketers in Gippsland and two of the best cricketers in the state," Travis Switzer said.
"I know Stuey has really enjoyed his first year and I'd love to see him back again, obviously Burgs has been captain of our club as well so we'll talk to them, but we'll celebrate over the next couple of days."
Batting first on Saturday disaster struck the Tigers when Grantley Switzer ran himself out for one; Mick Stockdale threw the stumps down from side on to fire the Sharks up early.
Alistair Jenkin and Kent Hammond set about a rescue mission, before Lee Stockdale broke through Jenkin's defence to bowl him for 12.
At 2/29 the Tigers were in trouble, and it got worse when Kade Joske played a poor sweep shot to gift Stockdale his second wicket.
Travis Switzer then departed for six, caught and bowled by Stockdale, then Hammond was adjudged LBW for 31 off Michael Warne as the Tigers slumped to 5/53.
Anderson and Burgiel then combined to reach lunch at 5/80 before taking the game by storm.
After the resumption Burgiel hit the first ball for four and from there it was all Gormandale.
The pair's record breaking sixth wicket partnership in a grand final was finally broken when Burgiel fell for his second consecutive knock in the 90s with the score at 250.
Anderson continued to accelerate, smiting a stellar six off Warne onto the roof of the clubhouse, before departing in the penultimate over of the innings.
Rob Darby batting at eight chimed in with an important 25 as the Tigers posted an immense 8/320.
Rob Voss bowled well to take 1/72 from 20 carrying a niggling injury, while Warne was good early with 1/88 off 29.
Stockdale was the standout with 5/99 from a mammoth 36 overs.
The Sharks started the chase in a blaze with Greg Munro and Jackson McMahon at ease as the premier set about a record chase.
Young McMahon was first to go, caught behind for 15, when the score was 31.
Trouble struck soon after when Jordan Gilmore fell for three.
The Sharks' big two Stockdale and Munro set about the task at hand and at lunch were well in control at 2/90.
Soon after the break, however, Munro fell for 57 and the wheels fell off.
Just 13 runs later Rory Hare was bowled for four and the target appeared insurmountable.
Stockdale was solid, but when he was dismissed plumb in front for 47 the Sharks slumped to 7/142 and the game was well and truly over.
Ryan Allan made 12, Voss was not out 15, while Warne was the last man out for 11 in a total of 183, sending the Tigers into raptures.
Anderson's all round efforts saw him win the Laurie Blake Memorial award for man of the match.
Shaun Barbour again showed his finals class, snaring the big two wickets with 2/45 from 24.
Adam Brady took 2/39 from 20 and Will Cheatley bowled an important spell to take 2/40.
B grade
Ex Students v Churchill
MITCH Membrey was named man of the match as Ex Students claimed a second consecutive B grade title.
The Sharks were in trouble early, losing their first wicket at six batting first.
At 7/113 the Sharks were in deep strife but a lower order rescue mission helped post a respectable 183.
Mitch Membrey top scored with 49, while Jimmy Pryde made 24, Jack Kerry 21 ,Matt Roberston 25 and Andy Mathews 29.
For Churchill David Radovich took three wickets, while Riley Flanigan and Steve Warr managed two each.
Churchill lost a wicket to be 1/5 overnight, but set about hauling in 180 runs on day two brightly.
Ben McQuillen top scored with 44, Riley Flanigan made 32 while Rick Velardimade struck 29, but the Cobras fell 37 runs short.
Best for the Sharks was Andy Mathews with 3/45.
C grade
Ex Students v Imperials
EX Students won back-to-back C grade premierships with a comfortable win over Imperials.
Batting first Ex Students made a stellar 3/229.
Daniel Churchill top scored with 79, while Nick O'Brien hit 58.
In reply Imperials could not get going and was all out for 140.
Dylan Trembath top scored with 40, and Churchill was named man of the match.