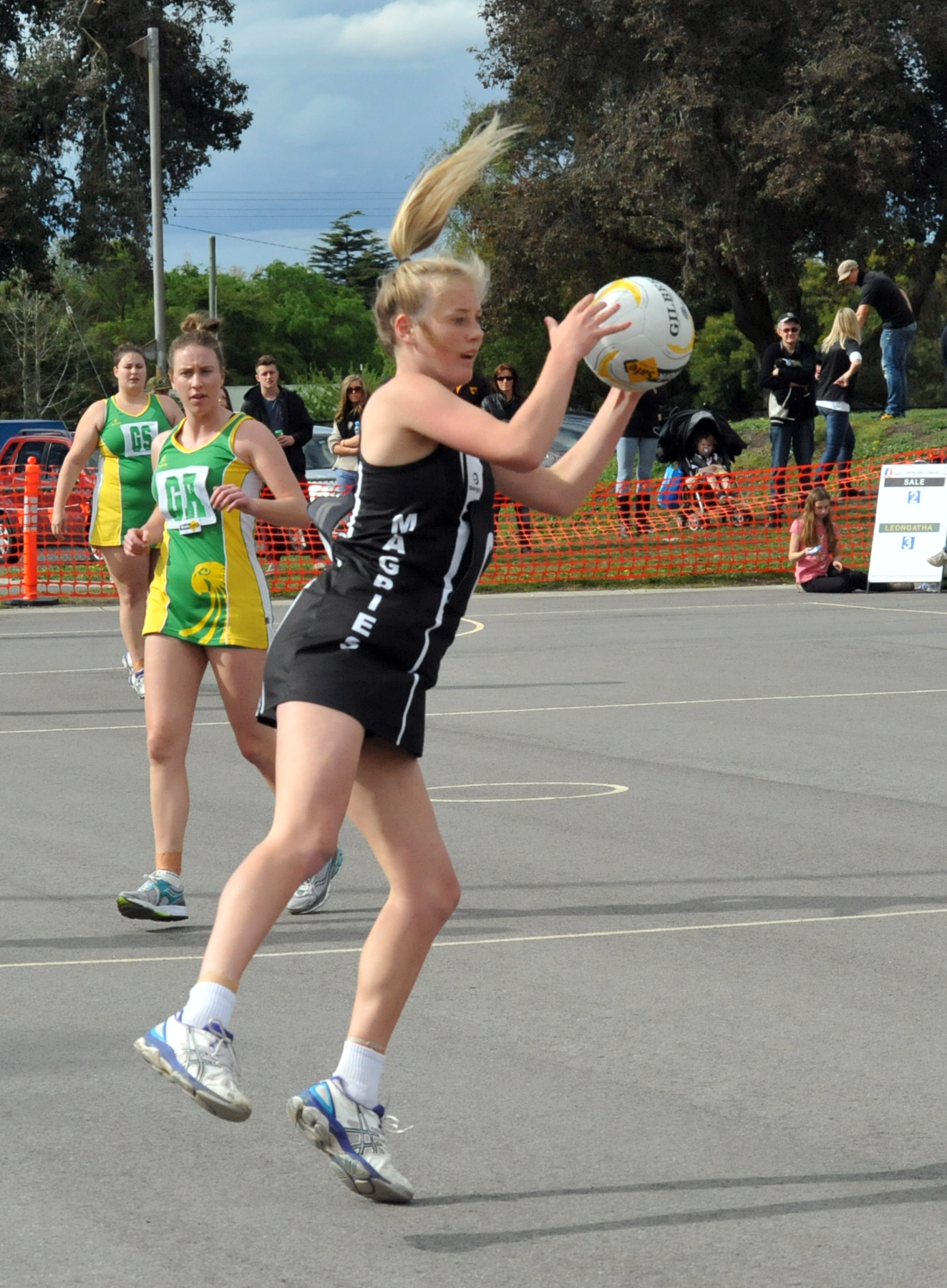 SALE
Coach: Lisa Dunkley, Jo Wynd, Mel Johnson
Last season: 1st/Premier
AFTER winning its first ever A grade flag last year, Sale will be hell bent on retaining the title in season 2014.
The club will have to do without league best and fairest Montana Holmes, who has departed for Moe, in a major offseason loss.
Lara Dunkley will head the offence, but may miss the early stages of the season with Victorian Netball League commitments, where she will play for Bundoora.
Dunkley has won the past two Sale club best and fairest awards.
INS: none.
OUTS: Montana Holmes (Moe)
LEONGATHA
Coach: Kathy Reid
Last season: 2nd/Runner up
RETURNING coach Kathy Reid says the Parrots have "unfinished business" after losing the grand final to Sale by two goals last season.
The club has lost two mid court players and a shooter, but has several younger players stepping in to fill the gaps.
LNC will be looking to be competitive in all grades and make finals.
The club's B grade outfit will be targeting a threepeat.
INS: none.
OUTS: Meg Rosser, Kate Browne
MORWELL
Coach: Vicki Stevens
Last season: Third
ALL three top grades managed a top three finish last season, which is again the aim for Morwell in 2014.
The Tigers bowed out of the finals series in the prelim, which was a disappointing end to a promising season.
Junior development has been a major focus through the summer with the recruitment of 11 new junior players.
Claire and Rachel Allison will lead the A grade team as joint captains.
INS: none.
OUTS: none
WONTHAGGI
Coach: Jo Le Page
Last season: Fourth
WONTHAGGI has gained a host of juniors for 2014 and will focus on filtering them through the senior ranks throughout the season.
The club has a strong coaching group which is keen to develop individual skills and nurture the young talent coming through.
"The energy and commitment shown by the group so far has been electrifying," coach Jo Le Page said.
"As a club we are looking to improve our equipment and facilities to provide our players with every opportunity of success and our players and supporters with match day comfort.
"As a club our goal is to outperform our 2013 results."
The club scored an impressive 63 wins in 108 matches across the grades last year.
INS: Courtney Blair, Sarah Lindsay, Jo Le Page, Tommi Cox, Mollie Edwards, Alice Lindsay, SommerSchmdit, Nikki Cengia
OUTS: Emma Main, Chloe McBain
DROUIN
Coach: Stacie Proctor
Last season: Fifth
Drouin is looking to build on last year's fifth place finish and aims to have all three senior sides playing finals.
All players have been working hard during pre-season in preparation for a strong start from round one.
A few injuries towards the end of last season are now fully healed and the squad is ready for action.
INS: None.
OUTS: Kylie Proctor (overseas)
MAFFRA
Coach: Dianne Jolly
Last season: Sixth
Maffra is out to jump from mid table with strong numbers across junior and senior grades.
New A grade coach Dianne Jolly and incoming under 17 coach Tara McGinty will lead the club's charge for a top five spot.
The Eagles' B grade, under 17s and under 15s sides all reached finals last season, while the under 13s lost the grand final by a point, in a promising trend the club hopes to extend to the top flight.
INS: none.
OUTS: none.
TRARALGON
Coach: Kate French
Captains: Stacey O'Brien and Laura Joyce
Last season: Seventh
After taking out all three junior premierships and C Grade last season, Traralgon is hoping to its top two sides can emulate that success in 2014.
"I am very excited to be joining a revitalised and enthusiastic squad this year. The girls are all extremely motivated and committed with a strong desire to make it a successful year," head coach Kate French said.
"The club is excited to be welcoming new and previous players who will add to the strength of our returning players.
"This has created very competitive and talented teams across the board who are eager to work hard to get winning results."
Traralgon was Gippsland League champion netball club in 2013 for its all round efforts.
INS: Kate French, Stacey O'Brien, Brooke Adams, Madison Gibson and Ally Petrou
OUTS: none
BAIRNSDALE
Coach: Fran Fitzsimon
Last season: Eighth
Bairnsdale FNC has recruited Fran Fitzsimon, former Regional State League premiership coach, as A and B grade coach in a major coup.
While A grade has lost Katie Wait and Sarah Heath, it recruited Orbost FNC and EGFNL 2013 A grade best and fairest, Lucy Quin, and local girl Emma Richards who is back in town.
The club has also picked up ZannaJodlowska from the Boroondara 19 and under Genesis Talent Squad, who will be working with Annora Virgo in goals.
With previous 17 and under players stepping up into senior sides, several juniors have also earned their spot in open grades including Sally Deller.
The BFNC have netball facilities under construction and stronger senior sides in the works across the grades.
A and B grade will be out to replicate C grade's runner up effort last year.
INS: Lucy Quin, Emma Richards, ZannaJodlowska (Boroondara)
OUTS: Katie Wait and Sarah Heath
MOE
Coach: Vicki Van Gelderen
Last season: Ninth
Moe made the signing of the offseason in league best and fairest Montana Holmes.
Last season's marked improvement in B Grade and under 17 has had a positive influence on all teams and numbers for the 2014 season, and trials have been some of the best in years.
Two Moe players won league best and fairest awards in 2013 – Saskia Heathcote in B Grade and Jayde Travers in under 17s – marking the improvement across the grades.
Head coach Vicki Van Gelderen is confident all Moe teams will be strong competitors in season 2014 and some high profile recruits – Holmes, Shelby Wulffers and Carly Mullen-Bianconi – will help lift the Lions.
INS: Montana Holmes (Sale), Shelby Wulffers, Carly Mullen-Bianconi

OUTS: None
A LACK OF NUMBERS HAS FORCED WARRAGUL TO WITHDRAW FROM THIS YEAR'S A GRADE COMPETITION.