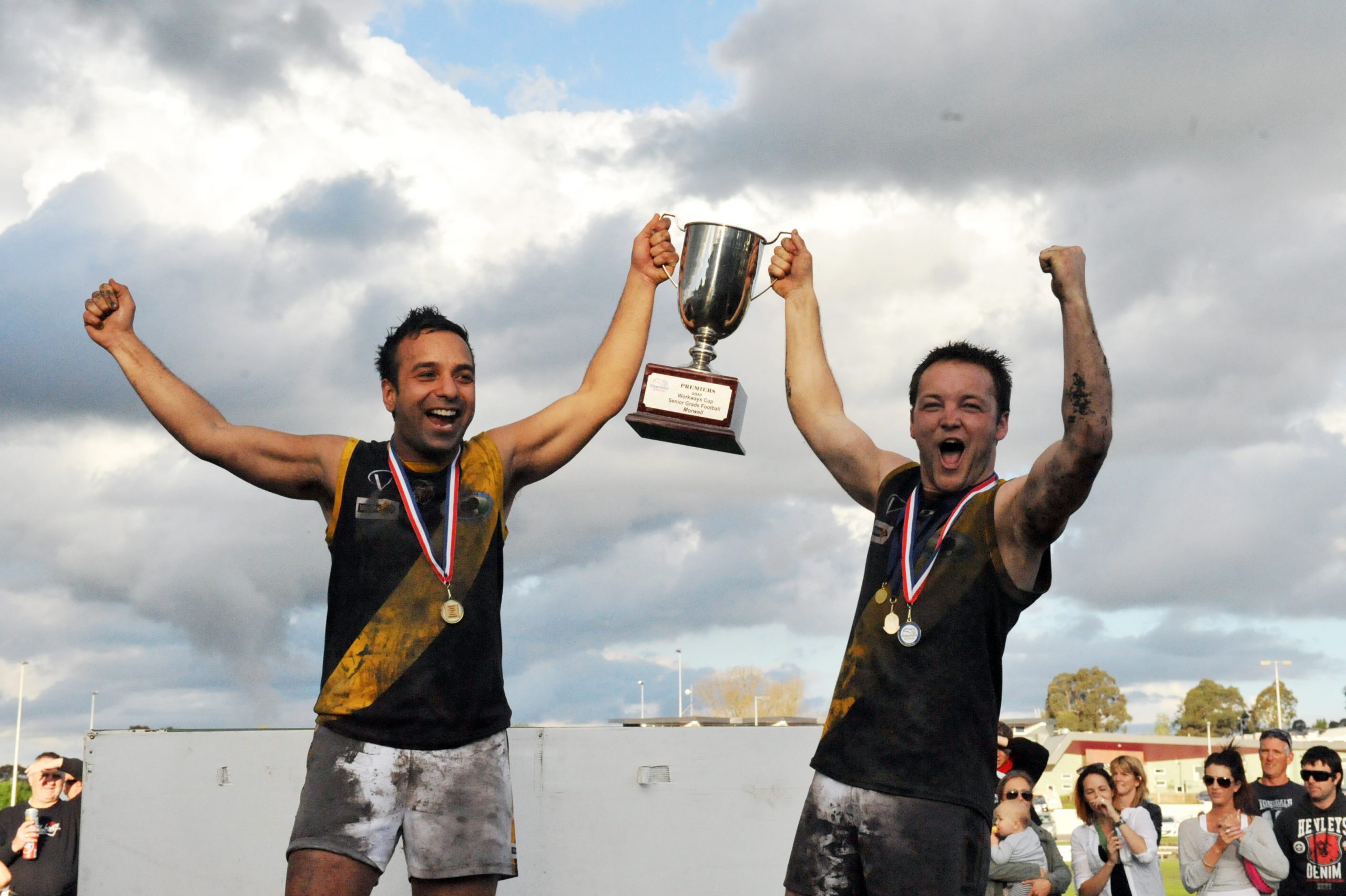 RELATED COVERAGE: Evolution key to success
MORWELL
Coach: Harmit Singh
Captain: Joel Soutar
Last season: Premier/Second
Round one: Wonthaggi
THE reigning premier will unfurl the flag with pride in round one against Wonthaggi, and boasts a list capable of going back to back.
The addition of big Ashley Close in the goal kicking department amid a host of talented recruits from neighbouring leagues, including Thys Stanistreet (Yinnar), Lachlan Little (Glengarry) and Simon Noy (Hill End), has the Tigers in great shape to defend the crown.
The club is negotiating with former Collingwood star Tarkyn Lockyer, who looks set to feature again this year, and Magpies VFL signing Ben Kearns (Gippsland Power) is also on board.
With breakout coach Harmit Singh again in charge, Morwell is certain to be a top two threat again.
INS: Wayne Schultz (Strathfieldsaye), Ashley Close (Ivanhoe), Jacob Fulton (South Croydon), Ben Kearns (Gippsland Power/Churchill), Jack Weston (Foster), Thys Stanistreet (Yinnar), Lachlan Little (Glengarry), Simon Noy (Hill End), Matt Royal (Glengarry), Rob Michaelides (Woodside), Nick Vestey (Thorpdale), Stephen Lambert (Woodside)
OUTS: Jeff Ryan, Lachlan Dowling, Jack Brown (Morwell East), Nathan Scurrah (Thorpdale)

SALE
Coach: Matt Ferguson
Captain: Matt Ferguson
Last season: Runner-up/First
Round one: Traralgon
ALL players have trained "super hard" over the pre season in the hunt for redemption after last year's grand final disaster.
A string of exciting recruits and ex-under 18s will add to the senior list and cause plenty of selection headaches for last year's benchmark side.
"A top four finish is again the aim in season 2014 to give us the best chance to hopefully go one better then last year," club president Scott Pearce said.
INS: Tom Hams, Tye Morrison, Jack Fisher, Barry Parsons, John Gooch, Josh Kennedy
OUTS: Brandan Rathnow, Lachy Todd, Tom Wilson, Brett Hudson, Cam Garrett
MAFFRA

Coach: Wayne Butcher
Captain: Ben Coleman
Last season: Third
Round one: Moe
FIVE time club best and fairest Ben Coleman has been appointed captain of Maffra in the wake of the influential Burgiel brothers' departure.
With the loss of key players from the list, the club's focus is on rebuilding the playing group over the next couple of seasons.
The Eagles have signed former premiership coach Wayne Butcher to oversee the process for the perennial powerhouse.
With a newly installed set of lights at the Eagles' nest, Maffra's round one night game at home against former favourite son Adrian Burgiel's Lions is shaping as a blockbuster occasion.
INS: Brad Smith (Boisdale Briagolong) Sam and Pat Walker (returning after hiatus)
OUTS: Hayden Burgiel (Sale City), Adrian Burgiel (Moe), Matt Lee, Glen Semmens, Daniel Lewin, Jaydin Pratt (Boisdale/Briagolong), Callum Bourke (St Joseph's Geelong).
TRARALGON

Coach: Paul McCulloch
Captain: Michael Geary
Last season: Fourth
Round one: Sale
MICHAEL Geary has taken over the Maroons' captaincy from Jaime Aitken as Traralgon targets another top four finish.
Past players Jordy Bourke (Cowwarr), Tim Johnston (Cowwarr), Justin Fulton (WA), Danny Campbell (NT) and Michael Stockdale (Williamstown) are all returning to the club this season along with Matt Dick (Lindenow) who will play a major role.
Returning coach Paul "Jumbo" McCulloch aims to play "an attacking and exciting brand of football that will make people want to come along and watch the local game".
Eight Maroons juniors were picked up by Gippsland Power – Jordon Cunico, Christian Buykx-Smith, Ash DiCiero, Michael and James Jacobsen, Connor Ambler, Tate Marsh and Cory Stockdale – in a big nod to the club's development programs.
INS: Jordy Bourke (Cowwarr), Tim Johnston (Cowwarr), Justin Fulton (WA), Danny Campbell (NT) and Michael Stockdale (Williamstown), Matt Dick (Lindenow)
OUTS: Tim Aitken (Yinnar), Dale Fleming (Rosedale)
WONTHAGGI
Coach: Robert Railton
Leadership group: Tim Gilliland, Phil Young, Aaron Ware, Aiden Lindsay, Troy Harley and Michael Kelly
Last season: Fifth
Round one: Morwell
"Continual improvement" is the mantra at Wonthaggi Power this season, and one they followed to the letter in a successful 2013 campaign. The Power emerged as one of the competition's dark horses last year, knocking off three of the top four – Morwell, Maffra and Traralgon – throughout the regular season, and came within a kick of minor premier Sale. With some strong recruits, including Aiden Lindsay from Casey Scorpions, Wonthaggi will again threaten the top sides in 2014.
INS: Bray (Korumburra), Aiden Lindsay (Casey Scorpions), Eli Richards (Phillip Island), Tim Howell (Dalyston), Ben Eddy (Kilcunda Bass)
OUTS: Lucas White, Lee Warnett, Aaron Guilmartin, Bryce Marshall
BAIRNSDALE
Coach: Shaun Mooney
Captains: James Gibbs and Kane Ashwood
Last season: Sixth
Round one: Leongatha
BAIRNSDALE'S 2014 playing list is the most heavily reinforced in the league, and boasts a good mix of experience and youth.

The club's senior members have led the way at training and the 2012 under 18 premiership players have made huge strides through an intense pre season.
Bairnsdale's focus has been on fitness, defensive pressure, disposal efficiency and decision making under pressure.
"We need to be more consistent and we need to compete for longer periods in games," coach Shaun Mooney said.
"For this to occur we must be fit, strong in the contest and make good decisions when in control of the football."
INS: Dylan Sommerville (Wy Yung FC – EGFL), Jack Vickers (De La Salle FC – VAFA), Sam Pickett (De La Salle FC – VAFA), Al Roberts (De La Salle FC – VAFA), Tim Saunders (Lucknow FC – EGFL), James Sandford (Lucknow FC – EGFL), Aiden Fitzgerald (Lucknow FC – EGFL), Sam Denby Blake (North Footscray FC), Andrew Nelson (Narre Warren FC), Shem Harris (Chinchilla Suns FC), Alex Saunders (Richmond VFL listed payer – VFL), Brayden Mitchell (Bairnsdale FC U18s), Brett Waddell (Bairnsdale FC U18s), Wes Russell (Bairnsdale FC U18s), Dale Johnson (Bairnsdale FC U18s), Billy Trinder (Bairnsdale FC U18s)

OUTS: Reagan Kyle (Wy Yung FC), Mark Sellings (Wy Yung FC), Jason Waddell (Paynesville FC), Joel Waters (Lakes Entrance FC), David Waddell (Orbost FC), Luke Regarrdo (Lakes Entrance FC), Xavier Ryan, Beau Haslam (Paynsville FC), Matt Busch (Lindenow FC), Roy Siania (Lucknow FC)

LEONGATHA

Coach: Glenn Garner
Captain: Chris Verboon
Last season: Seventh
Round one: Bairnsdale
The playing group has worked hard during the offseason in a concerted effort to improve on the results of the 2013 campaign.
The coaching staff have set the goal of returning to September action which is the long held standard at the Parrots.
The new players seem to have assimilated with existing nucleus well.
Leongatha aims to be very hard to play against every game.
INS: Brent Lynch, Nathan Lynch, Ash Lynch, Chris Bruns, Jim Parry, Ben Willis, Lachlan Dumont, Jesse Poulton, Luke Van Rooye, Josh Best
OUTS: Cade Maskell (Port Melbourne), Pat McGrath (overseas), Pat Contin (VFL), Hayden Browne, Stuart Kilsby, John Kilsby, Will Thursfield, Matt Willcocks, Justin Pellicano, Toby Goss
WARRAGUL

Coach: Ash Green
Last season: Eighth
Round one: Drouin
WARRAGUL showed great promise last season, when it pushed some of the top four sides on several occasions.

Inconsistency was the Gulls' bane, as performances varied greatly from week to week.
With a long list of outs, Warragul's 2014 prospects are unclear, but the inclusion of Morninton Peninsula Napean best and fairest winner Brad Scalzo comes as a huge boost.
Scalzo is a former Dandenong Stingray and spent two years at Casey Scorpions.
He has also won second division league best and fairest in AFL Queensland.
INS: Christopher Lee (Casey Cardinia FNL), Darren Maggio (Southern FL), Brad Scalzo (Noble Park)

OUTS: Mitch Weadley (Moe), Joshkun Akarsu (Ellinbank), Ryan Buttner (Essendon DFL), Tim Davine (Eastern Football League), Jack Deen (Ellinbank FL), Ben Drew (Ellinbank FL), , Brad Hamilton (Ellinbank FL), Josh Helliwell (VFL/TAC Cup), Jason Hibbs (Ellinbank FL), Adam Larkin (Ellinbank FL), Joshua Lea (AFL Cairns), Joel Morgan (Ellinbank FL), Tom Muir (SANFL), Mitch Nobelius (Alberton FNL), Josh Patullo (Gippsland Power), Dylan Proctor (Gippsland Power), Clinton Rowe (Ellinbank FL), Matt Russell (Ellinbank FL), Jack Steinfort (Eastern FL)
DROUIN
Coach: Rob Ballingall
Captain:
Last season: Ninth
Round one: Warragul
DROUIN has retained its core senior group and its development program has begun to pay dividends with talented 17 to 19 year-olds transitioning to the top team.

"Our goal for 2014 is to become a more consistent and competitive side," coach Rob Ballingall said.
The Hawks have recruited centre-half forward Alastair Darcy from the Tiwi Islands along with a number of promising youngsters.
"We will be giving more game time to our younger players and will see greater depth as we increase the number of players who have played 50 plus senior games," Ballingall said.
"We are confident the Drouin Football Club has a great base to work with this season and will have much success in future years to come."
INS: Alastair Darcy (Tiwi Islands), Liam Axford (Yarragon)

OUTS: Darcy Irwin (Melbourne), Shaun Phelan (Ellinbank), Shaun Proctor (Buln Buln), Darren Jeffreys (Melbourne), Wayne Morris (interstate), Jordi Kingi (interstate).
MOE

Coach: Adrian Burgiel
Captain: Ben Morrow
Last season: 10th
Round one: Maffra
MOE is shaping as the most improved side on paper under the leadership of former Maffra star Adrian Burgiel.

With no departures, several recruits and a number of past players returning, the 2013 wooden spooner will have its first shot at an upset in round one under lights against the high flying Eagles.
"We're looking to improve sharply on the past two seasons and get consistency into our performances from week to week," Burgiel said.
"We think we've recruited extremely well and have some great young kids coming through which we hope can continue to improve.
"We've trained strongly for the last five months of preseason and are looking forward to pushing all opposition teams in all four grades during the season."
Moe's goal is for all four grades to make finals in 2014.
INS: Tom Long (Casey VFL, Ex-Moe), Adrian Burgiel (Maffra), Chris Kyriacou (Trafalgar, Ex-Moe), Lloyd Williams (Noble Park), Nick Williams (Noble Park), Michael Farrell (Trafalgar), Matt Swenson (Trafalgar), Lucas Fry (Yallourn Nth), Sam Cougle (Yarragon), Mitch Weadley (Warragul)

OUTS: none