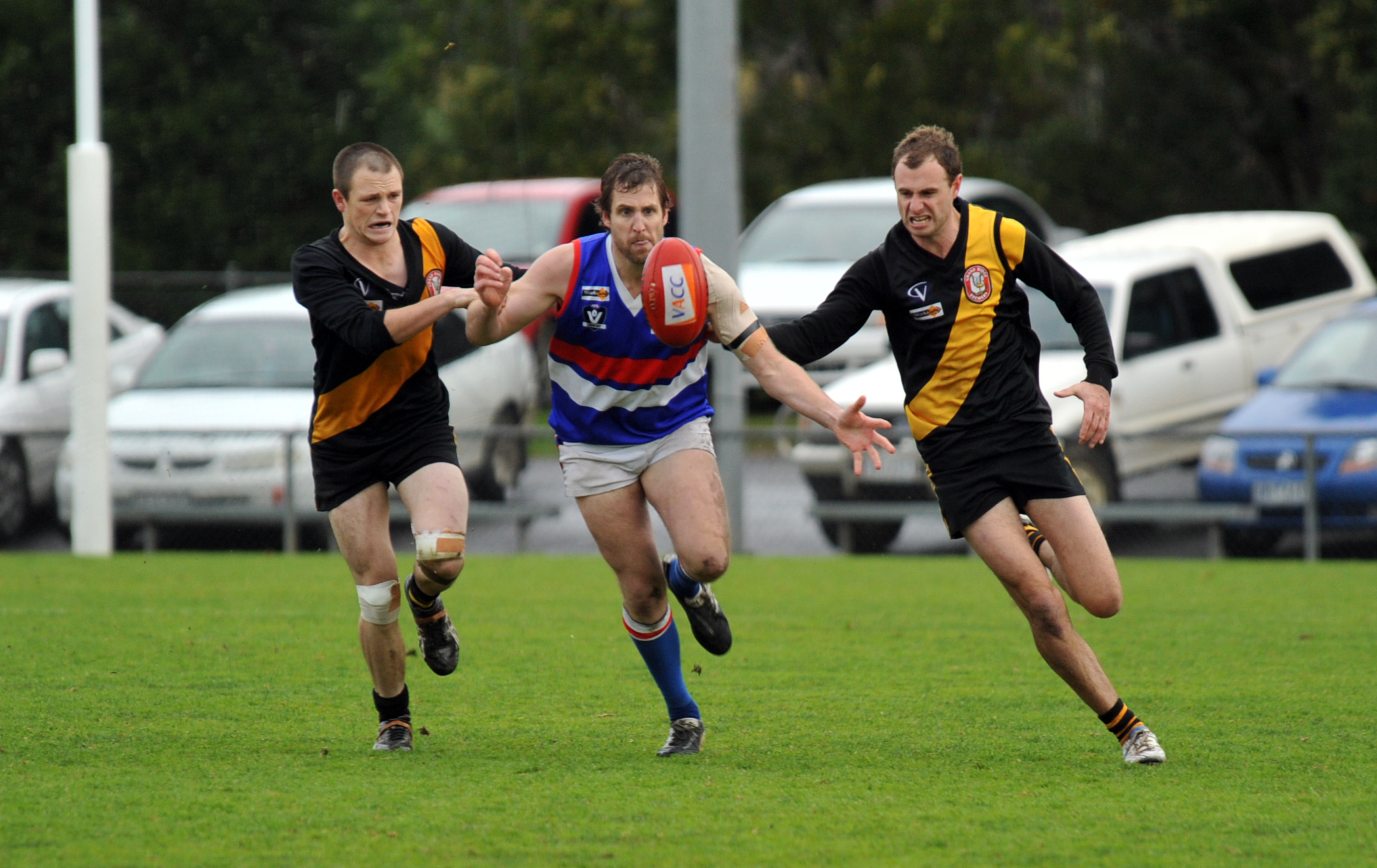 FOOTBALL
MID GIPPSLAND FL
ROUND two of the Mid Gippsland Football League takes on a different look now that all clubs' cards are on the table.
The first round was a big test and an opportunity to trial new players and new moves, but things get serious from here on out.
Yinnar v Yarragon
Yinnar and Yarragon face off in the match of the round at Yinnar on Saturday.
Both were winners in their opening matches and this will be a telling test for both sides.
Yinnar would be happy with its game plan's efficiency and some of its recruits showed promising form.
Traralgon pick-up Tim Aitken found his niche at full-forward and made an excellent Magpies debut with five goals.
Dallas King also came under notice for his strong play and looks to be another big asset for the club.
Yarragon has also secured a swag of recruits, many from Garfield, and judging from Joeby Boyes' standout performance it was an ideal area to plunder.
Carson Strobel was in top touch with six goals and the two unrelated Jollys, Mitchell and Marc, were also impressive.
On paper this has the hallmarks of a classic contest in which the running players are key.
Yinnar's big forwards Aitken and Cam Harwood will be tough to tame and if they fire Yarragon may be in trouble.
Towering ruckman Jesse Bowe is likely to win plenty of ball and could be the difference for Yinnar.
Mirboo North v Thorpdale
Last year's premier Mirboo North will concentrate on playing football after a wedding derailed its round one effort last week.
Its dismal performance against Newborough will not be forgotten, but starting Saturday a new look Tigers will be roaring again.
Their opponent Thorpdale will be first to feel the full might of the Tigers, but will be buoyed by a strong effort against Morwell East last week.
Thorpdale has unearthed some good players and will be a stronger side in the future.
Mirboo North will be favourite to atone for last week's failure and set the record straight with a full complement.
YYN v Morwell East
Yallourn Yallourn North welcomes the victorious Morwell East for a second straight home game.
The Hawks got up over Thorpdale last week in a tight match that belied the scoreboard.
Morwell East's recruits shone as Shaun Barnes, Jack and Matt Brown and Brad Soutar were among the best.
Despite losing, YYN showed it has the ability to play well in passages.
The likes of Derek Pol and Tyler Brown were its best last week but a bit more training track preparation will see the Bombers be more competitive during the season.
Coach David Ivey chipped in with three goals and looked dangerous but his side will be hard pressed to overcome the Hawks.
Trafalgar v Boolarra
Trafalgar is expected to take the points at home to Boolarra.
The Bloods were too quick for Hill End last week and always seem to have a bevy of running players.
Boolarra started well against Yinnar last week but dropped off after half-time as the Magpies used their pace and height to outmatch the Demons.
Mark Van Dyke showed promise in the ruck early and Nick Hider was always busy, but too many Boolarra players seemed to lack match fitness and tired quickly.
The Demons must address forward efficiency after too many inside 50-metre turnovers.
Trafalgar should win despite having lost some key players.
Newborough v
Hill End
Giant killer Newborough hosts Hill End for the Bryne-Fanning Cup and will be favourite to lift the silverware.
Having retained the Skinner Cup after beating Mirboo North, the Dogs will be out to make it two trophies in as many weeks.
Coach Glenn Michie would have been pleased with his team's effort but is expecting Hill End to be more competitive.
The Enders will have at least five of their better players back in action, while Newborough enjoyed the luxury of Michael Gelagotis' goal kicking ability in his return from Trafalgar.
Gelagotis kicked four last week and if he stays fit the Dogs have a great chance to reach finals again.
Hill End will fight hard all the way but in the end Newborough should take the trophy.