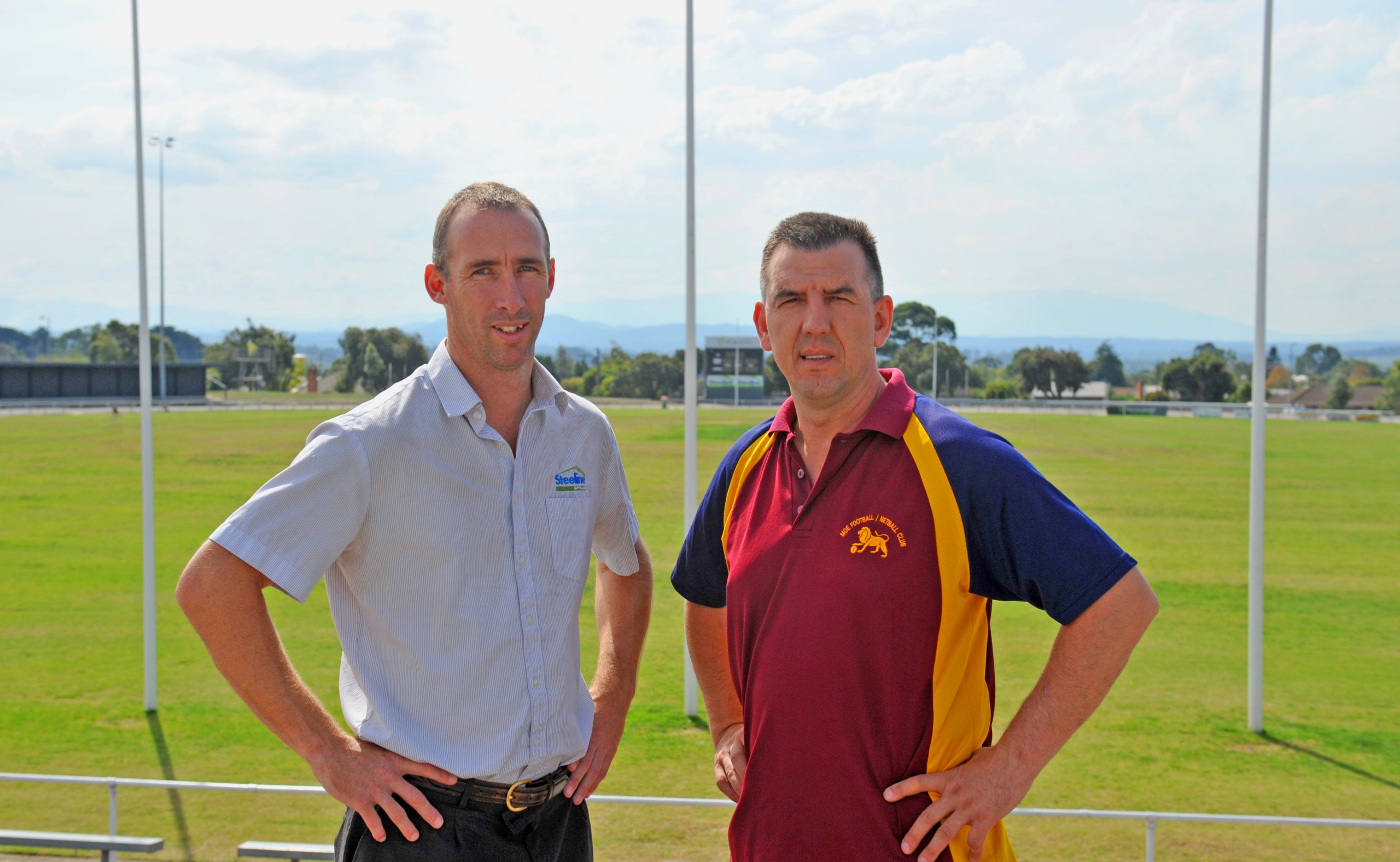 FOOTBALL
GIPPSLAND LEAGUE
By Samuel Darroch
SUPER coach Kevin Sheedy is one of several new faces at Moe Football Club set to help the Lions rebuild this season after a lean stretch.
Sheedy, through the influence of new club president Manny Gelagotis, became Moe's patron and number one ticket holder for season 2014 and is primed for sporadic visits to Ted Summerton Reserve through the year.
Sheedy will speak at a club function on 1 August and is tipped to take training on occasions, as will dual Brownlow medallist and ex-Carlton star Greg Williams.
Gelagotis said the former Essendon and Greater Western Sydney mastermind's involvement came as part of a plan to "get quality people" around the club after an extended rough patch on the park.
"Kevin's going to come and talk to the club about how it's travelling and what we need to do, we're always engaging with people like that and getting ideas," Gelagotis said.
"For me it was (about) working with him, asking him what we need to do to get our club right and getting some advice, and it was really helpful to hear from someone like him that knows it inside out.
"It's about getting quality into your football club, once you've got that you're going to attract more."
Sheedy is part of a broader strategy to help breed a winning culture at the Lions, which centres around the recruitment of Maffra legend Adrian Burgiel as playing coach and the return of North Melbourne great Troy Makepeace as assistant.
While no stranger to success, Burgiel is a newcomer to the coaching caper.
However, he will be offered an accelerated learning course at Moe.
"He's (Adrian) is a young coach so we're trying to educate him as well, hopefully get him in to some AFL systems, get him down to Melbourne to have a look at some clubs," Gelagotis said.
"We want to develop the players and the coaches… developing everyone is what we want to do and if we're doing it from the top down it's only going to be beneficial."
Burgiel, who made the Richmond list as a rookie in 2000, has already lined up a brief stint with VFL side Casey Scorpions, and is eager to learn from the likes of Sheedy.
"I just want to learn a bit more from a higher level, obviously being a first year coach you're going in blind as to how good you are or what you can do so (I'll be) trying to get some leadership qualities and winning mentality into the boys," Burgiel said.
"(Sheedy) is a premiership coach in the AFL, he's been around forever and when you hear people talk about him, how highly they speak of him and how smart he is and the different ideas he's got, if we could get him for a session or two that would be unbelievable."
The heavily anticipated round one clash against former club Maffra under lights this weekend looms as Burgiel's first major test with Moe, but the ex-Eagle will not take the field due to a slower than anticipated recovery from knee surgery.
Despite the setback, the 33 year-old is keen to knock the high flying Eagles off their perch and is sure to receive a disparate welcome to the nest than in years past on Saturday.
"I'm not sure about the reception I'll get now that I'm not playing, maybe if I was playing and had a kick or a mark or something there may have been a bit," he said.
"They'll definitely not want to lose to me, and the other way around I'm pretty keen to try and knock them off; I'm confident we can give them a run for their money and if we play as well as we can the score will look after itself."
The opening bounce at Maffra is set for 6pm Saturday.